Electric drivetrains and 8k displays are just some of the highlights in the all-new flagship BMW 7 Series' quest to be The Best Car in The World.
---
This article is brought to you by the number '7'. BMW's flagship luxo-barge, the 7 Series, is now in its seventh generation, codenamed G70 and, for the first time in its history, there will be an all-electric version called the i7.
The pinnacle 7 Series electric vehicle (EV), is called the i7 M70 xDrive. M70, you know, because the familiar M60 designation is now apparently considered too pleb-like to grace the bootlid of BMW's flagship sedan EV.
Seven!
To be launched later, the i7 M70 xDrive will feature two electric motors putting down 660hp. At launch, though, one has to console oneself with the also dual electric motor i7 xDrive60 variant which puts down 544hp and is said to have a range of 590-625km. More variants will also be introduced further down the line.
Additionally, in the US of A, China, and some other markets, BMW will launch two petrol variants of the 7 Series – the 740i xDrive and the 760i xDrive respectively. The petrol-variant range-topper will feature a V8 pumping out 544hp, and both versions will have 48-volt mild hybrid systems as standard. The 740d xDrive turbodiesel version is in the works as a Europe-only model. Additionally, Plug-in Hybrid Electric Vehicles (PHEVs) versions are also planned.
outside.
The G70 7 Series takes on a familiar corporate look that's also been seen on the recently-launched LCI X7.
Bodywork bifurcates the daytime running lights (DRLs), and the matrix LED headlights with integrated front fog lights. The DRLs can be optioned with Swarovski crystals arranged in L-shapes and individually illuminated by LEDs for what BMW call Iconic Glow for that further-upmarket jewel-effect.
The large kidney grille surround can be optioned to be illuminated, although it remains to be seen whether the fun-police, in their infinite wisdom, would furiously smite down that option in Singapore-bound cars. After all, local authorities put the kibosh on a similar option that was offered for the Rolls-Royce Ghost Black Badge launched last year.
Click the right options and this new 7 Series gains Level 3 autonomous driving functions, such as Active Cruise Control with Stop&Go, Steering and Lane Control Assistant, Automatic Speed Limit Assist and Active Navigation. Together, they allow the 7 Series to drive itself while adapting to ever-changing traffic situations. However, the driver must still remain in control at all times.
Another interesting option is Parking Assistant Professional. With this, The 7 can autonomously steer for up to 200-metres courtesy of Reversing Assistant – an increase from the 50-metre limit currently found in new BMWs. A remote control function, to be added in 2023, will enable automated parking and maneuvering from outside the car using a connected smartphone.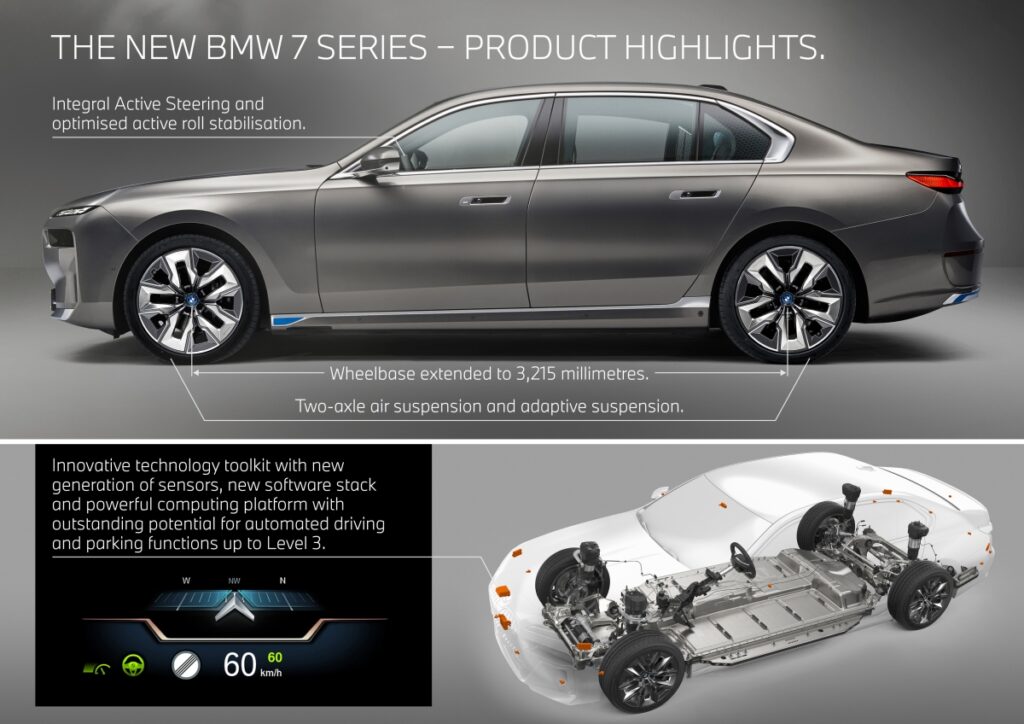 inside.
What truly matters for sir/ma'am is what the inside of a luxo-barge offers, and the G70 won't disappoint. First up, the 3,215-millimetre wheelbase, up five millimetres from the previous long-wheelbase 7 Series, liberates more room in the rear – where it truly matters when being chauffeured.
Three-across seating is standard, with the Executive Lounge option bringing in two individual Business-class type reclining seats with gap-free leg rests, along with the usual plethora of accouterments such as heated and cooled seats with massage functions.
In a departure from the usual fare of headrest- or backrest-mounted tablet-esque displays, the rear-seat area can also be optioned with BMW Theatre Screen – a 31.3-inch 8K-resolution touch-display that folds neatly out of the roof and allows rear-seat occupants to enjoy streaming videos, games, music and so on. This ultrawide screen combines with 5.5-inch function operation displays in the rear doors to make for a truly seamless touch-controlled theatrical experience, further enhanced by the optional Bowers & Wilkins surround sound system with optional in-seat exciters.
At the front, the tech-fest continues with a 12.3-inch instrument cluster display and a 14.9-inch infotainment display. Featuring BMW's Operating System 8 aka iDrive 8, the whole panel curves in a decidedly driver-centric manner. 5G connectivity empowers streaming services such as YouTube, and BMW's own ConnectedDrive.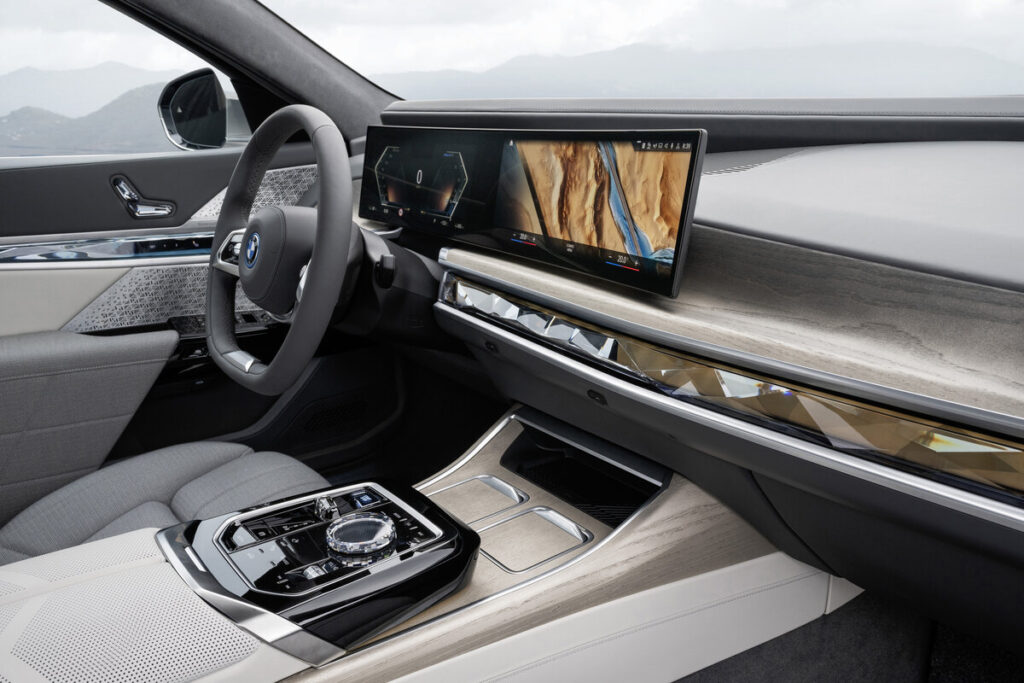 What's interesting about the dashboard is that there are no apparent aircon vents – courtesy of them being neatly integrated to where they're nearly invisible. They are integrated into BMW's Interaction bar surrounded by a ripple of crystalline-looking surfaces, and this is where a whole host of functions can be controlled. More on that when we actually get behind the wheel of a G70.
At night, these surfaces light up in a most unique way. Less talk, more pictures…
One can also choose to bling out the sunroof for that 'discotheque-feel' at night. "We gonna rock down to electric avenue… And then we'll take it higher!" Indeed, apt words that describe the new BMW 7 Series.
---
Need more electrification in your life? Check out the latest EVs here!