Looking for your next home? If you're all about living the sustainable life, you may want to consider these green neighbourhoods in Singapore.
---
Okay, before I start, let me just say one very important thing: every neighbourhood in Singapore is green in its own very special way.
From rooftop gardens at carparks, to the gorgeous flora and fauna at community parks, examples of nature in HDB estates are aplenty. You've probably even already heard of Tengah, the forest town with urban farming and car-free roads. But have you ever wondered if there were any other green neighbourhoods in Singapore with cool sustainable features?
Well, we were curious too. So we got down to exploring and uncovered some green neighbourhoods and HDB estates with eco-friendly and sustainable features.
1. Yuhua estate: journey to a greener West.
Yuhua estate in Jurong was the first estate in Singapore to be transformed into a 'Green Neighbourhood' under the HDB Greenprint. Launched in 2012, the HDB Greenprint was a framework created to guide greener HDB town development and create sustainable homes.
Through the programme, 3,200 households from 38 blocks of flats in Yuhua benefitted from energy-efficient, water and waste management features by November 2015. These included a rainwater harvesting system and a pneumatic waste conveyance system that uses high speed air suction to transport household waste via an underground pipe network to a centralised bin centre.
Confused? Just imagine a giant vacuum sucking away all your troubles. Ahh.
The blocks also feature green roofs, and vertical greenery that help reduce surface temperatures, along with enhanced pedestrian and cycling networks for greener commuting. With so many green features, it's no surprise that Yuhua was one of the green neighbourhoods that was conferred the BCA Green Mark Award (Platinum) in recognition of the initiatives.
2. Teck Ghee estate: making room for sustainability in the heartlands.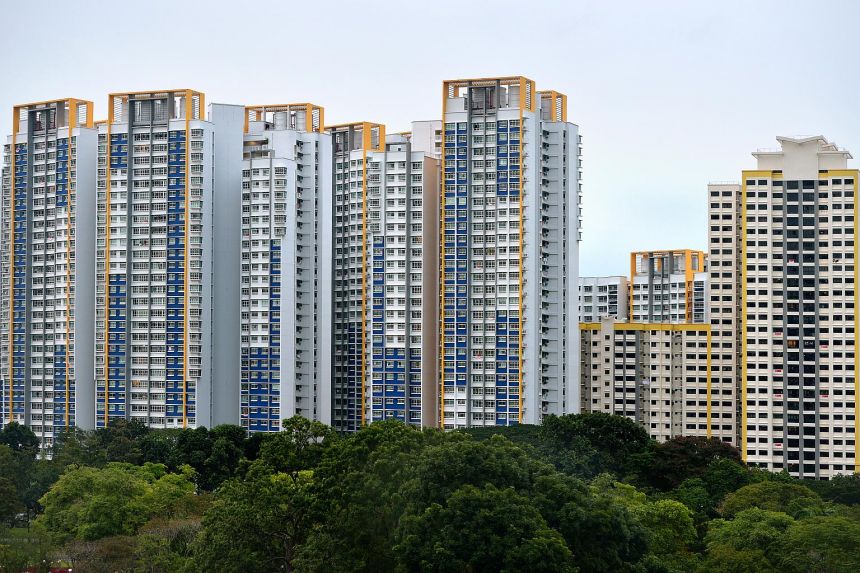 After Yuhua, Teck Ghee estate in Ang Mo Kio was the second estate which the HDB Greenprint project focused on. In July 2015, HDB aimed to fit 40 blocks in the estate with environmentally friendly technology over a 3-year period. 5,800 households from Blocks 401-421, and 456 to 476 in Ang Mo Kio Avenue 10 benefitted from green initiatives similar to the developments in Yuhua.
These initiatives included solar panels on roof tops, construction of an automated waste collection system, enhanced pedestrian paths and cycling tracks, secured bicycle parking facilities and an intensification of greenery in the neighbourhood. Nice!
3. Punggol Northshore: smart and sustainable waterfront living.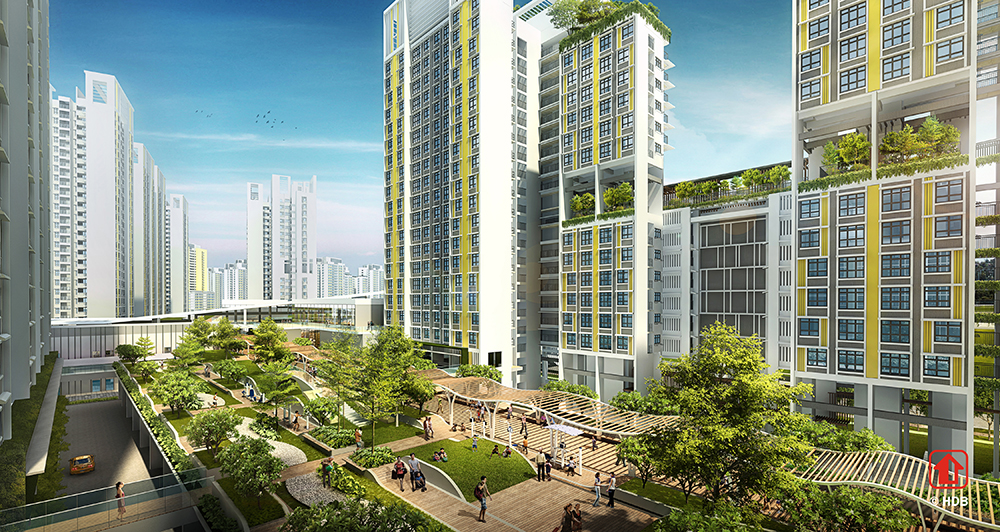 With Punggol selected to be HDB's first eco-town, it's no surprise that several 'hoods in the area have benefitted from various sustainable features. The latest of the lot is the waterfront district of Punggol Northshore. Apart from eco-features seen in Yuhua and Teck Ghee, Punggol Northshore boasts various attributes that make it not only sustainable, but smart.
At home, flats at Northshore Residences I and II come equipped with smart sockets and smart distribution boards that let residents track energy usage across appliances. It also means that they'd be able to control anything from coffee makers to lights and fans with an app. (Psst, if you're curious on how to zhng your own home into a smart home, click here!)
On the outside, smart sensors are aplenty. They're installed across lifts, lights, water pumps, and waste collection areas which issue alerts whenever maintenance is required. Moisture sensors are also used in its smart irrigation system that helps optimise water schedules and usage. Fancy! Now that's a word I never thought I'd use when discussing irrigation.
Northshore Residences also features a smart, gantryless parking system. This clever system detects a vehicle once it enters the car park and automatically activates a parking session via the Parking@HDB app. But before you get any naughty ideas, the system also notifies motorists who park in authorised spaces to get a'moving too. Orh hor.
4. Treelodge@Punggol: harnessing nature's best.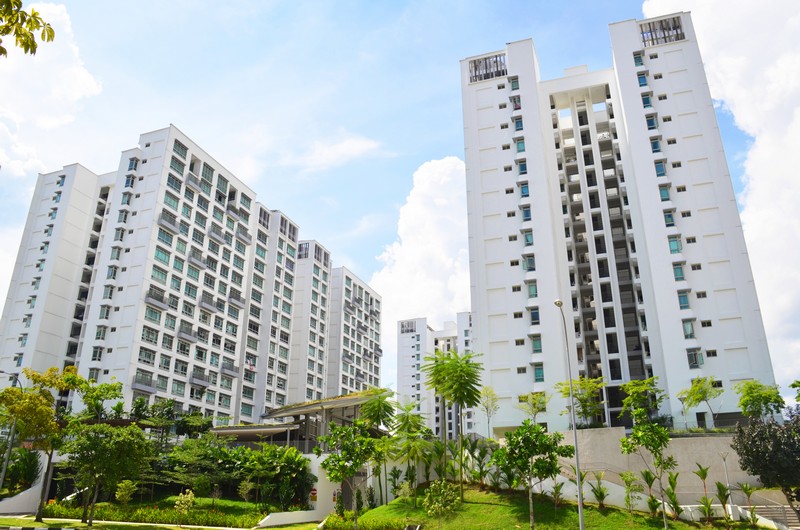 Arguably the most notable for its loft apartments, Treelodge@Punggol is dubbed as the first experimental eco-friendly public housing project in Singapore and was completed in 2010. Its sustainable features and eco-friendly design earned it the Green Mark Platinum Award along with a host of other accolades.
A key feature of the estate is how the blocks were designed to harness elements of nature where possible. If you read that and immediately thought of Captain Planet, high five! Okay, but really, all the blocks were strategically orientated to face prevailing winds and lighting, while minimising solar radiation from the sun. That way, homes are brighter and more well ventilated. Units with walls facing east or west also feature 'cool walls' to reduce heat radiation and keep residents… cool.
Apart from that, the roof of the carpark also features an eco-deck with extensive greenery and a community garden. Centralised refuse chutes for recyclable materials are also incorporated in each block, with recycling points located at every level. And to reduce electricity consumption, the estate is fitted with motion sensors for light fittings, while a rainwater collection system collects and stores rainwater for common corridor washing and irrigation.
Treelodge@Punggol was also the first public housing development to feature solar photovoltaic panels on rooftops. The energy generated through these panels is enough to power common services such as lifts and lighting in common areas. The lifts too are Machine-Roomless Lifts which use 10% less energy than conventional ones. Going up!
5. Punggol Waterway: nature living beside the first man-made waterway.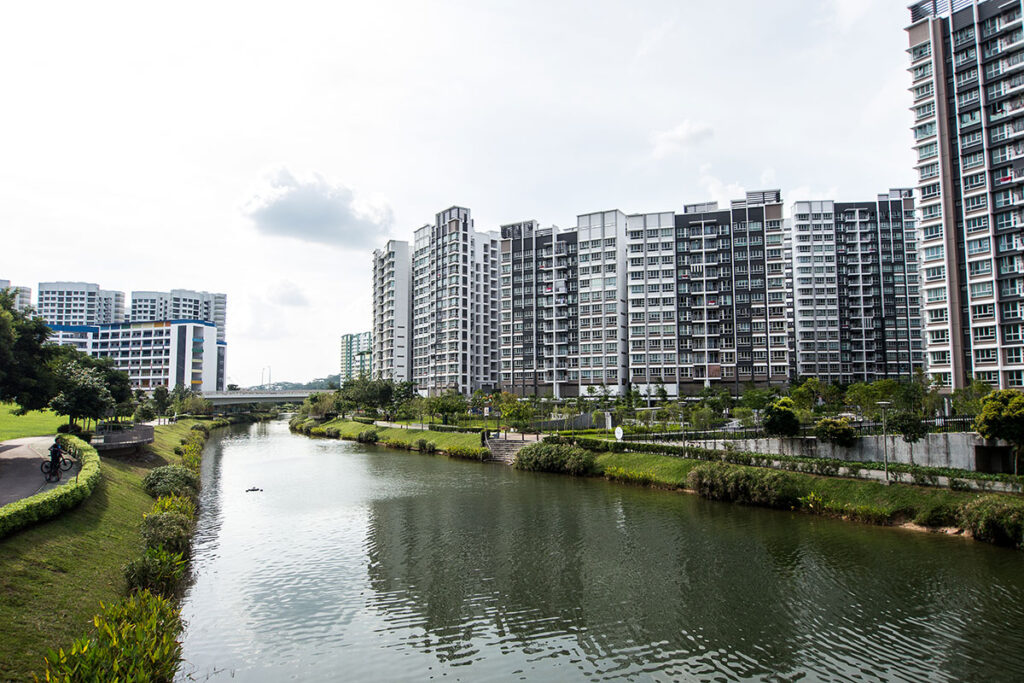 Though not referring to a housing estate per se, Punggol Waterway is the first man-made waterway by HDB that meanders through the entire Punggol eco-town. The waterway gives residents in the area a chance to live closer to nature, while also enjoying various amenities and shopping areas in the vicinity. At 4.2km, the gorgeous waterway and its landscape promenade embrace the area's coastal heritage.
To note, the waterway features eco-drains to ensure surface runoff is cleansed before entering the waterway. It also has aerators, jet fountains and curtains which enhance water quality. Other eco-centric additions include boardwalks, footbridges and areas around the plaza that were built with recycled materials.
Green practices were also adopted in its construction, one of which was a "cut-and-fill" method of excavation to fill low lying areas around it. The earth excavated from the waterway was reused for surrounding low-lying areas for future development.
6. Tengah: a forest town of the future.
Tengah is a neighbourhood that requires little introduction. This unique 'forest town' comes packed with sustainable and smart features for its residents. Here's a look at some key features.
keep cool with the Centralised Cooling System (CCS).
One of the biggest highlights of Tengah is its CCS, powered by SP Group in partnership with Daikin. Much like similar systems in commercial buildings, Tengah will be Singapore's first public housing development with the system. Inside each home, these Centralised Cooling indoor units have the same look and feel as conventional aircon units. The commercial-grade chiller plants are placed on top of selected HDB blocks and are interconnected to improve efficiency and ensure an uninterrupted supply even when one is under maintenance.  
This smart system also allows residents to enjoy up to 30% energy savings compared to conventional split-unit aircon systems. Residents will also be able to control their aircon from anywhere with the SP Utilities app. With Centralised Cooling, Tengah will achieve a lower carbon footprint compared to similar HDB estates in Singapore. This equates to energy savings of 30 GWh/year!
embrace an electrifying future with EV charging services from SP Group.
Good news too for electric vehicle owners as finding a charging point will be considerably easier if you're a Tengah resident. The estate comes with parking lots equipped with EV charging points from SP Group. Drivers will be able to find stations, charge, and pay their using a mobile app. At neighbourhood centres too, drivers can also top up their EVs quickly at SP's Fast-Charging Hubs while shopping for groceries!
it also has some other impressive features.
Tengah's 5 districts will also feature community farming and a 100-meter wide, 5km long corridor of trees, connecting it with the central nature reserve. Plus, roads and carparks will mostly be underground, freeing up space for urban farming, walking and cycling. An automatic pneumatic waste conveyance system will also collect trash through underground pipes, allowing for a more hygienic living environment while minimising pest infestation.
What's more, Tengah homes also come with a host of smart features including a smart dashboard to monitor energy consumption.
learn more at the MyTengah Experience Centre.
Of course, there are so many more exciting features we could talk about, but if you'd rather just experience what it would be like to live at Tengah yourself, why not make a visit to the MyTengah Experience Centre at HDB Hub?
We're sure that despite all these developments, neighbourhoods in Singapore will only get greener in the time to come. If you know of some green neighbourhoods you'd like to see on futr, drop us a message here and we might see you there!
---
Enjoyed this article? Browse some other green spaces, or learn how you can make small changes to live a more sustainable lifestyle here.