The SMF-KAMA seminar saw big industry players from South Korea and Singapore share opportunities for the two nations for future mobility.
A rendezvous of forward-thinkers unfolded at the illustrious St. Regis Hotel on October 12, 2023. This symposium, titled "Vision and Strategy for Future Mobility: Korea and Singapore" orchestrated by the Korea Automobile and Mobility Association (KAMA) and supported by the Singapore Manufacturing Federation (SMF), was a congregation of luminaries, united in their aspirations for a greener, more dynamic tomorrow.
Picture it, if you will, an assembly of minds representing the Korea Automotive Technology Institute, the Korea Association of Mobility Studies, the automotive juggernaut, Hyundai Motor Company, along with the esteemed presence of the Singapore Economic Development Board (EDB) and the Singapore Business Federation. It was, indeed, a collective vision for a future where mobility is in harmony with our precious planet.
In the opening symphony of words, President Nam Hoon Kang of the Korea Automobile and Mobility Association painted a vivid canvas of opportunities within the mobility sector. This is a realm that extends far beyond automobiles and roadways; it's a journey that promises economic growth in domains that are integral to our green future.
Think electric vehicle financing, the wizardry of battery recycling, and the landscapes of hydrogen and autonomous vehicles. President Kang knew what he was talking about when he highlighted how Korea's strengths sync harmoniously with Singapore's ambitions, a partnership destined for excellence.
Lennon Tan, President of the Singapore Manufacturing Federation, took the stage, honouring the Hyundai Innovation Centre as a newfound member of their family. With a glint of appreciation in his eyes, he acknowledged the Hyundai Innovation Centre for breathing new life into Singapore's automotive realm. As they dance with the possibilities of automotive production within their borders, Singapore's manufacturing scene echoes with a revival.
But that wasn't all; Mr. Herman Loh, the Senior Vice President of the EDB, unveiled a roadmap of collaboration. South Korean mobility and automotive conglomerates, he noted, can seamlessly access the sprawling manufacturing landscapes and enticing markets of Southeast Asia, all from Singapore. It's an idea hinged on "twinned" operations, a symphony of synergy woven between Singapore and the Southeast Asian region. It's not just a strategy; it's a vision that transcends borders, an alliance set to propel both regions to greater heights.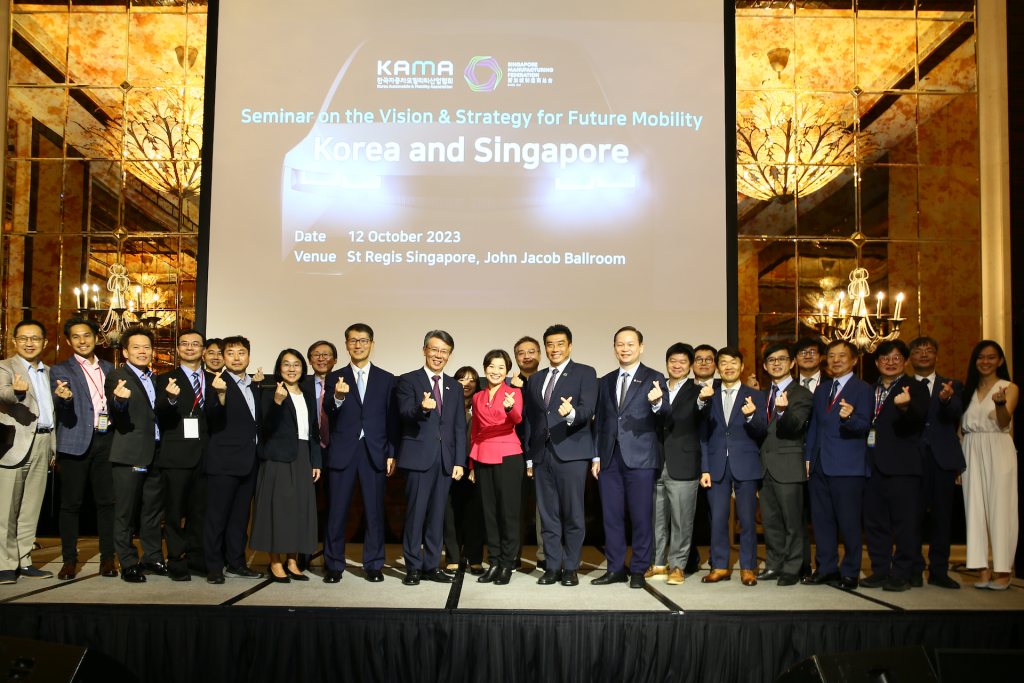 Mr. Seung-sik Na, representing the Korea Automotive Technology Institute, shared insights into the heartbeat of the Korean automotive industry. It's not merely about cars; it's about an entire ecosystem. This sector accounts for a significant 11.5% of Korea's manufacturing prowess. With over 10,000 auto-related parts companies, employing 7.1% of the nation, this is no trivial affair. Korea aspires to mould the future with innovative technologies, especially in the realms of batteries and fuel cells. This is not a solitary endeavour; it's a tide that rises all boats, as they amplify the electric and hydrogen-electric vehicle landscape.
Mr. Na emphasized the necessity of government backing for such ventures. A testament to this is the Hyundai Innovation Centre right here in Singapore, a hub of eco-friendly mobility innovation. This very initiative is set to weave a brighter tapestry for eco-friendly vehicles within the nation. It's a ripple of change, and it promises a future where our vehicles leave nothing but tire marks, and even those, are eco-friendly.
It's an alliance for the future, where mobility dances in harmony with our planet's aspirations. It's the Korea-Singapore vision, and it's propelling us toward a greener horizon.
---
Check out more green rides here, or check out our latest videos on Ignition Labs TV!