You thought your monitor was big? Well, you haven't seen the Acer Predator X45 yet.
---
It's taken a long time, but OLED gaming monitors are finally hitting their stride at the start of 2023. Acer's Predator series, a name that resonates with gaming excellence, has recently launched something special.
The X27U and the X45 have landed, and they're about to redefine your gaming experience with OLED's magic. Let's dive into the details.
For our hands-on experience, we only had the X45, and boy, this one's a showstopper. Imagine a 45-inch OLED display stretching before you, offering a whopping 3440×1440 resolution. It's not just gaming; it's an immersive journey.
When it comes to speed, this monster is no slouch. You can enjoy a maximum refresh rate of 240 Hz, backed by AMD FreeSync Premium support. Quick note: To achieve that glorious 240Hz, you'll need to go the DisplayPort or USB-C route.
If you opt for HDMI, it's still impressive at 144Hz with the same UWQHD resolution. Also, maximum productivity with so much real estate.
Now, here's where it gets fun. The X45 boasts an 800R curve, which is, well, as curvy as it gets before your monitor starts making you crossed-eyed.
The super-rounded curve might not be everyone's cup of tea, but remember, it's all about immersion and reducing eye strain. Dell and Asus offer less extreme curves if you prefer to be less "cuddled" by your monitor.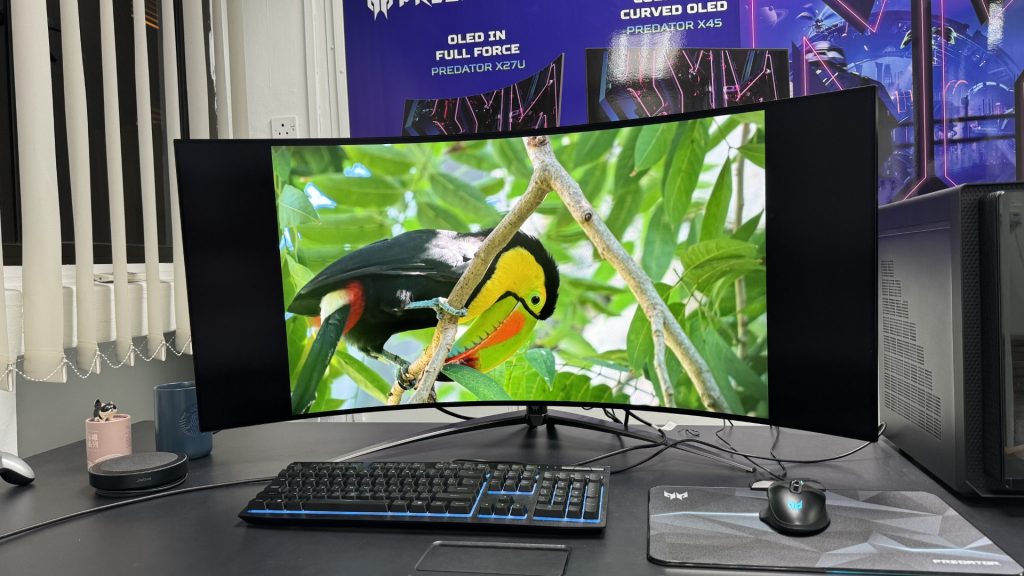 Let's talk specs because that's where the Predator X45 truly shines. Peak HDR brightness, a dazzling 1,000 nits. A true supernova in your gaming room. Plus, a jaw-dropping 1,500,000:1 contrast ratio. With a lightning-fast 0.01ms response time, your reactions become laser-sharp. Plus, it covers a whopping 99 per cent of the DCI-P3 colour gamut. You're getting some seriously vibrant visuals here.
Despite the OLED glory, Acer decided to go with an anti-glare coating. Sure, it might reduce that glossy finish's clarity, but here's the silver lining – reflections are less likely to hog the spotlight when you're deep into your gaming adventures.
For tech enthusiasts, the Predator X45 features two HDMI 2.0 ports, one DisplayPort 1.4, a USB-C port with 90-watt power delivery, and a two-port USB 3.2 hub. And for those days when you don't want to wear your gaming headset, it's got you covered with two 5-watt speakers.
Now, about the positioning – you have the freedom to tilt it (-5 to 15 degrees), swivel (+/- 15 degrees), and adjust the height (110mm). Customization is key in the gaming world, and the Predator X45 delivers.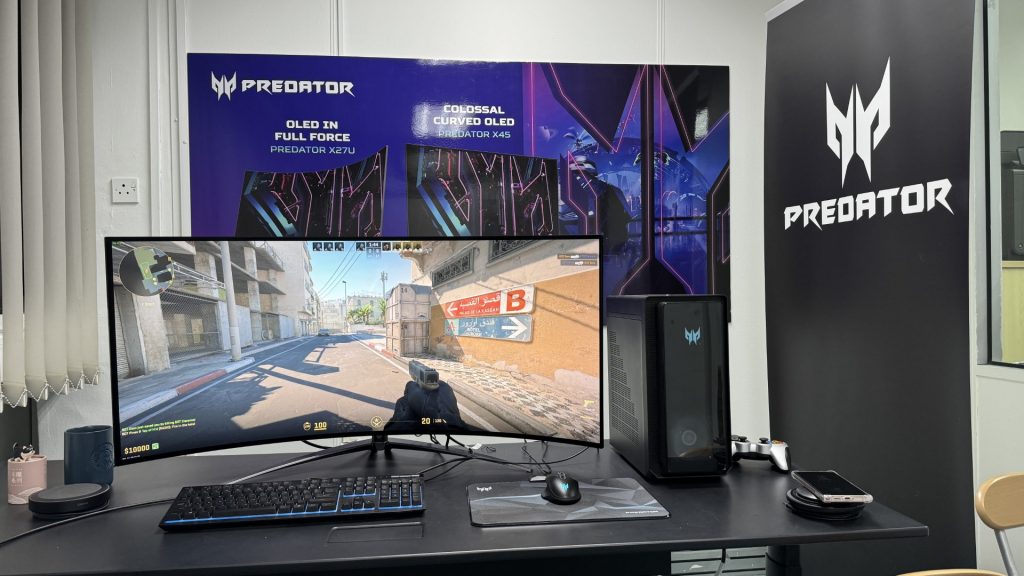 So, if you're hunting for the ultimate gaming monitor that offers a breathtaking OLED display, immersion-inducing curve, and top-tier specs, the Predator X45 should be on your radar.
It's not just gaming; it's gaming grandeur.
---
Liked this? Check out more articles on tech here.