Sharp, a pioneering leader in innovative consumer electronics and appliances, recently celebrated its 111th anniversary with its first launch event in Singapore.
---
Imagine a world without the Ever-Sharp mechanical pencil. A world where the pioneers at Sharp didn't create that iconic invention back in 1912. It's tough, isn't it? That humble yet groundbreaking invention marked the beginning of a remarkable journey for Sharp, one that's brought us cutting-edge consumer electronics and appliances for over a century. Now, as they celebrate their 111th anniversary, they've given Singapore a taste of what's to come.
The story of Sharp is one of continuous evolution, much like the very technology they create. What started with an ingenious pencil has grown into a vast empire of high-quality, innovative products that cater to diverse needs.
"Sincerity and Creativity" isn't just a business creed for Sharp; it's a way of life. Their commitment to improving our lives and advancing society as a whole is unwavering. With their theme, "Be a Game Changer," they're set to introduce technologies and solutions that will redefine our daily routines.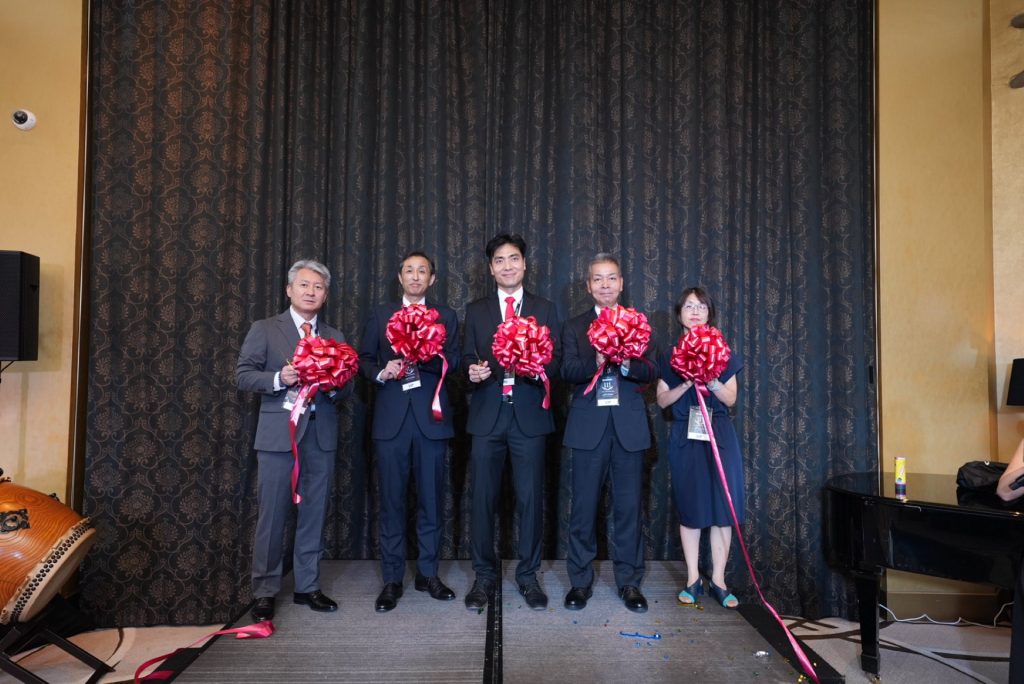 Sharp's vision extends beyond the boundaries of how we live and work. It's about standing shoulder to shoulder with us, the people, and consistently delivering fresh, life-enhancing values to the world.
An event of this magnitude deserves a grand stage. This milestone occasion was hosted by Mr Woo Keat Chew, Managing Director of Sharp Singapore, and graced by distinguished guests from Sharp Japan, including Mr Tamura Tomoki, Mr Yoshida Hiroyuki, Mr Jun Kasawaki, and Ms Manami Takeda.
Now, let's talk about what truly matters – the technology. Sharp's latest lineup is engineered to enhance our lives and change how we interact with technology.
Pure Fit Air Purifier: the breath of fresh air.
Enter the Pure Fit Air Purifier. It's not your average air purifier; it's a breath of fresh air, quite literally. This state-of-the-art marvel combines cutting-edge filtration with a sleek design.
The heart of this purifier is Sharp's patented Plasmacluster technology. Picture 25,000 ions per cubic centimetre, silently combating airborne pollutants, allergens, and bacteria. The result? Air so clean and safe that you can't help but take a deep breath.
It's suitable for rooms up to 84 square meters, making it ideal for bedrooms, living rooms, and even offices. But it's not just about power; it's about style. With its natural textures and bespoke panels, it seamlessly blends with your interior design.
This air purifier goes above and beyond with a dual suction triple filter system. With a MICRO HEPA Plus filter that captures particles as small as 0.02 micrometres at a remarkable 99% efficiency, you can be sure you're breathing the freshest air. It even has an odour, dust, temperature, humidity, and light sensor – it adapts intelligently to its environment.
And the icing on the cake? No more fiddling around – enjoy the convenience of Auto Restart, Plasmacluster Ion Spot Mode, and Child Lock features. With Wi-Fi connectivity, you can control and monitor your air purifier from your smartphone or tablet, even when you're not at home.
Heat Pump Dryer: redefining laundry efficiency.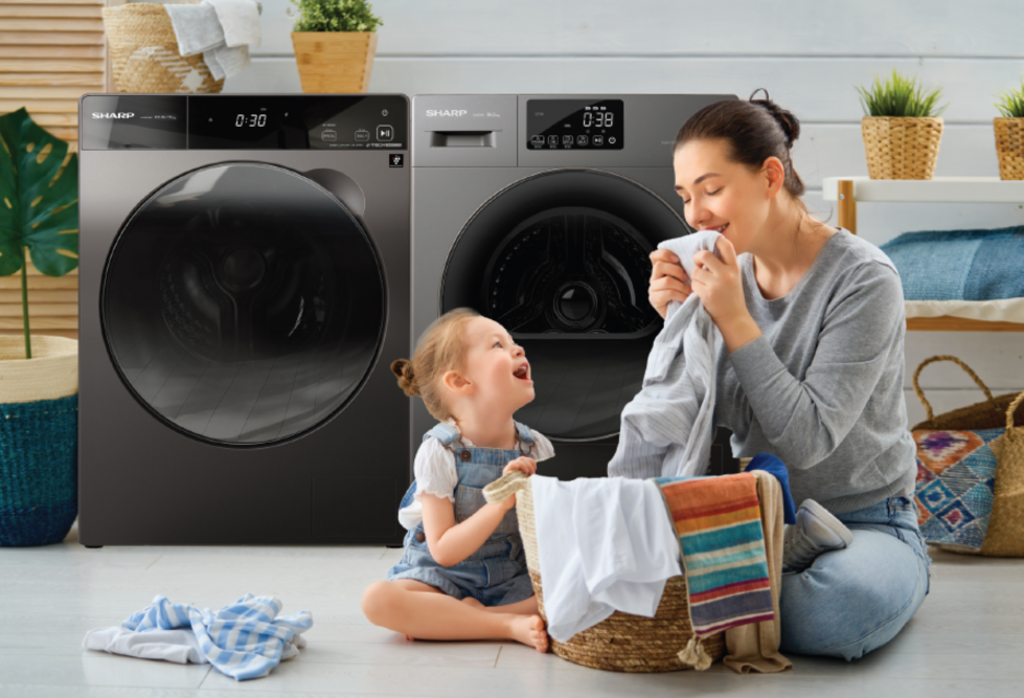 If there's one chore we'd love to redefine, it's laundry. And Sharp does just that with its Heat Pump Dryer. It's not just efficient; it's a game-changer. Energy-saving is the name of the game here, with 5-tick energy-saving features. The idea is to make laundry seamless, not a chore.
Safety comes first at Sharp Electronics. That's why these dryers come with child safety locks and overheating protection. You can breathe easy knowing that your little explorers won't accidentally fiddle with your dryer. Overheating protection ensures your dryer stays within safe temperature limits, giving you peace of mind.
These dryers are also stackable, making them ideal for homes of all sizes. The anti-crease mode minimizes wrinkles, so your clothes come out fresh and ready to wear. Adjustable drying modes cater to the specific needs of your laundry. And with an auto-dry feature, you're guaranteed perfectly dry results every time.
With 10 preset programs, including Mix, Cotton, Synthetics, Down, Hygiene, Quick Dry, Baby Care, Bedding, Warm, and Cool, there's no laundry task too tough for these dryers. It's the kind of innovation that changes not just your laundry, but your life.
2 in 1 Cordless Handstick Vacuum: the ultimate cleaning buddy.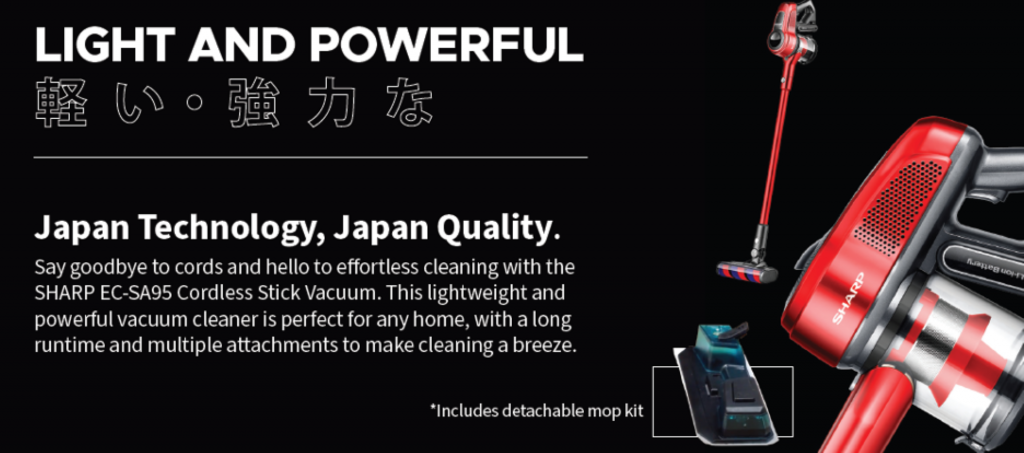 Imagine a versatile cleaning buddy that tackles dirt and debris with ease. That's what the 2-in-1 cordless handstick vacuum from Sharp is all about. It's powerful, lightweight, and your answer to a cleaner, healthier living space.
What sets it apart? It can vacuum and mop simultaneously with the mop kit. It's designed for hassle-free maintenance, and with a simple click, you can empty the dirt bin. Interchangeable multi-motorized brush heads, like fabric rollers, anti-tangle heads, and mini brushes, make light work of any surface or debris.
Let's not forget the design. Lightweight and easy to manoeuvre, it's a breeze to use. Cleaning is a cinch, thanks to this versatile cleaning buddy.
driven by innovation.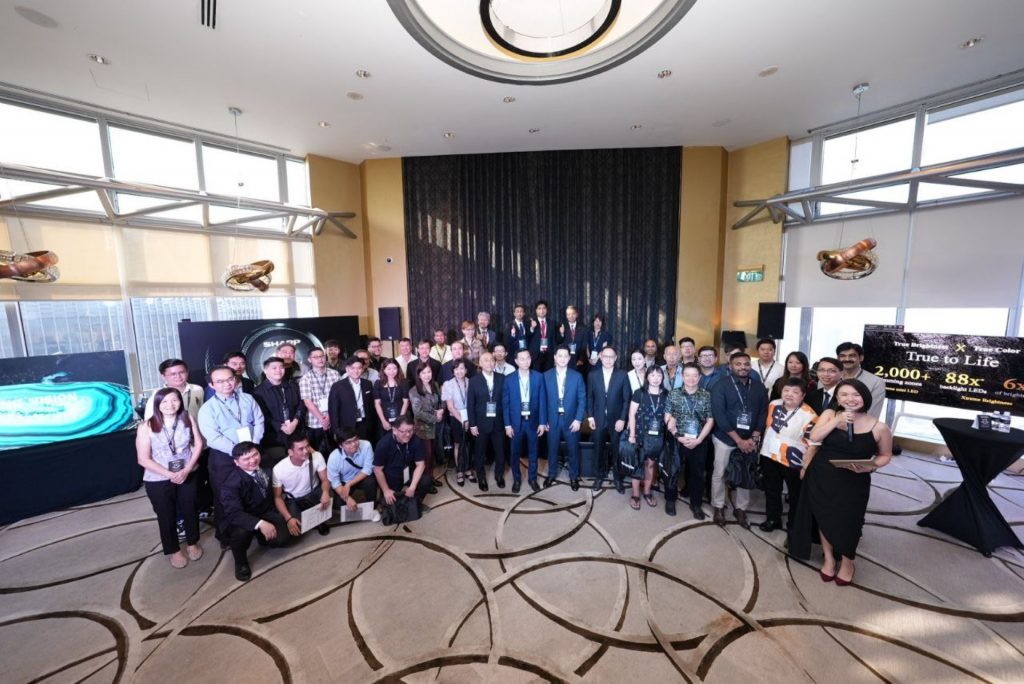 Sharp's 111th anniversary is not just a milestone; it's a testament to their unwavering commitment to innovation, quality, and sustainability. As they continue to stand by their creed of "Sincerity and Creativity," Sharp proves that after 111 years, they're still at the forefront of cutting-edge technology.
---
Loved this article? Check out how to buid a capsule wardrobe for sunny Singapore, or our latest videos on Ignition Labs TV!