Flea markets in Singapore are on the rise! Whether it's fashion-focused or filled with locals selling their pre-loved items. If you're going green and learning to consume sustainably, check out these 9 flea markets in Singapore!
---
When it comes to shopping, Singaporeans have it down. Easy. We've got shopping malls in every neighbourhood, Orchard Road, and even night markets (or pasar malams) filled with clothes, food, trinkets, and more.
But all this consumption doesn't always come from spanking new outlets. The wave of thrifting and ethical consumption has begun to sweep over Gen Zs, seeping into the rest of Singapore. It's why flea markets and thrift shops are now all the rage on this little island! So if you're looking to enjoy this iconic Singaporean pastime without ruffling any guilty feathers in your pocket of green values, you're on the right page.
The vibes, the goods, and keeping things green – here are 9 flea markets in Singapore to check out this 2023!
1. Curbside Crafters.
Easties who frequent the famous Haji Lane will be familiar with this permanent flea market. Curbside Crafters is a curated lifestyle marketplace that is the perfect spot for all who love trinkets, artworks, and supporting small, local businesses. Head over here to find creatives and artists showcasing their masterpieces in a retail pop-up stall fashion.
This permanent flea market also has food stores from time to time, so you won't get hungry shopping. With two levels filled with amazing crafts and items, you can easily spend an hour here, immersing yourself in the buzzing atmosphere of like-minded sellers and shoppers.
2. FleaWhere.
Singapore's most frequent and largest flea market operator, FleaWhere is an outdoor flea market that happens every month (or so) just outside Queensway Shopping Centre. Their stores are open to anything you'd love to sell or buy: clothes, books, and any other pre-loved item you can think of.
If you live in the area or are interested in visiting this pop up, be sure to follow their Instagram page. You'll be able to find updates on the next upcoming flea market, and get sneak peaks of possible booths to enjoy.
3. Market Gaia Guni. 
Home to the displaced sellers from Sungei Road Market, Market Gaia Guni is a community aimed at creating a culture of social sustainability; a living, breathing, culture and community that will last for generations. The place provides a low cost space, solution, and opportunity for sellers to create their own start ups and stores. If you're interested to find out where you can visit this market rooted in Singapore's history, check out Market Gaia Guni's Facebook!
4. Gardeners Day Out.
Got a pair of green thumbs? Gardeners' Day Out is perfect for you! Every 3rd Saturday of the month, Hort Park gets filled with over 60 booths filled with potted plants, gardening goods, and nature-related lifestyle products. If you absolutely love nature and want to bring a slice of it home, be sure to drop by. You'll be contributing directly to Singapore's growing gardening community and small local businesses!
5. Weekenders Market.
Got both kids and furkids? Bring them over to Weekenders Market at Jurong Play Garden! Held once a month, this kid and pet friendly flea market is home to booths filled with handmade artisanal crafts, local farmers selling produce, and even goods for children and pets. It's the perfect way to spend weekends with your family, no matter how big your family is!
6. The Hammock Market.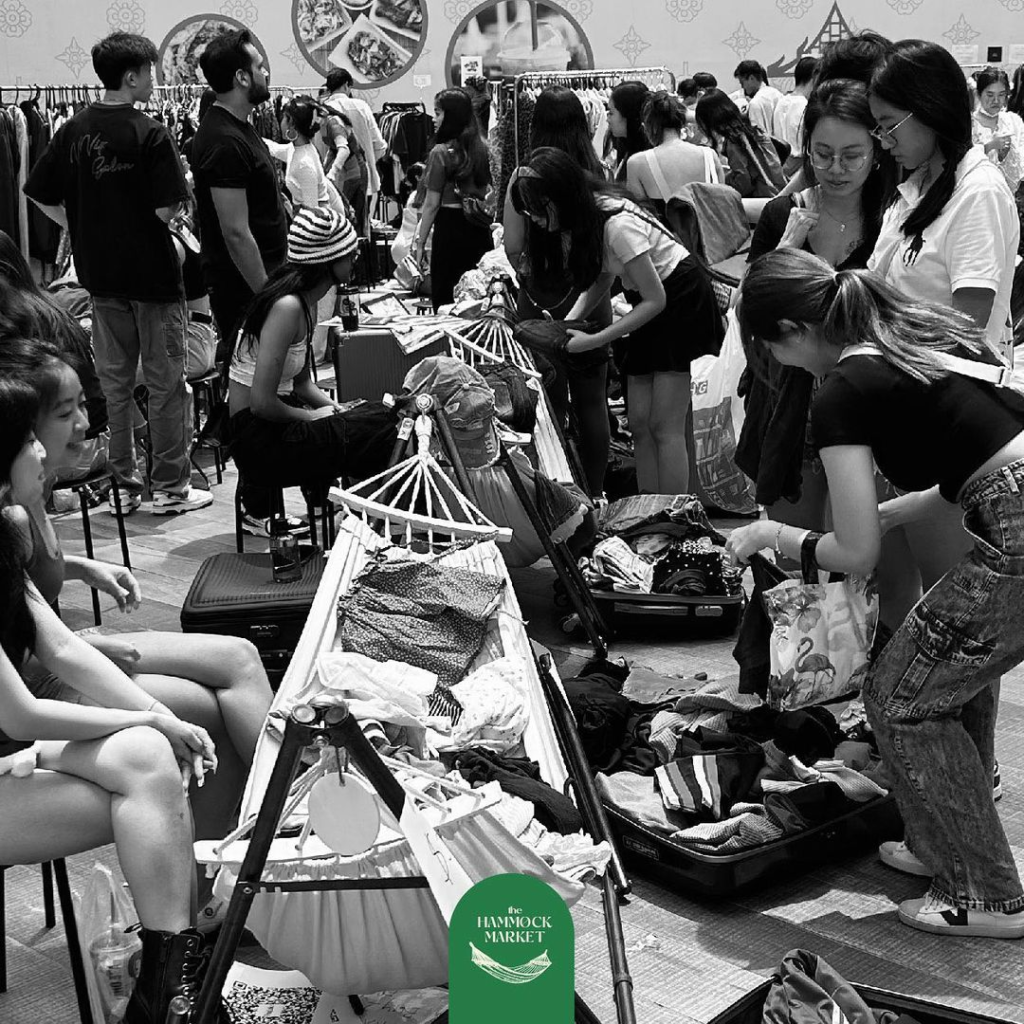 One of the trendiest spots in the flea market scene, The Hammock Market is exactly how you'd imagine it. Booths of hammocks filled with pre-loved items, vintage fits, special crafts and more! Known for hosting local personalities, you might also catch a glimpse of celebrities and influencers making their way through the crowds. Help every alternate Saturday at Aperia Mall's L1 Atrium, there's always something new for you to check out!
7. The Luggage Market.
Forget painstakingly setting up a booth – The Luggage Market is the way to buy and sell your goods! Just pack up, then unzip when you've arrived. The Luggage Market is also held at Aperia Mall, every Sunday from 11am to 6pm. It's often filled with pre-loved clothes, which makes this flea market in Singapore perfect if you're looking to revamp your wardrobe for cheap (and green)!
8. The Retro Factory SG.
With vintage fashion taking over Singaporeans, the pop up of a retro-themed flea market isn't all that surprising! Look for the perfect cottage and fairy core outfits, deck yourself in trinkets from the 90s or even expand your record collection. This flea market in Singapore is definitely not to be missed. Check out their Instagram for upcoming dates!
9. Singapore Really Really Free Market. 
Are you truly Singaporean if you don't love all things free? The Singapore Really Really Free Market is the place to snatch anything you like at no cost. It's really all free! Books, toys, services, you name it!
The market's aim is to encourage alternative gift economy and counteract capitalism in a non-reactionary way. By sharing resources, the free market brings together people in an act of compassion. And if that isn't the spirit of staying sustainable, we don't know what is!
Going green is a breeze when you know where to find all the resources you need. From pre-loved items to vintage clothing, flea markets in Singapore are definitely riding the sustainable wave!
---
Love shopping sustainably? Check out these 12 thrift shops in Singapore for sustainable bargains, or go green with these 14 vegetarian and vegan restaurants in Singapore!