If you're bored of the same ol' nature spots, you've got to check out these gorgeous hidden green spaces in Singapore this weekend.
---
Living amid the hustle of Singaporean city life can get quite tiring, especially when there's a world out there brimming with cool winds, fresh air, and calming natural spaces. After all, there's a reason why we flock to East Coast Park for picnics, or why trekking through Bukit Timah can be so therapeutic.
But the small space we call home has limited green spaces, and actively searching for novel experiences may not be the best use of time in our busy lives. So if you're looking for a way to unwind and appreciate new areas of Singapore's pockets of nature, you're at the right place. We've found 5 underrated yet incredibly beautiful nature spots in Singapore for you to check out.
1. Chek Jawa, Pulau Ubin.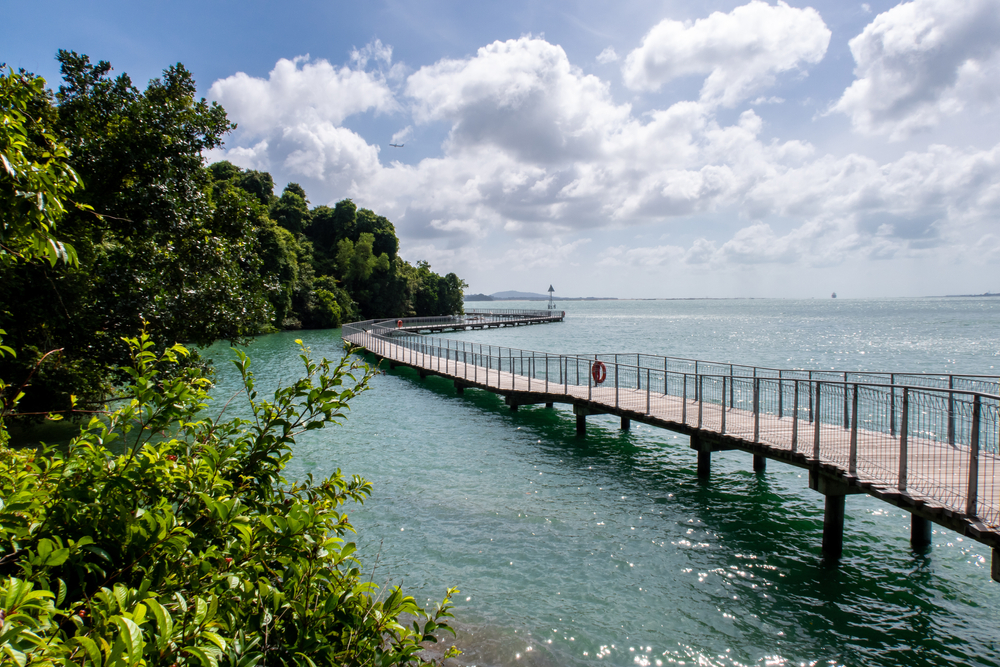 Here at futr, we're all about sustainability. And conservation of natural spaces, flora, and fauna is a huge part of that! Which is why we're delighted to bring you this little doozy of an area.
Known for having one of Singapore's richest ecosystems, Chek Jawa can be found on the eastern end of Pulau Ubin, only 3km away from the main jetty. It's the convergence point of 6 different habitats – from coastal forests to seagrass lagoons. Walk along the boardwalk and you might catch sight of Fiddler Crabs, Knobbly Sea Stars, and even Sea Cucumbers! 
A true green sanctuary for anyone looking to get away from the city, Chek Jawa is a must-visit on your next day out.
2. Rower's Bay Park & Yishun Dam.
Looking to get away from Singapore's crowded beaches? Rower's Bay Park is the perfect spot for your next picnic. Only just recently developed as part of the Round Island Route, it's got tall reeds, willow trees, and even a reservoir that runs next to it, toward the Yishun Dam. 
If you're visiting this area in the evening, be sure to stay long enough to catch the sunset. Yishun Dam's a pretty popular dating spot because of it. Take a stroll or have a seat on the dam facing the reservoir and watch as the sky lights up with gorgeous hues of blue and orange.
3. Sembawang Hot Springs.
If you haven't visited the Sembawang Hot Springs, this is your sign to check it out. The area was very recently turned into a park filled with lush greenery. The path leading up to the hot spring is even lined with fruit trees and edible plants, reminiscent of the area's rustic kampong history.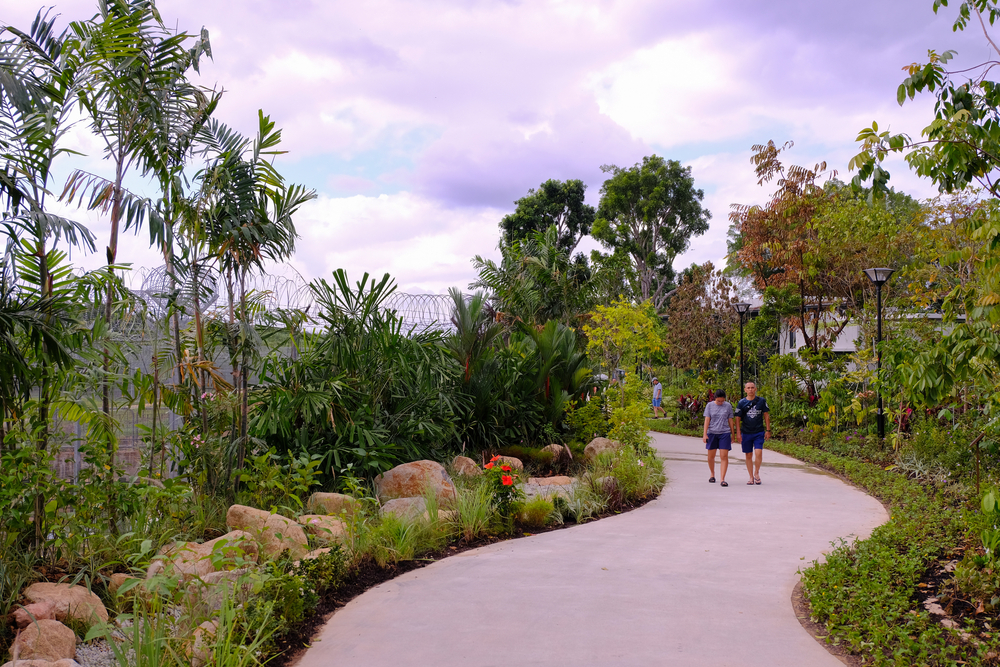 The best part? Once you've arrived at the hot spring, expect to see cascading pools, seating areas, and buckets for you to enjoy dipping your feet in Singapore's very own natural hot spring.
4. Punggol Point Park.
You've heard of Coney Island, but have you explored the park surrounding it? Punggol Point Park is the starting point for anyone heading to Coney Island, but the gorgeous area also extends all the way to Punggol Waterway Park and is one of the best places to enjoy a bike ride or jog. 
The park also faces Johor Straits, so if you're enjoying a picnic here or are just walking through the lush trees and greenery, you'll be able to enjoy idyllic, waterfront views.
Don't forget to check out the various food and beverage outlets near Punggol Point Park, too! With gorgeous green scenery, it'll be a meal to remember.
5. Southern Islands.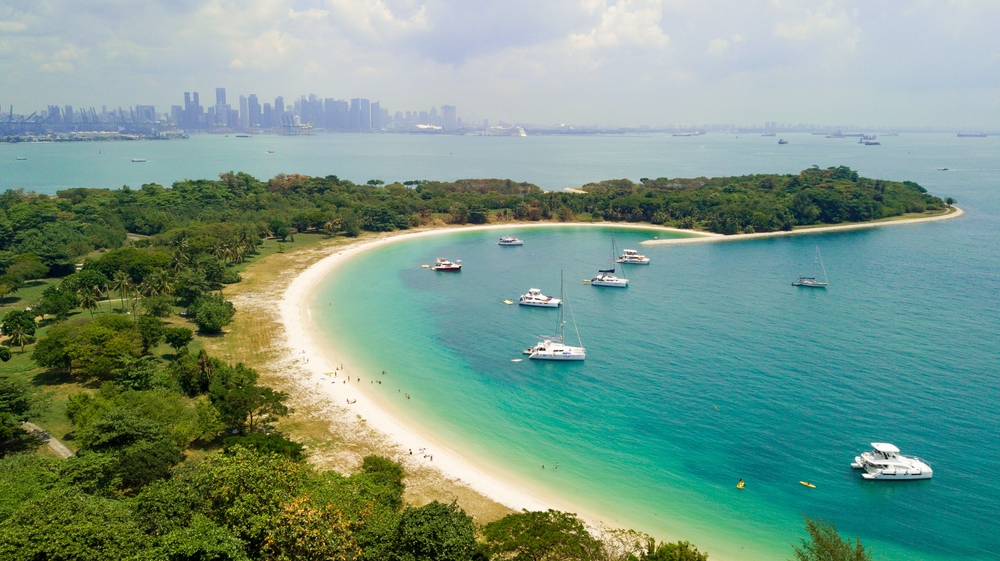 For the ultimate green getaway, Singapore's Southern Islands are the choice spots. Kusu Island, St. John's Island, Lazarus Island, and Sisters' Islands are known for their clear waters, rich marine life, and impeccable conservation efforts for Singapore's marine life! 
Step onto any one of these islands and be greeted by truly lush greenery, fresh air and lapping waves. If you're going over at low tide, you might even catch sight of corals, sea anemones and tons of wetland creatures. You can even learn more about them at Sisters' Islands Marine Park on St. John's Island: a dedicated site to learn more about marine conservation, species recovery and habitat enhancement.
P.S. Lazarus' Island is said to be Singapore's very own Maldives! Though that may be a bit of a stretch, swim around and you might just catch sight of corals and fishes in the clear waters!
These definitely aren't the last of Singapore's underrated green spaces, but they're definitely some of the must-visits if you're for all things green. Relaxing in nature has never been more convenient, and with the fewer crowds, they're an absolute treat.
---
Enjoyed this article? Why not check out Singapore's gorgeous green neighbourhoods, or learn where you can relax in a nature-themed spa this weekend!