Audi Singapore and Charge+ collaborate to bring AC and DC chargers to lifestyle locations. Up to DC 120kW offered in some locations.
---
Remember the time when this author and his friend Jegan had their minds blown away by the Audi RS e-tron GT? Remember this pic from that article of the RS e-tron GT at a Charge+ DC charger?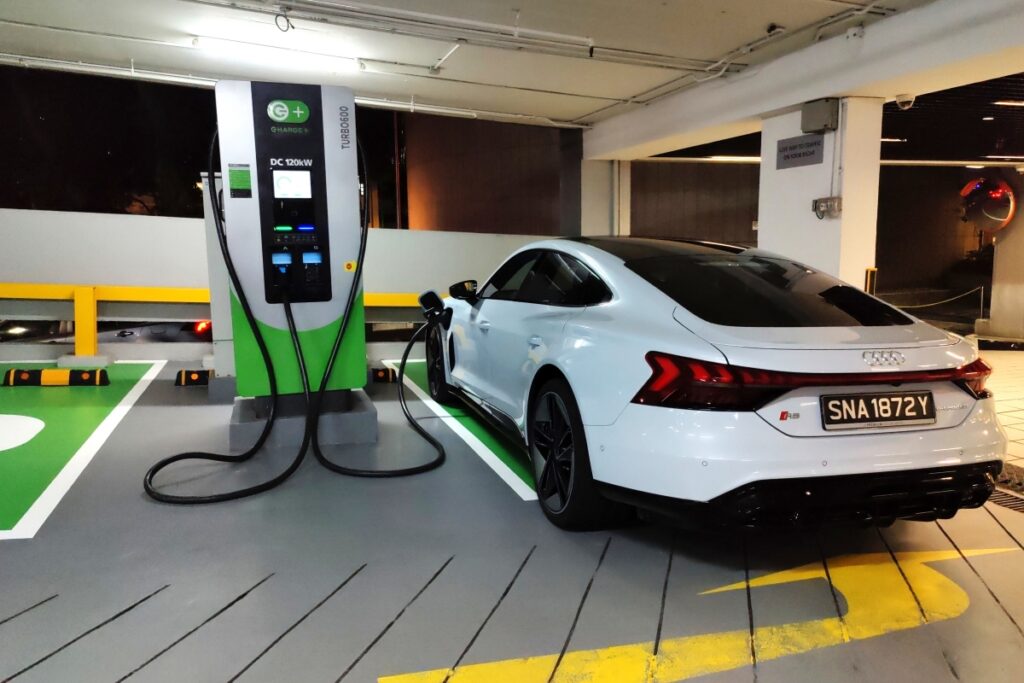 As it turns out, Audi Singapore and Charge+ have joined forces to launch the Audi Destination Charging network in Singapore. Makes sense since the latter currently (pun unintended) features the fastest DC chargers in Singapore.
The first charging site, already available, is located at the seventh floor of orchardgateway. Other chargers will soon follow at popular lifestyle destinations.
This Charge+ Audi Destination charger offers four charge points – two 7.4kW AC chargers, and two rapid 120kW DC chargers, and are currently priced at $0.4576/kWh* and $0.5578/kWh* respectively. As an added bonus, Audi e-tron owners who have opted for the OCBC Eco-Care car loan package are entitled up to 18 months of complimentary charging credits (up to 380kWh/ month), depending on their type of residence.
This in turn offers options to Audi e-tron owners. If one intends to stay in the area for awhile and just needs a top-up in the meantime, the AC option would work well. For the Audi e-tron owner who needs to rapidly charge an almost-depleted battery pack during a splash-and-dash at orchardgateway, the DC charging option would satisfy this requirement in as little as 30 minutes.
The orchardgateway station adds to the existing Audi Destination Charging points located at Audi Centre Singapore at Alexandra Road and Audi Service Centre at Ubi Road 1.
"We are thrilled to be partnering with Charge+ and other charging point operators to launch the Audi Destination Charging network in Singapore, doubling down on our commitment to Singapore's journey towards green mobility. Over the next few months, we will be launching more charging locations with other charging point operators," said Markus Schuster, Managing Director, Audi Singapore.
"The perceived lack of charging infrastructure is often a primary concern for Singaporeans when considering EVs. We hope our growing network provides customers with a range of charging points across the island, alleviating their concerns around range anxiety and encouraging them to consider electric mobility in the near future."
And speaking of perceived lack of infrastructure, the Charge+ Audi Destination Charging points are available for all electric vehicle (EV) owners in Singapore! From 1 – 31 July 2022, all EV owners can redeem one hour of complimentary parking with a minimum charging spend of $10 at the new orchardgateway site, T&Cs apply.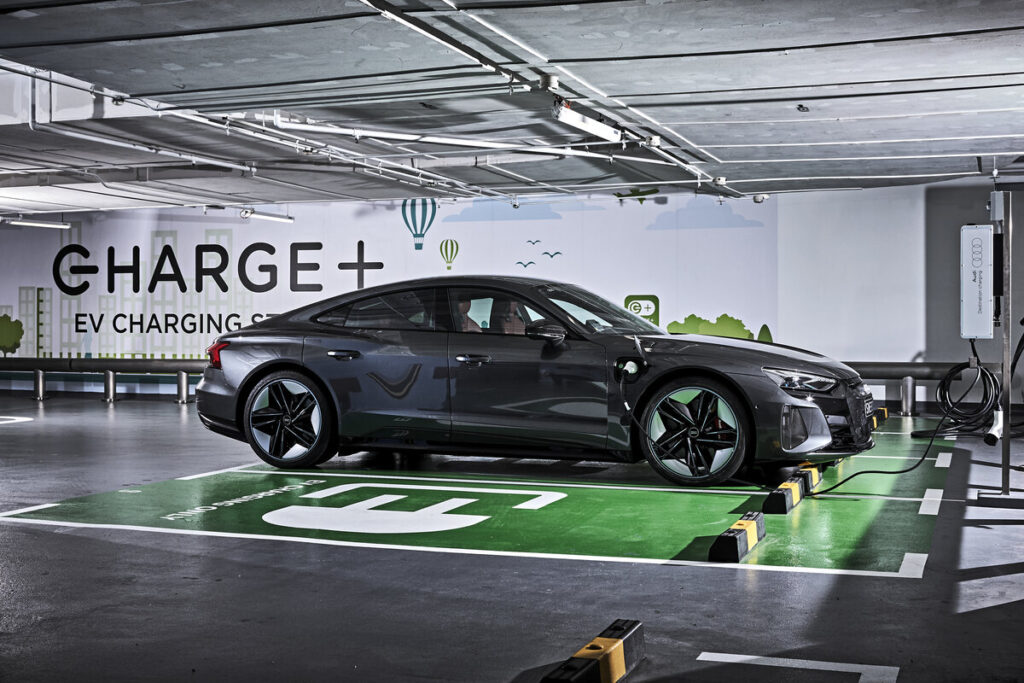 Talk about an all-win for Singaporean EV owners!
*Rates accurate at the time of this article and are subject to change; refer to Charge+ app for latest prices.
---
Enjoyed this article? Check out more exciting EV news and reviews in our Rides section!