Driving an EV for short distances with multiple charging options nearby has always been the ideal. However, the big question for most EV buyers is, will they be able to go the distance? Thanks to Audi Singapore, we got to find out for ourselves on a specially-arranged drive to Kuala Lumpur with its latest e-tron range
---
As a hybrid car owner myself, I like to think that I have one foot in the past and the other in the future.
I have to admit that on the whole, the ownership experience of a petrol-electric hybrid has been been surprisingly pleasant. The lower fuel consumption for driving a hybrid is almost half that of a normal petrol-powered car. Also, regenerative braking keeps the brake pad wear and tear to a minimum. Last but not least, the quietness in the cabin when stopping at traffic lights is always a welcome treat. So when the chance came to try out a full-electric drive, I was more than excited to give the experience a go.
meeting the e-trons.
On this trip, we were taking out some new additions to the family. We had the SUV e-tron S Sportback (370kW), a quick grand tourer, the e-tron GT (390kW), and an even quicker grand tourer, the RS e-tron GT (475kW). Each car had a different power output and driving feel, but I'll get to this in more detail later on.
buckle up, let's go.
According to Google Maps, our destination, the Four Seasons, Kuala Lumpur was set to be around 364km from Audi Centre Singapore.
On paper, Audi claims the maximum range of its EVs are as follows; e-tron S Sportback, 380km, the e-tron GT, 488 km, and RS e-tron GT, 472km.
No problem, right?
Well, in the real world, we started out with figures a fair bit lower than what was stated. So naturally, we were a little concerned about what would happen if we ran out of juice mid-way during a traffic jam in Kuala Lumpur, for example.
The good thing about these cars, however, is that you are able to fast charge them, just like you would with smartphones. The e-tron GT is capable of fast charge from 5 to 80 percent in 22.5 minutes using a 270kW charger or as Audi claims, a five-minute charge at this rate would add 100km of range. This is possible of course, with a 270kW DC charger.
In Malaysia however, the fastest available chargers are only rated at 180kW DC and can be found at certain Shell stations along the North-South Expressway. With slower chargers, come longer charging times…
e-tron S Sportback: capable all-rounder.
We started out with around 357km of range in the Audi e-tron S Sportback. Incidentally, this car was the slowest, heaviest and had the shortest range of the group of Audi e-tron cars in our group. Needless to say, my driving partner, Jonathan, and I had our work cut out for us.
On the other hand, being an Sports Utility Vehicle (SUV), it was the most spacious and comfortable overall. The dashboard was like most of the other modern Audi cars, with touchscreens everywhere. The only welcome change I'd hope to see are more tactile buttons for the climate control.
Trying to make adjustments on the move can be dangerous when driving at high speeds as you need to take your eyes off the road and look at the screen you're touching. The raised ride height made getting in and out easy. Usefully, the ample luggage space (610 litres) easily held multiple bags despite its sporty roofline.
It's been two long years since the borders to Malaysia reopened. Driving in Singapore is quite ideal for an electric car but let us just say it can be quite limiting. You see, petrol cars do not come anywhere close to the blazing fast acceleration from EVs, with a few exceptions of super cars that are out of the everyday person's reach. Even being the "slowest" car of the group, the e-tron S Sportback took just 4.5 seconds to reach 100 km/h from a standstill with its three powerful electric motors.
Not too shabby. That kind of acceleration borders on sports car territory. The S version we drove peaked at 370kW (503hp) and made a massive 973Nm of torque at peak output which, to be honest, feels ridiculously powerful.
With that kind of torque output, Audi might have a future in supplying electric motors to train companies. In the rear, Audi dropped two smaller motors at the back instead of a single rear motor. They claim that this allows for active and fully variable torque vectoring on the rear axle, which helps with the handling.
In case you were wondering, the standard e-tron Sportback makes 140kW (190hp) and 433Nm of torque less than the S but saves its owner $127,829 in the process.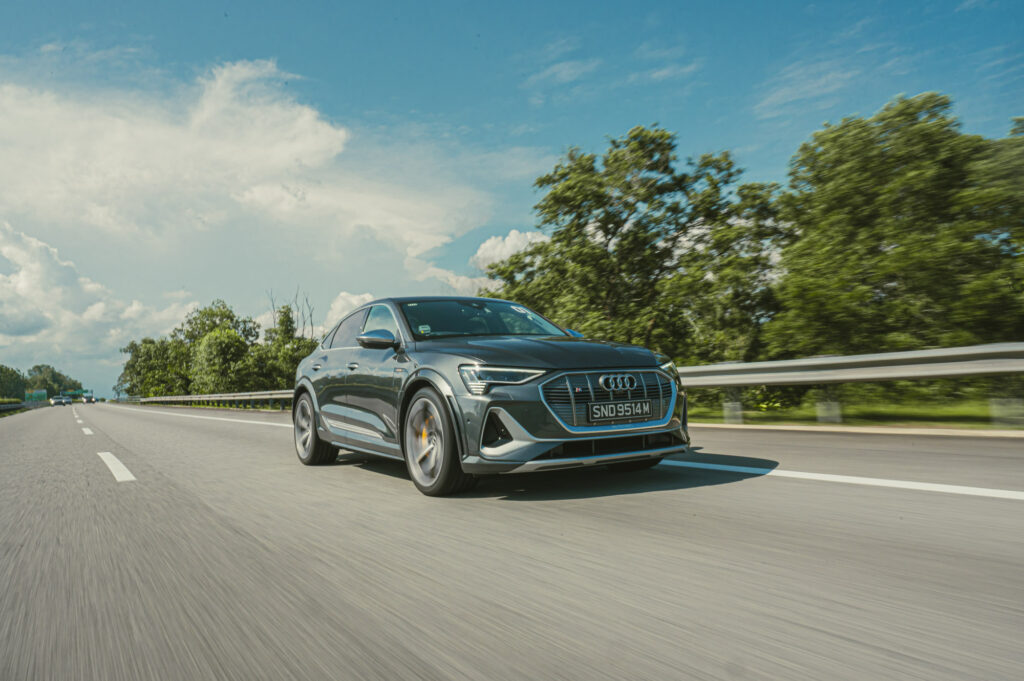 After stamping our dusty passports, we came out of Tuas second link customs and gave the car a run across the bridge towards Malaysia, it was effortless, quick, and oh-so silent. We easily outpaced the Internal Combustion Engine (ICE) cars ahead of us with ease in the e-tron S Sportback despite weighing the heaviest at 2,620kg.
The e-tron S Sportback was in its element, cruising comfortably when we hit the North-South Expressway. Its ride height gave its occupants a commanding view of the road ahead to see further ahead while the acceleration was more forgiving than its e-tron GT sports car brothers.
The multi-link adaptive air suspension in the e-tron S Sportback was brilliant. It absorbed the bumps on the road with relative ease, making the ride plush and quite enjoyable, even at high speeds. A previous drive on the North-South Expressway in an SUV was quite a hair-raising experience in comparison, as its high ride height did not suit high speed. Each time a larger vehicle passed us, I could feel the vehicle sway along with the wind.
The Audi e-tron S Sportback on the other hand, was rock steady and almost sedated in comparison. At high speeds, it was stable and composed while going through its paces, reminding you of its German roots where they build these vehicles for roads like the Autobahn, where speed limits are un-restricted in many parts. The adaptive air suspension is able to adjust the ride height with a 76mm height range as you go along. At higher speeds, the air suspension automatically lowers the car for better aerodynamics and stability.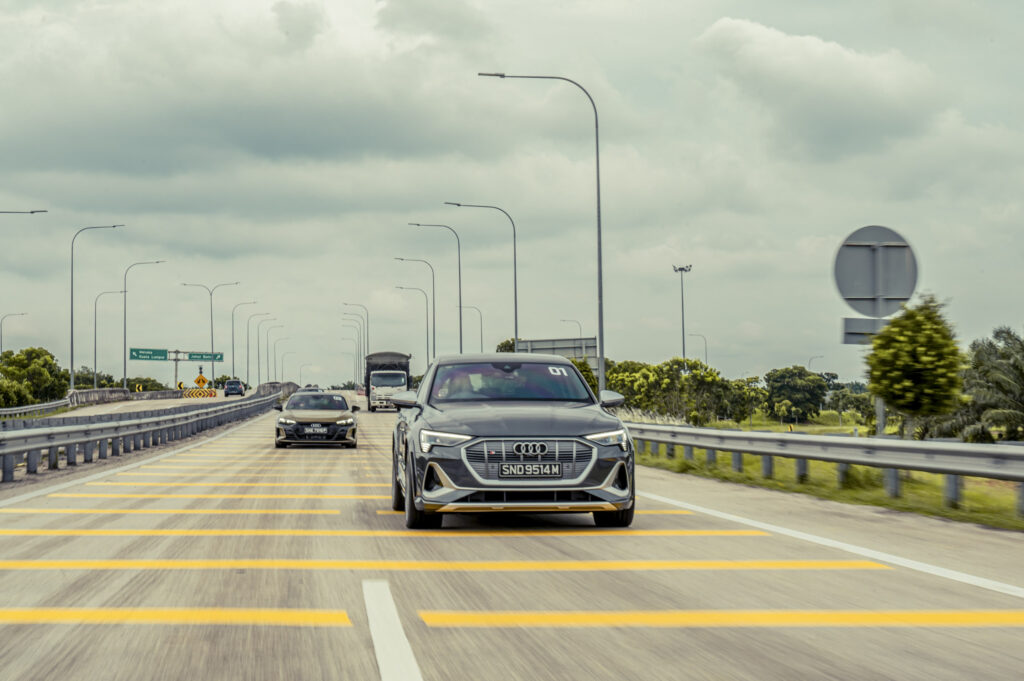 The e-tron S Sportback is a quiet achiever. It blends refinement and power in a balanced way. It is calm, yet when you need to keep pace, it is no slouch.
The only issue with this car was that the range was shorter than the other two cars. We had to give it a couple quick charges along the route to Kuala Lumpur. One longer charge during lunch which was about an hour and another quick 30 minutes charge when we were closer to the Malaysian capital.
To be fair, we drove with little consideration for efficiency. We drove as per normal, but at times had a little fun accelerating up to speed. I reckon if you were to drive it in efficiency mode with some consideration to regenerative braking, the range would improve considerably. The trade offs could be overlooked if you want a car that can accommodate four adult passengers comfortably with a lots of luggage, and enough pulling power to tow a commercial jet.
With a little bit of planning for short recharge sessions, and careful driving along the highway, the e-tron S Sportback should not need quite as many charging top-ups.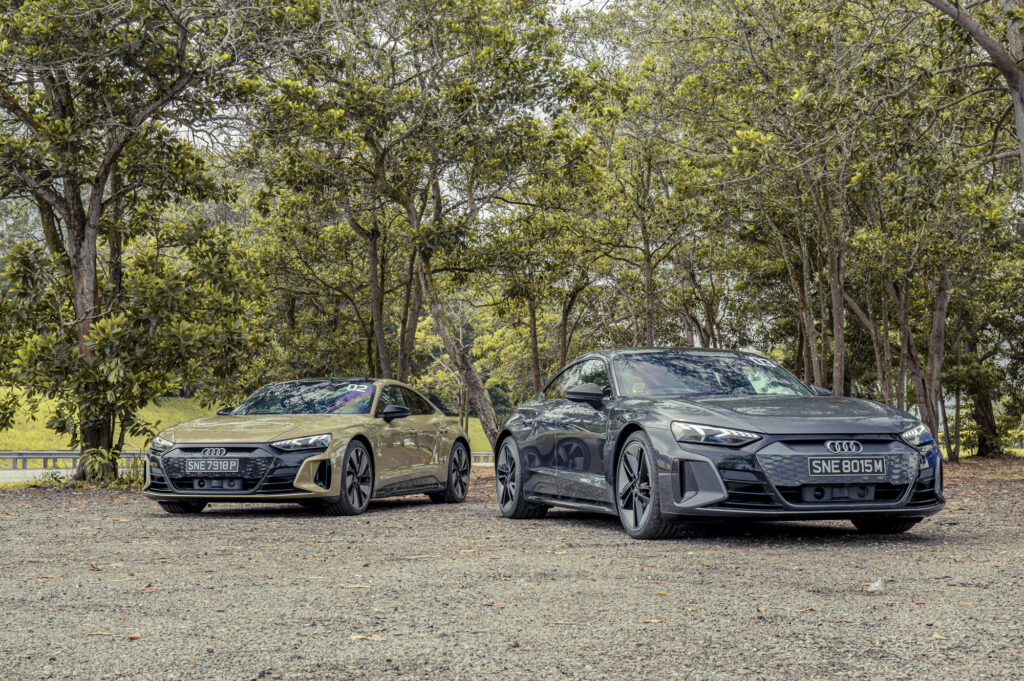 e-tron GT / RS e-tron GT: sporty twins.
The sporty good looking twins of the group are actually based on VW Group's J1 platform which also underpins the Porsche Taycan, which is pretty much a rocket, based on prior experience. Nothing quite prepares you for when it accelerates.
Having the same 800-volt EV architecture as the Porsche Taycan, I was expecting great things from the e-tron GT. The styling of the Audi RS e-tron GT in Daytona grey pearl finish would not look out of place in a Batman movie.
In an interview, Marc Lichte (Head of Design) for the Audi e-tron GT mentioned that the usual design process was to get 10 to 15 different designs for a new car and to narrow it down to two, then make a final choice. For the e-tron GT however, they simply did a proportion model and thought it already looked so exciting that they did not even start the design process and went on from there.
Despite its low stance and wide body, the car looks like a handsome, sporty Audi from the front, but when you move to the rear, you see the rear lights that look like something you find in a sci-fi movie.
Both cars are quick, e-tron GT can accelerate from a standstill to 100km/h in 4.1 seconds and the RS e-tron GT does it in 3.3 seconds. The range of both are quite impressive compared to the e-tron S Sportback. They would be able to last the whole way to Kuala Lumpur with one charge when driven sensibly. Initially, we thought the e-tron S Sportback would last longer seeing how both the other cars were sports cars and having slightly less battery energy content.
I suspect it was down to weight, ride height and aerodynamics at high speeds. The e-tron S sportback has a low drag coefficient figure of 0.26 which is remarkable while the e-tron GT has a lower drag coefficient figure of 0.24. To put that into perspective, the Audi R8 Sports car is around 0.34. However, the e-tron GT and RS e-tron GT weigh about 300kg less than the e-tron S Sportback, which probably helps with the range.
The 800-volt system in both e-tron GT models enables ultra-fast charging. Five minutes on a 270kW DC high-speed charging network will recover about 100 km of range.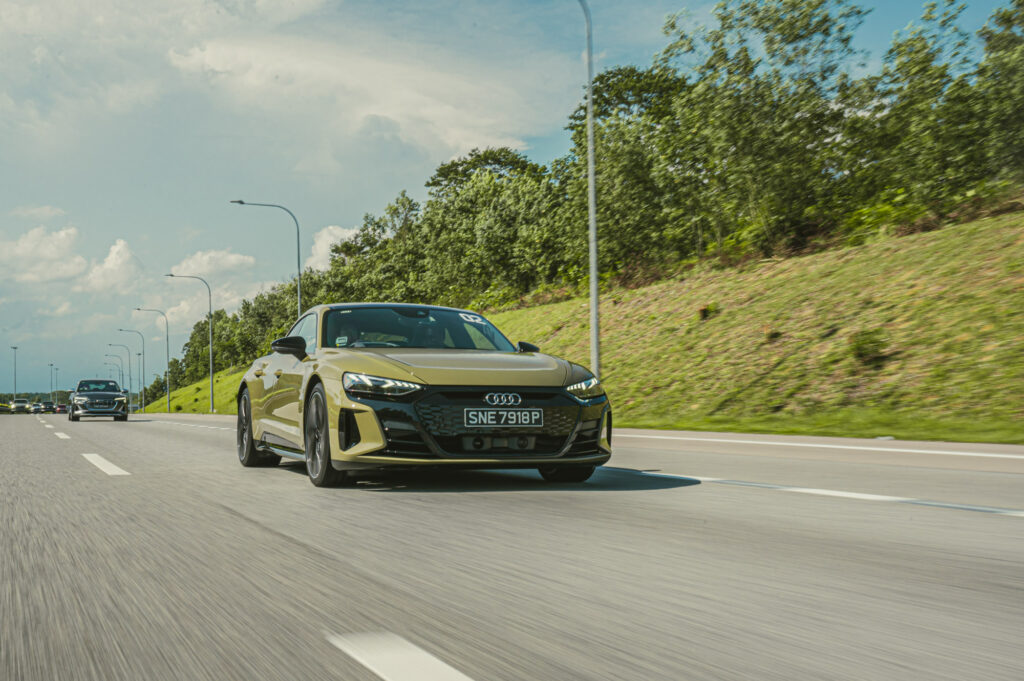 e-tron GT: the sensible one.
Just before we reached Malacca for lunch. Our range dropped to about 250km. We swapped our e-tron S Sportback SUV for the e-tron GT in tactical green finish. Getting in the driver seat for the first time, the low ride height makes you duck to get in. Once you manage to slide into the seats, you can feel the simplicity of the interior compared to its sister the Porsche Taycan which is decked out with a curved screen.
It feels familiar to that of a higher end Audi model. It is by no means a bad thing. Many EVs car manufacturers try to make their EVs feel futuristic by making most of the functions accessible via the touch screen including the positioning of air con vents which can be downright frustrating and unnecessary. Thankfully, Audi kept it simple with physical knobs for air con vents and tactile buttons.
As we exited the rest stop on to the highway, the e-tron GT picked up speed very quickly, a tad faster than the e-tron S Sportback in boost mode but with little body roll. The e-tron GT feels like a no frills grand tourer. It rides low and wide with very little drama.
Do not mistake it for being boring however, it is quick off the mark even for the 'base' e-tron GT. Despite having a more conventional double wishbone and multi-link suspension, I felt it was the more comfortable drive compared to the other two cars with fancy turistic air suspension for some reason. The e-tron GT does handle quite easily despite weighing over at 2,276 kg which was the lightest of the three cars here.
It ate up the long highway tarmac with ease. On a long stretch of road, an intergalactic hum is pumped into the cabin each time the accelerator was pressed down, and you see the world around you become a blur like a spaceship entering warp speed in the movies. It was quite addictive, but I suspect it might not be good for the range which this drive is primarily about.
The car offers paddle shifters for controlling the amount of regenerative braking. The regenerative braking imperceptibly feels light in this car which makes driving feel like a conventional ICE car. This could help win some EV sceptics over but it may disappoint some EV fans of one-pedal driving.
Knowing that there was no way we were going to drive super efficiently for this trip, the event organisers arranged for a short recharge session while we had lunch along the highway. We pulled into the Shell Recharge station that has the 180kW chargers at Tangkak Layby South Bound, 84900, Tangkak, MY.
Do take note, this Shell station is on the southbound side of the highway going towards Johor, a detour is required. Another thing to note is that you are not charged for charging but for parking instead. So once the battery is charged, make sure you move off and not leave the car there to avoid unnecessary costs.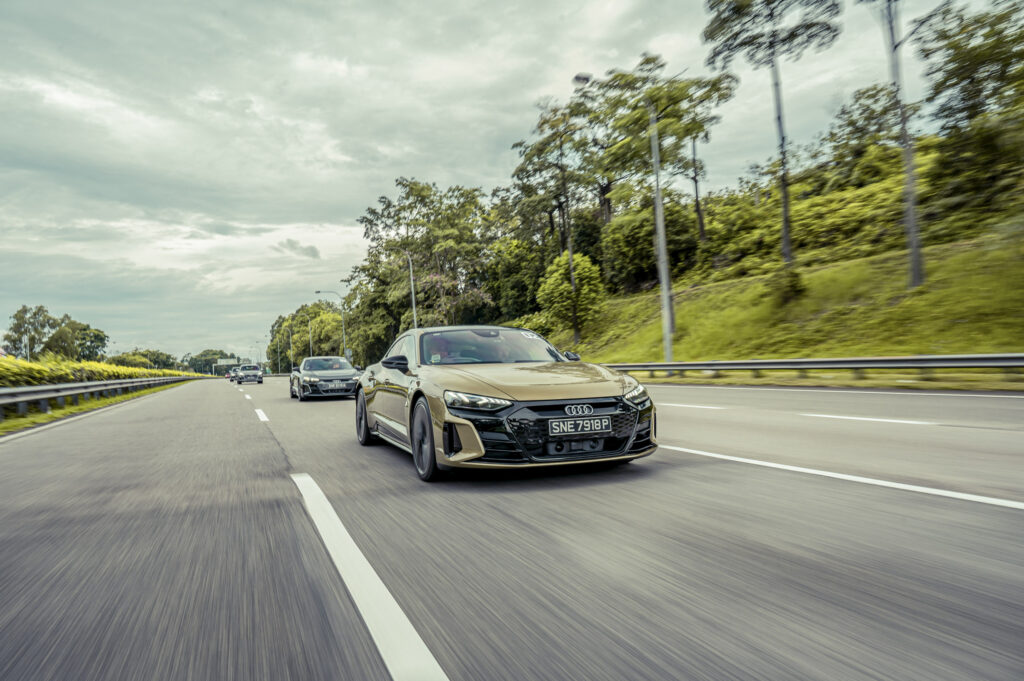 The e-tron GT compared to its faster RS twin, is much less aggressive and more controlled in terms of its power. The pace when it picks up speed is more digestible for the human brain. Even without the additional power and fancy features compared to the RS e-tron GT, for $148k less, you are getting a very well-rounded electric sports car. It is unassuming, calm, and capable. Lacking nothing you would actually need from the RS e-tron GT.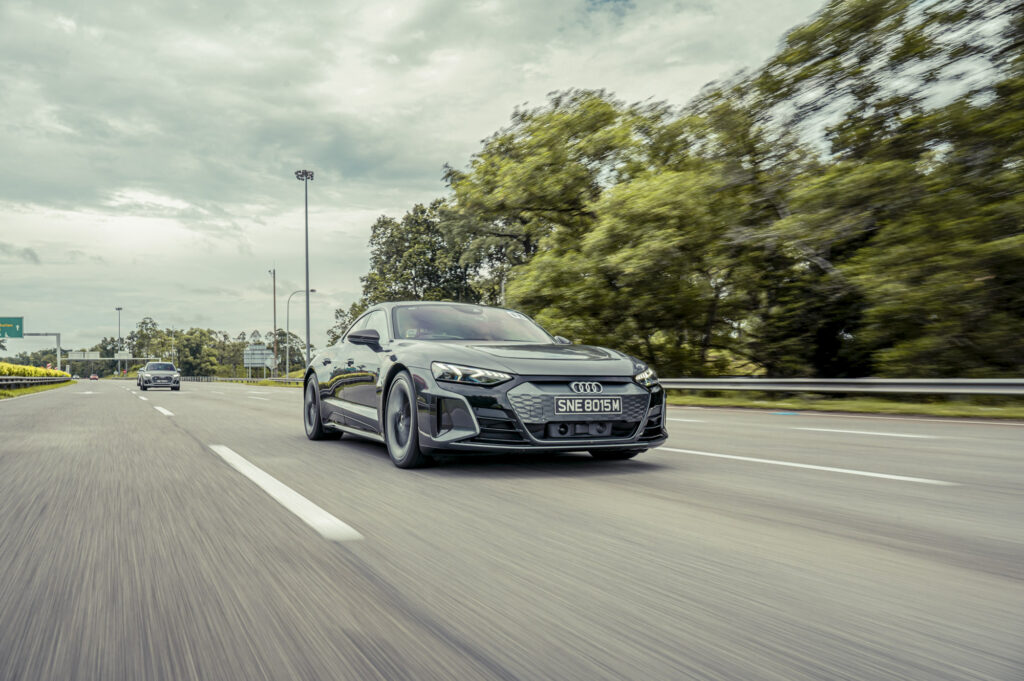 e-tron GT RS: teleportation device.
Approaching Kuala Lumpur, it was finally time for us to swap our e-tron GT for the brooding RS e-tron GT. Getting into the RS felt completely identical to the e-tron GT. Everything look and felt the same.
It was only when we got to the North-South Expressway, that I realised I was in the cage with a different beast. Each time you poke the throttle a little more than you should, the car lunges forward instantaneously.
On long stretches of road, there is a tendency to fall back in the convoy while talking to my co-driver. The car in front could be quite a few kilometers ahead, seeing them in the distance, I would mash the throttle to the carpet.
What happens next, is that a space-time portal opens up whereby you are teleported to the rear of the car ahead almost in an instant. It just happens so quickly, your brain feels like it's lagging.
This car is capable reaching 100km/h in 3.2 seconds in boost mode from a standstill. In fact, that is almost as quick as Audi's fastest car, the R8 Coupé V10 performance quattro that can do it in 3.1 seconds but weighs almost 700kg more.
Admittedly, driving the RS e-tron GT is more stressful compared to the other two cars in the hands of this writer. Trying to tame the power requires you to have a gentle right foot to prevent an accident from happening. However, each time when an opportunity to overtake a vehicle, the effortless acceleration it produces, also sends a shot of adrenaline in to your system.
Our events crew had an Audi SQ5 at the back of the convoy and told us that each time we sped up to catch the car in front, they would be left hanging as they simply had no way to keep up. The RS e-tron GT has adaptive air suspension, all-wheel drive, e-torque vectoring, and rear-wheel steering. This allowed the RS e-tron GT is able to take on the bumps and corners with finesse and poise.
Each driving mode changes the firmness of the suspension, however it was quite subtle. It does help reduce the manic power surge in efficiency mode and probably save you quite a little bit of range overall. The handling of the car is balanced and steering is sharp coupled with the extremely low centre of gravity and the weight at around 2,345kg, gives the e-tron RS GT a firm grip on the road.
I asked my co-driver Jonathan, who is a hardcore petrolhead on his opinion on the RS e-tron GT versus something like a Lamborghini Huracan STO which he managed to drive during a recent media event. He said that though both are equally as powerful and quick, the stark difference would be the drama and character that you get from the powerful petrol engine supercar.
On that point, I agree with him, having driven some powerful petrol cars, the RS e-tron GT felt clinical even with so much power to tap from.
However, I prefer my cars to be quiet, refined and yet able to deliver power with a punch when required. The RS e-tron GT ticks a lot of boxes for me. It is comfortable, has enough room for four people and their luggage. Yet, it is able to outrun most supercars on the road with a quiet, blistering turn of pace.
the start and end.
We started the journey with a little bit of trepidation not knowing what to expect from driving an EV, much less over a long distance. The e-tron's are extremely capable vehicles on the road without missing a beat.
We only had to stop for a quick recharge which was already pre-planned. We managed to reach our hotel with about 82 km left on the RS e-tron GT, more than sufficient for any detours to the next charger.
What the Audi e-tron models proved was that it was a relatively easy and comfortable drive up with some proper planning. The availability of fast chargers is still lacking. However, with time, this situation would change and with battery technology getting better, I am quite confident that range anxiety and charging timings will slowly dissipate as car manufacturers continue to innovate on this front.
---
fast facts.
Audi e-tron S Sportback quattro.
Battery Output: 95kWh
Power: 320kW (435hp)
Torque: 973Nm
Top Speed: 210km/h (limited)
0-100km/h: 5.1 seconds (4.5 seconds with launch control) (claimed)
Range: up to 380km (claimed)
VES Band: A1 (S$15,000 rebate)
Price: from S$496,290 with COE
Contact: Audi Singapore
---
Audi e-tron GT.
Battery Output: 93kWh
Power: 350kW (476hp)
Torque: 630Nm
Top Speed: 245km/h (limited)
0-100km/h: 4.5 seconds (4.1 seconds with launch control) (claimed)
Range: up to 488km (claimed)
VES Band: A1 (S$15,000 rebate)
Price: from S$532,840 with COE
Contact: Audi Singapore
---
Audi RS e-tron GT.
Battery Output: 93.4kWh
Power: 440kW (598hp)
Torque: 830Nm
Top Speed: 250km/h (limited)
0-100km/h: 3.6 seconds (3.3 seconds with launch control) (claimed)
Range: up to 472km (claimed)
VES Band: A1 (S$15,000 rebate)
Price: from S$680,940 with COE
Contact: Audi Singapore
---
The next Audi A6 e-tron should be even better for long-distance touring with a 700km range. Check out the preview here!