i Light Singapore, Asia's leading sustainable light festival is finally back with immersive displays, and a new multi-sensory light art showcase atop a floating pontoon. Noice.
---
Back after 2 years, like karaoke and drunk people meandering by the Singapore River, is i Light Singapore!
Organised by the Urban Redevelopment Authority (URA) and presented by DBS, the eight edition of this sustainable light fest will run from 3 to 26 June 2022.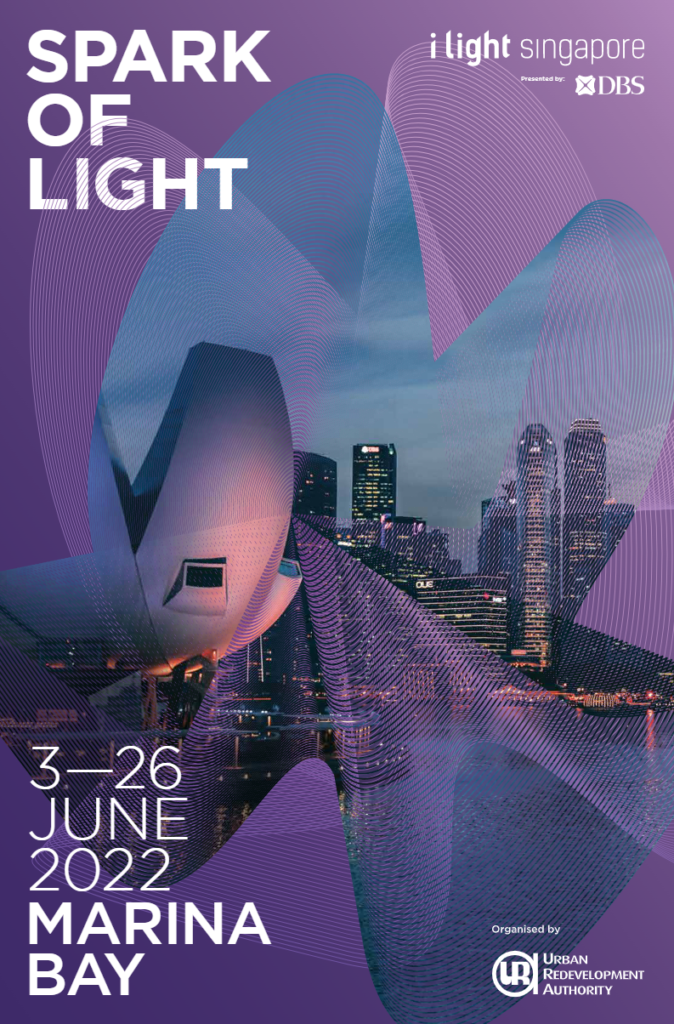 The festival invites visitors to immerse themselves in creative artwork by professional and student artists aimed at raising awareness on sustainability and eco-friendly habits.
light years ahead.
With effect from this year, each edition of i Light Singapore will be anchored on a colour from the visible light spectrum, symbolising different ways of seeing and understanding the world.
This year's edition, themed Spark of Light, is anchored by the colour violet. Apart from having the most powerful electromagnetic energy in the visible light spectrum (ooh, science), it's also a colour that signifies the awakening of the senses, and sparking of ideas.
a second chance.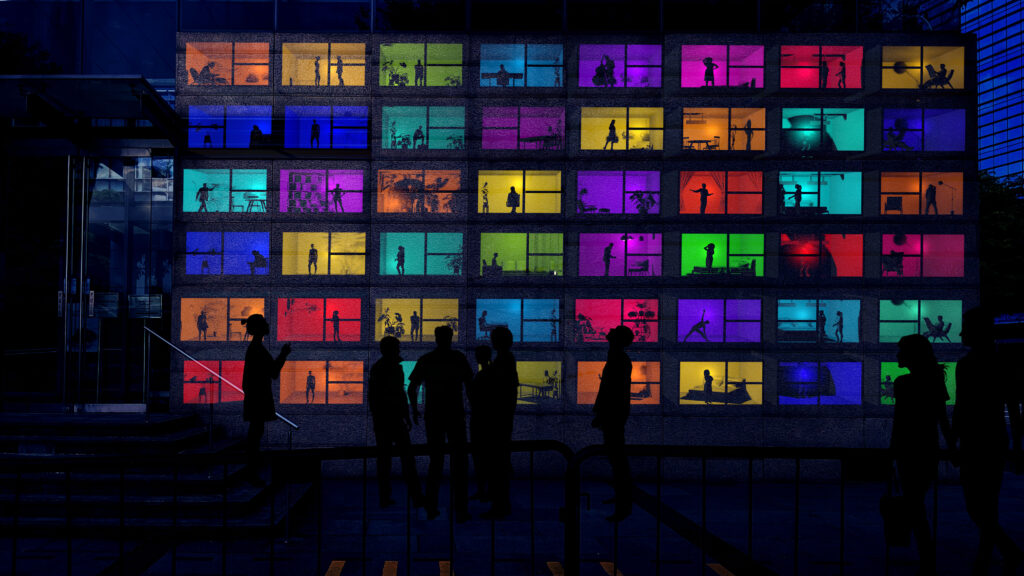 In 2019, local and international artists had responded to a call for artworks such as those that repurposed everyday objects or waste into creative light installations. Unfortunately, as pandemic restrictions put a dampener in the festival's plans, these creative artworks will be showcased this year, along with several new ones.
The installations aim to encourage conversations about our lifestyles and consumption patterns in relation to sustainability.
Said Mr Lim Eng Hwee, Chief Executive Officer of URA, "We hope this year's lineup of artworks and programmes will further invigorate Marina Bay and bring cheer and delight to festival-goers. At the same time, we hope that visitors will be encouraged to reflect on our individual relationships with the environment and with one another, such as how small but consistent changes to daily habits can contribute positively to the environment, and strengthen our relationships in a post-pandemic world."
this got deep real quick.
So what sort of artwork can you expect?
For one, there's Alone Together, an interactive projection by Singaporean artist Handson Ping Lim and her American collaborator, Ian Grossberg. The artwork focuses on the experience of living in isolation during the pandemic, and captures vignettes of private moments of people confined within Singapore's housing estates. Visitors will be able to become part of this shared memory through real-time interaction via their mobile phones.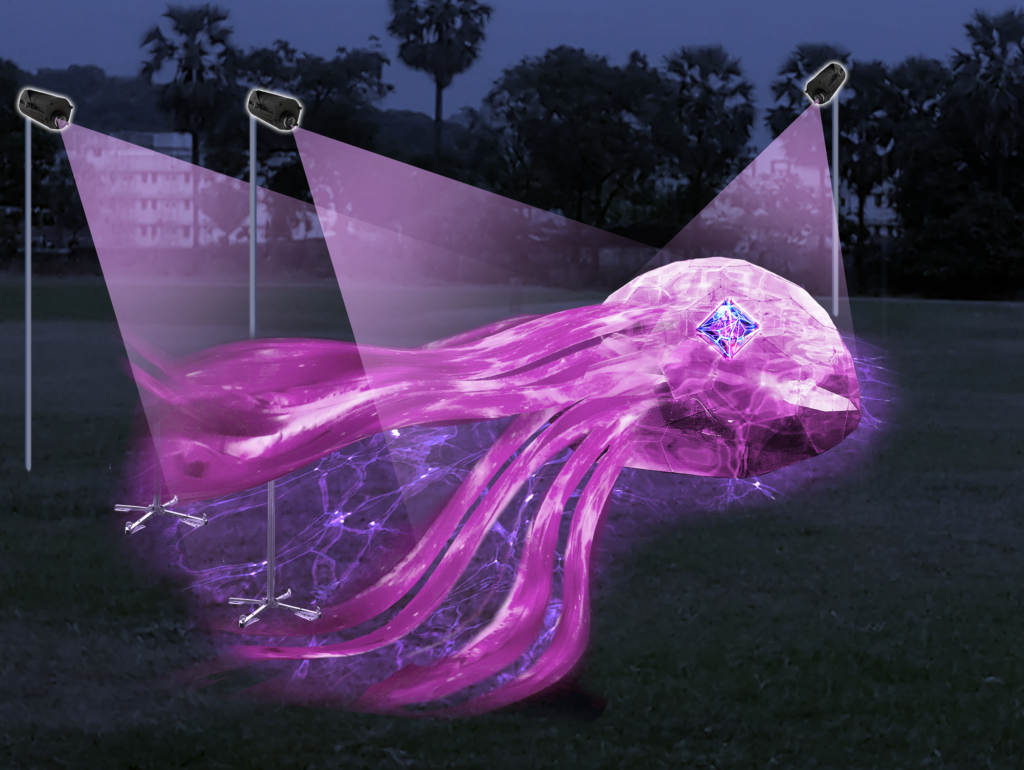 Then, there's also Fallen by South Korean artist group Nerdist x ARTINA. This trippy projection mapping artwork (on a recycled transparent dome and bubble wrap) shares the story of a jellyfish from space that crash-landed on Earth… after consuming trash jettisoned into orbit by humans who ran out of disposal space.
Now if that doesn't make you pause for a second and just think about excessive waste and consumerism… well we're sure this jellyfish would be sorely disappointed.
ok cool, but you promised an Instagrammable moment!
Okay, okay, calm down and breathe deep, measured hipster breaths.
If you're in need of some cred for the 'gram, you should definitely check out Lightwave: Isle of Light, empowered by OPPO.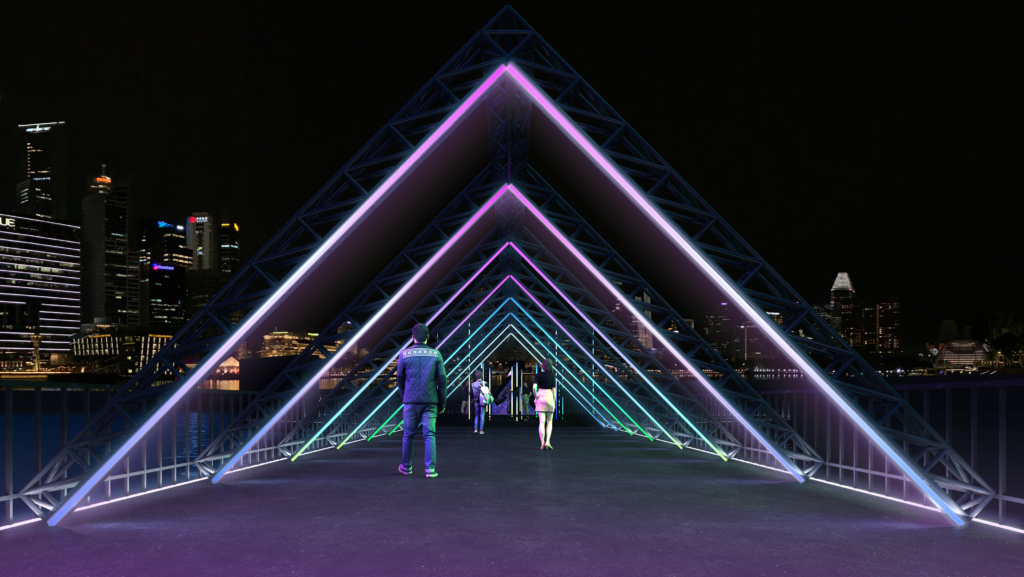 This multi-sensory journey atop a specially constructed floating pontoon features 5 unique zones with immersive features. These include enchanting holographic projections, illuminated motion-capture graphics and shadows and even light beams reminiscent of a mystical forest!
Tickets to the Lightwave: Isle of Light can be purchased from Klook from 5 May 2022, with tickets for weekdays priced at $8, weekends at $10, and discounted ticket bundles available too.
sparking the way to living sustainably.
Apart from Lightwave: Isle of Light, the festival will also be offering other complementary programmes to add to experience and further encourage visitors to consider sustainable habits.
Explained Shee Tse Koon, Singapore Country Head of DBS, "We believe that everyone has a part to play in this journey. Even the smallest changes in our everyday habits can go a long way – be it by cultivating a 'zero waste' mindset when preparing meals, or being conscious consumers by shopping with social enterprises and businesses with positive impact at their core."
So if you are looking for some inspo to kickstart (or boot up!) your sustainable living journey, be sure to give i Light Singapore 2022 a visit. Stay tuned for more details on the full lineup and programme later this month!
i Light Singapore 2022, will be held from 3 to 26 June 2022, 7.30pm to 11.00pm daily with extended hours to 12.00am on Fridays and Saturdays. Admission is free, while charges apply for certain programmes. Visit their webpage for more information.
---
Feeling inspired to start your own sustainable living journey already? Get some tips from stories in our Living section!