Nothing could prepare me for what was to come with the Audi RS e-tron GT… nothing.
---
Readers familiar with this author's virgin EV-experience would know that it was pretty pleasant. However, going into this test drive armed with the knowledge of the Audi RS e-tron GT's on-paper specifications still wasn't sufficient preparation for the truly visceral experience to come. More on that later.
The RS e-tron GT looks, at least to this author's eyes, as though its design was inspired by a streamlined aquatic animal found in the depths of the Marianas Trench. Svelte, lithe and low-slung, yet bulging and muscular in all the right places, the design-cohesiveness of this electric vehicle (EV) is spot-on and, dare it be said, better looking than its sister car, the Porsche Taycan.
the important bits.
Add to that, the RS e-tron GT sports…
… in its headlights, which, together with the organic-looking LED taillights, put on a nice little light-show when unlocking and locking the car.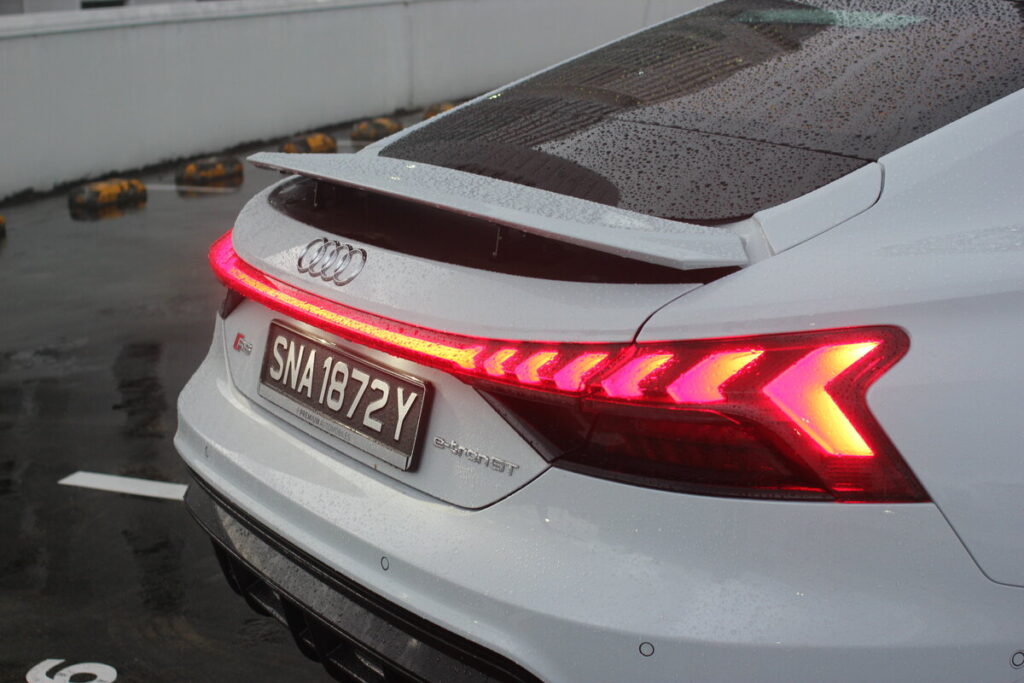 That the RS e-tron GT is low-slung may be an issue for some, such as yours truly. The longer-of-limbs build of this 1.82m-tall author caused ingress and egress to be a challenge – not helped by a pinched nerve issue – even with the driver's seat fully rearward and the steering wheel fully raised.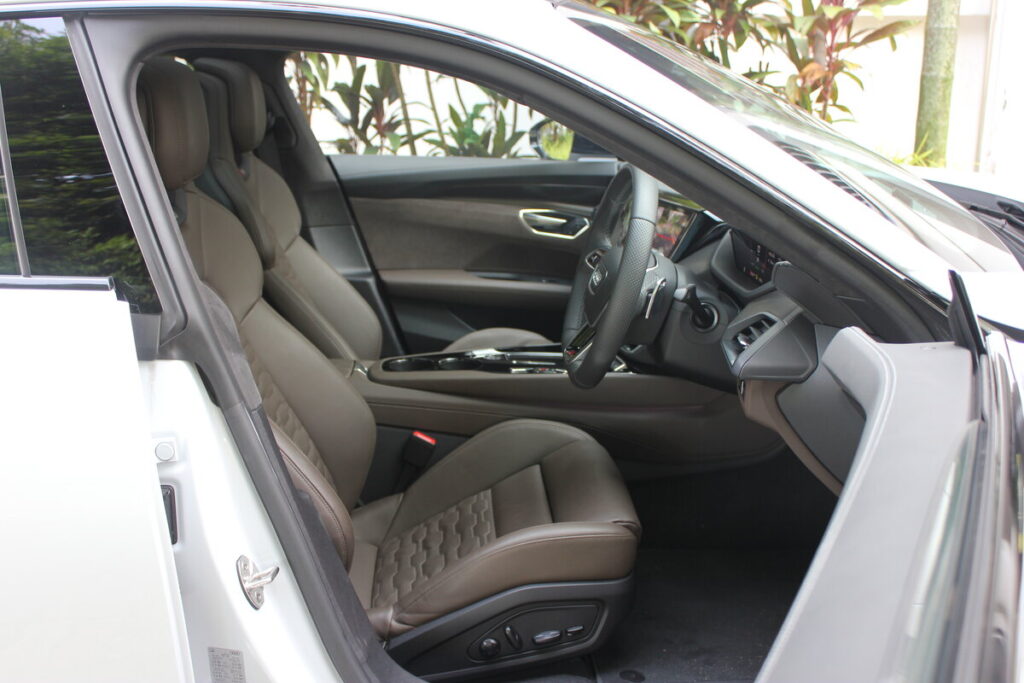 This low-slung design, and those rubber band-like tyres, are also why the RS e-tron GT was not taken to this author's favourite unlit gravelly pothole-y proving grounds for soft-road suspension and headlight testing. Despite the air suspension being able to raise the ride-height, it was just not worth risking damage to the battery pack and 21-inch rims of this nearly S$700k EV. No matter though, because those laser headlights were noticeably bright with a wide beam-pattern even on well-light highways, and is no doubt up there with the best headlights that we've tested.
With his seating position established, this author got out to get in the back seat, only to open the right-rear door and exclaim, "aww HELL no!", and then walk around to the other side to sit in the left-rear seat instead. Regardless of what looked like just enough legroom, the low-slung and tapering roofline would have meant contortionist-like manoeuvres getting in and out, and this author was not about to risk his pinched nerve from becoming aggravated. For most others, sitting behind the fully-extended driver's seat should not be an issue.
Despite its nearly 5-metre length and 2-metre width, the interior proportions of the RS e-tron GT are, shall we say, cosy. The standard-fit panoramic sunroof helps alleviate some of this 'cosiness' even under the blazing equatorial noon sun, but sitting inside is decidedly snug.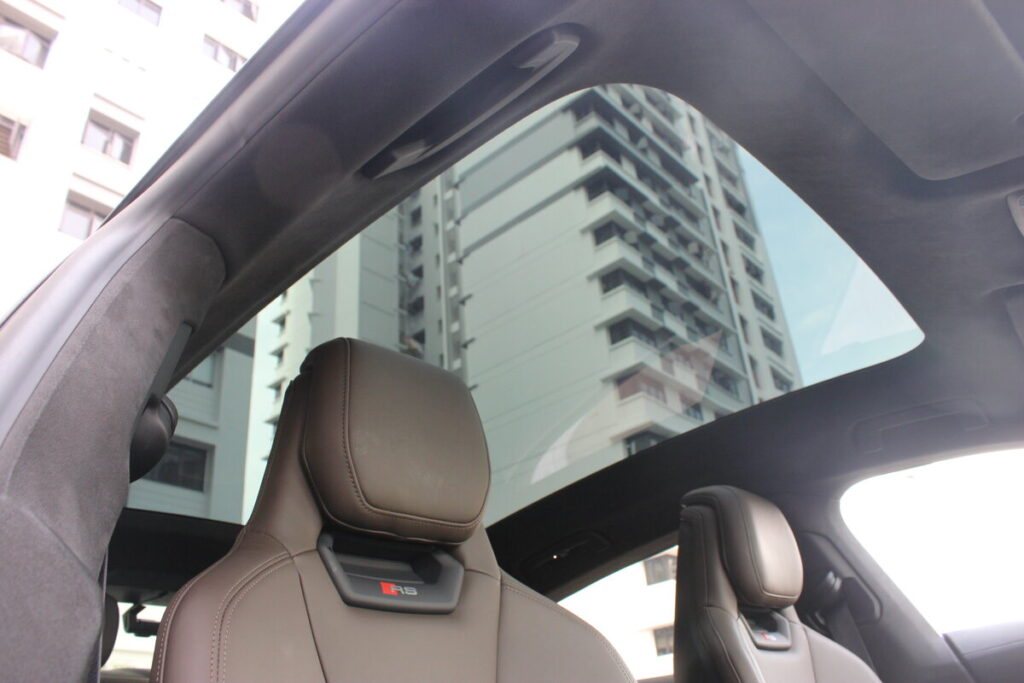 doing the GT thing.
Do not for even one minute be fooled by the 'GT' notation in RS e-tron GT. This is, for all intents and purposes, a low-slung electric sports car in 4-seater 4-door coupe guise.
Yes, it can indeed do the grand touring or GT bit very well. With 350-litres of boot space, a (long-)weekend getaway for two would be a cinch. The review car came with heated and cooled massaging seats which was a very pleasant surprise, and adaptive cruise control with lane-keeping assist, which would no doubt go a long way toward a much more pleasant longer-distance cruise.
Add to that the standard-fit air suspension which is noticeably sporty, most likely courtesy of those ultra low-profile Goodyear Eagle F1 Asymmetric 5 tyres in sizes 265/35R21 fore and 305/30R21 aft, but still comfy enough in 'Comfort' mode even over the rumbling roads of Pasir Ris Drive 3. Remember to slow down sufficiently for speed humps though, or risk pranging that low-hanging front bumper into an irreparably damaged state.
Hence, this EV can very easily be mistaken for a softly-purring pussycat, only for it to take your unsuspecting head off like a hungry lion. Don't scoff at the widths of those tyres either. The RS e-tron GT needs them. All of them. And then some. Again, more on that later.
The interior of the RS e-tron GT is familiarly Audi, with controls, knobs and buttons where they're expected to be. The climate control and heated and cooled seats also feature physical buttons, something that should be celebrated in this day and age of nonsensical and distracting touchscreen controls buried within menus and sub-menus.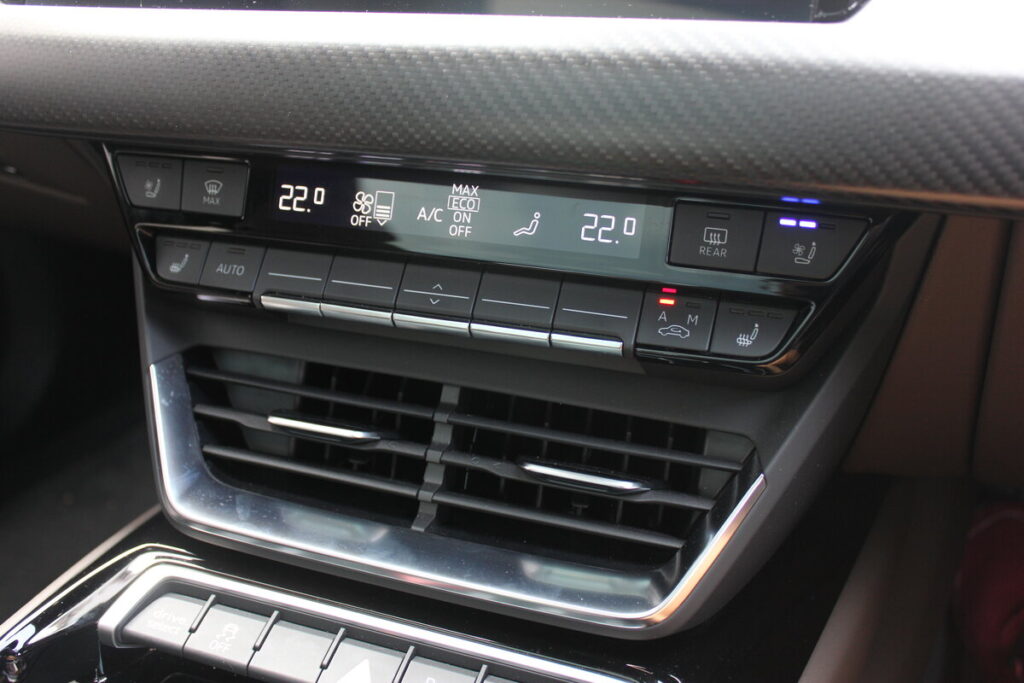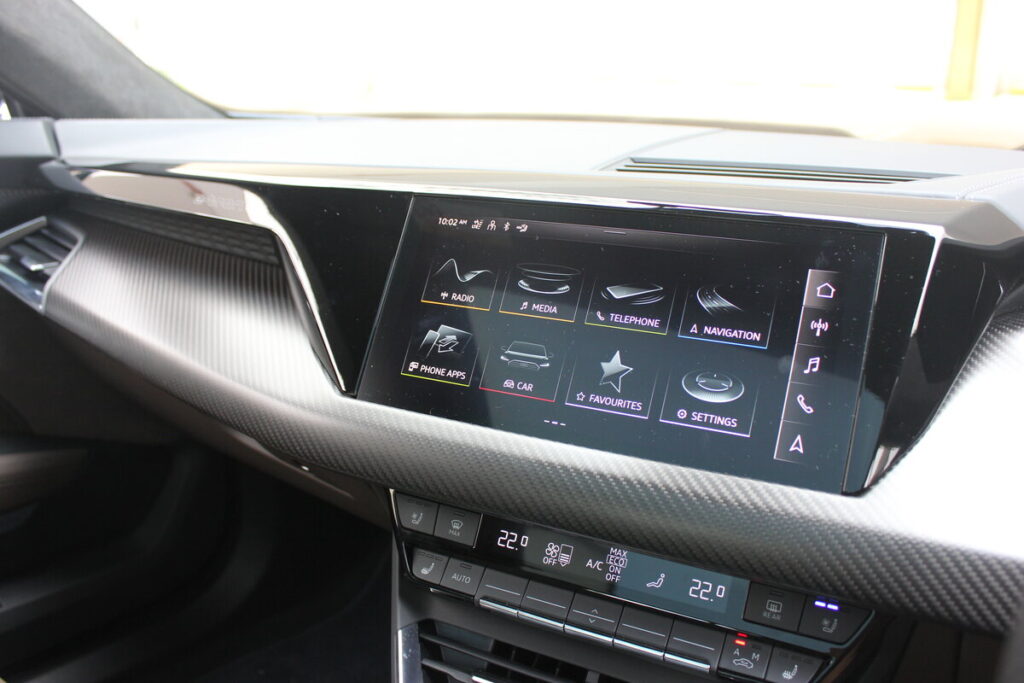 Speaking of menus and sub-menus, this author had no idea how to activate auto-hold brakes, and a desperate but futile search ensued to find the button or menu option that enables it. Zip. Zero. NADA. Therefore, the car was shifted into Park at traffic lights to stop the RS e-tron GT from creeping forward. It was later discovered that auto-hold brakes DO exist, and one needs to depress the brake pedal harder at a complete stop to activate this function.
Forward visibility is good. Shoulder checks are possible but slightly impeded by those thick B-pillars. Although visibility out the rear windscreen is limited, this author was still able to kick it old-school by reversing for the most part using the wing mirrors, and relying on the 360-degree camera only in the final seconds of parking. Reverse too fast and the RS e-tron GT will brake to prevent itself from crashing into the car behind.
unexpected drive stats.
Cruising around at lower street speeds, the RS e-tron GT settles in and pootles along at a relatively relaxed pace. Cue thoughts of softly-purring pussycats.
Pick the pace up, and the RS e-tron GT lopes along at highway speeds with ease. The test drive out on the highway was done mostly with the adaptive cruise control set to triple digits.
In the previous virgin EV-experience article, this author wrote about how EVs do better at lower street speeds than highway cruising from an energy-consumption perspective vis-a-vis their internal-combustion engine (ICE) counterparts. Well…
…the RS e-tron GT consumed 21.4kWh/100km or 4.67km/kWh over a purely street-driven 81km, and 18.3kWh/100km or 5.46km/kWh over a mostly-highway route of 182.2km. In other words, in the hands of this author, this EV's energy consumption mirrored that of an ICE vehicle! Full-throttle shenanigans, by the way, happened only during the highway test-drive.
With this author at the helm, the overall average was 20kWh/100km or 5km/kWh over 274.5km, meaning a real-world range of 467km from the RS e-tron GT's 93.4kWh battery pack. Audi claims 19.3kWh/100km combined-cycle economy and unfortunately, this author was not able to match or better that number. Pretty close though.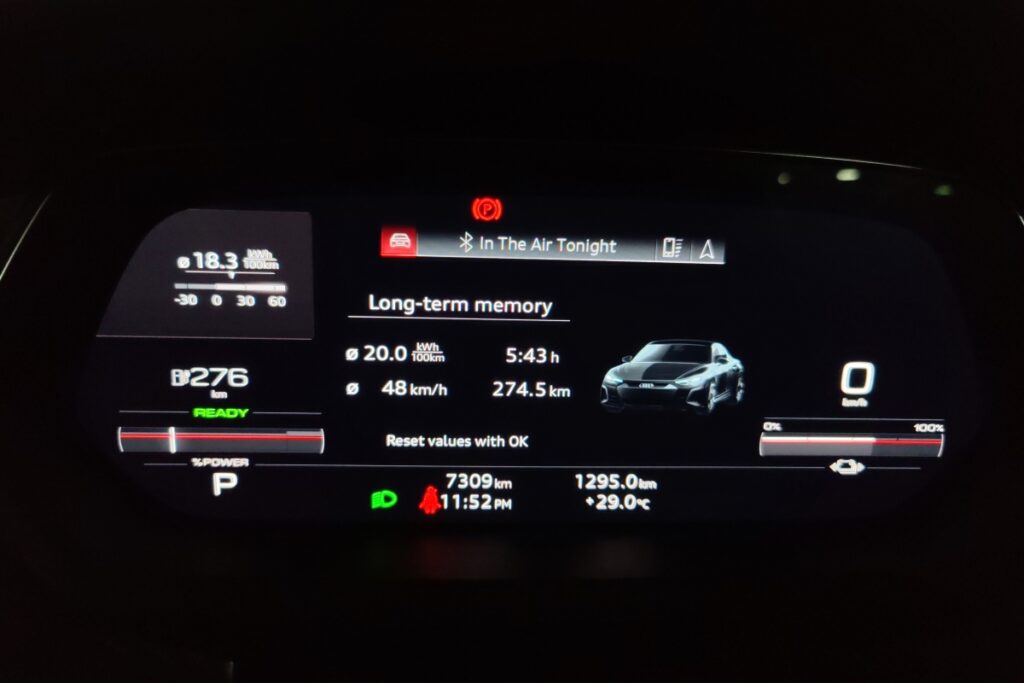 juice! gimme JOOOSE!
Charging the RS e-tron GT was pretty straightforward. Simply pull up to an available charger, (if you're going head-in, be careful not to prang that low-hanging front bumper against any parking culverts), pop open the charge port by pressing the cover's lower right corner, plug in the charger, fiddle with the respective app and start to juice up.
For this exercise, the fastest public DC charger currently in Singapore at 120kW courtesy of Charge+ was used. Since the battery was at 78 percent post-street drive and pre-highway route, charging proceeded at a slower rate of around 96kW, which took around 40 minutes to fully charge the battery. The RS e-tron GT is capable of rapid charging at up to 270kW at a suitably-equipped charger.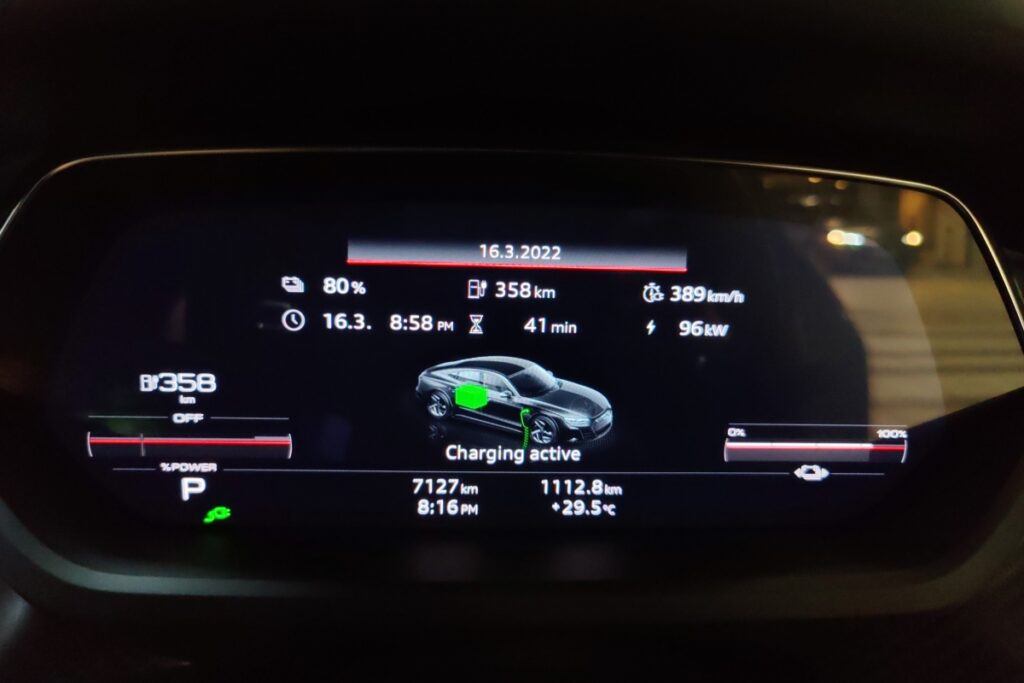 goosebumpRS upon goosebumpRS.
There's a particular junction at which this author always turns right. This junction does not have a discretionary right turn, meaning red, amber and green arrows control traffic. Let's call this junction A.
Junction B, according to Google Earth, is about 210 metres before A. During the daytime, if one is caught at a red light at B while the green arrow is on at A, there is no physical way to make it to A in time to catch the green arrow when the lights turn green at B.
Until the RS e-tron GT came along.
In Comfort mode, the accelerator was floored from a standstill when the lights at B turned green. The RS e-tron GT, unleashing its 830Nm of torque via its dual electric motors, took off with such violence with tyres scrabbling and chirping for traction, and rushed toward A with vicious abandon. Speed was then stupendously scrubbed off at the last minute courtesy of those massive tungsten carbide-coated 'carbid' brakes, and this author crossed the stop line and made the turn just as the arrow went amber. First head-rush experienced right after collecting the car.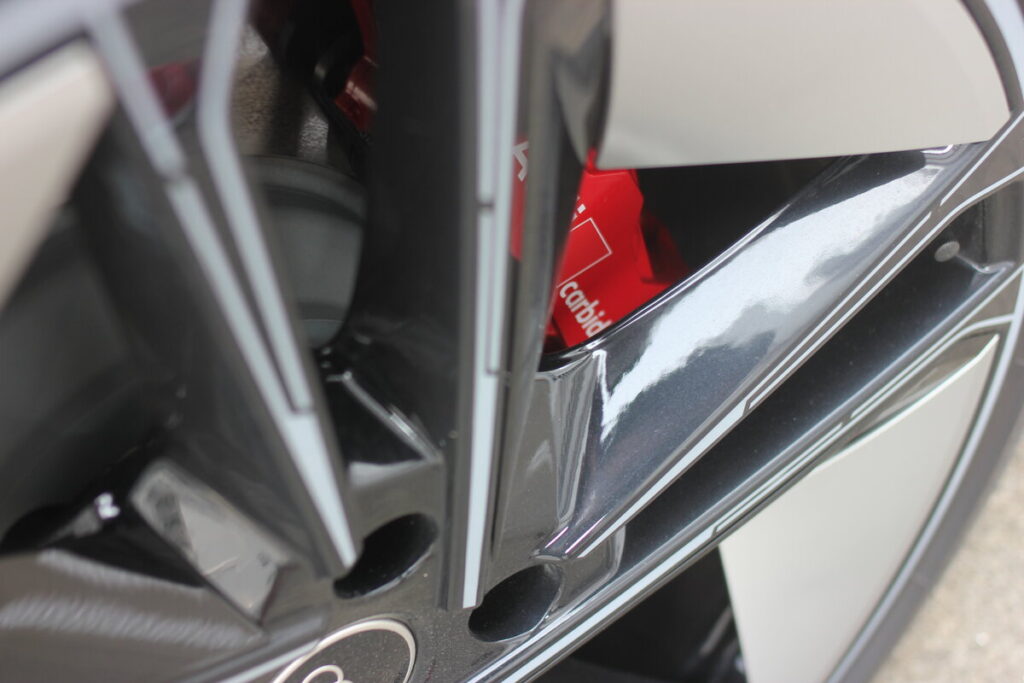 While parked thereafter, this author was ambushed in the carpark by former automotive journalist and neighbour Jegan, who was promptly invited to ride along during the highway test-drive that night.
After topping off the battery, we headed out onto the highway all the way to the Tuas checkpoint for a U-turn. Getting back on the highway, Jegan was told to prep with "brace yourself, gonna floor the accelerator," and that's done from a roll at around 50km/h. This time in Individual mode with everything else set to comfort except the accelerator which was set to Sport.
The RS e-tron GT took off with even more ferocity and rocketed itself down the highway way past naughty km/h, hurled forward by its 598hp.
It caused the now-noticeably squirm-faced and heavy-breathing Jegan, who was struggling to get his neck out of the headrest, to wheeze, "when you can't lift your head and are struggling to speak… that's some unnatural Gs to be pulling in a mass-market car," like an asthmatic mouse. Head-rush #2 done and dusted.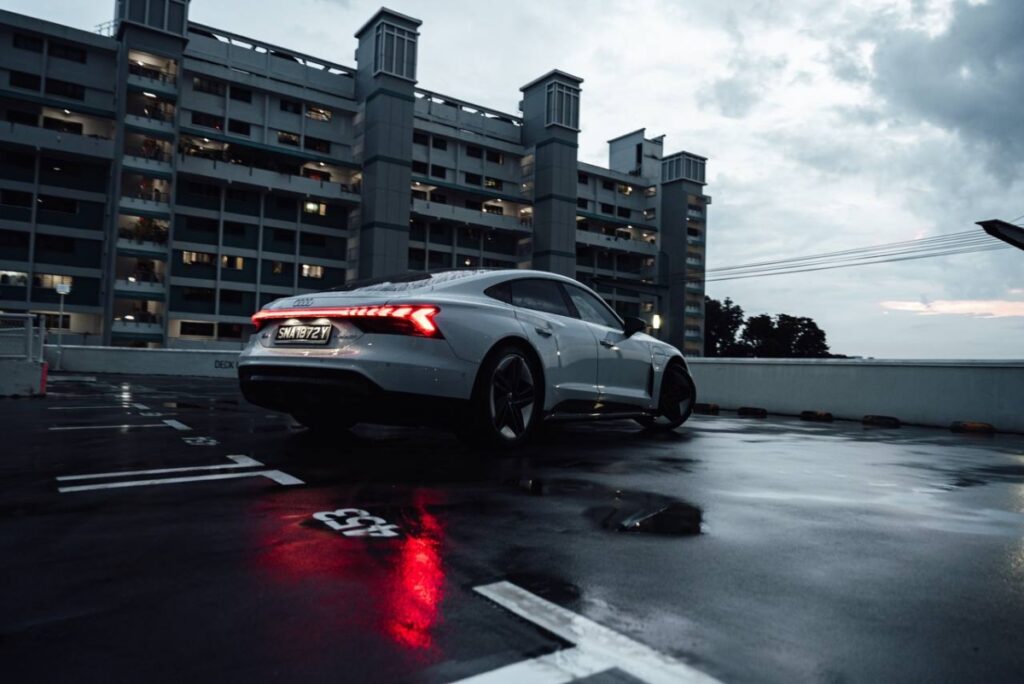 Thing is, it's not just in a straight line where the RS e-tron GT blows one's mind. The low-slung EV, still in Individual mode, was later chucked into an S-bend leading from one expressway to another, causing the usually-chatty Jegan to go wide-eyed and dead-quiet and later exclaim, "THAT WASN'T SUPPOSED TO WORK THE WAY IT JUST DID!" Head-rush #3 out of the way.
Even though the RS e-tron GT corners flat with hardly any body roll, its nearly 2.5-ton mass cannot be hidden, with those Goodyear Eagle F1 Asymmetric 5s feeling noticeably strained underneath while coping with fast direction changes. They grip well though, so no issues there.
Settling back into a steady and calm cruise, there was one more surprise to come. The RS e-tron GT's Bang & Olufsen sound system had been turned down to permit conversation… until THE SONG started playing courtesy of Bluetooth streaming.
Try it during your test-drive – turn Surround Sound off, set sound focus to Front, bump up the Bass slightly and Treble a bit more than that, then pump up the volume and let London Philharmonic Orchestra's superb rendition of Led Zepplin's Kashmir fill the interior of the RS e-tron GT through that Bang & Olufsen sound system.
To say Jegan and this author had goosebumps upon goosebumps is an understatement – it was GLORIOUS! Unexpected head-rush #4.
In this author's humble opinion, the Audi RS e-tron GT currently plays in a league of its own when it comes to EVs with both looks AND power. Its sister, Porsche Taycan Turbo is more powerful at 671hp, but doesn't look as good. Though not for everyone, the RS e-tron GT provides that tantalizing temptation to lure affluent petrolheads away from their performance ICE vehicles.
---
fast facts.
Audi RS e-tron GT.
Battery Output: 93.4kWh
Power: 440kW (598hp)
Torque: 830Nm
Top Speed: 250km/h (limited)
Range: up to 472km (claimed)
0-100km/h: 3.6 seconds (3.3 seconds with launch control) (claimed)
VES Band: A1 (S$15,000 rebate)
Price: from S$680,940 with COE
Contact: Audi Singapore
---
Need more electrification in your life? Check out the latest EVs here!