Singapore now has its own oat milk in Oatside, and our writer can't wait to give it a taste.
---
I'll be the first to admit that I've never tried oat milk. Sure, I've had an exploratory phase of sorts with plant-based milks (or 'mylk'). Nonetheless, my tendency to default to creamless, black, and sugarless coffees continues to go strong. If anyone wonders whether that makes me extra bitter on the inside, imma stop you right there *moon face emoji*. In any case, several plant-based milks, oat milk included, remain un-investigated.
Oatside the norm.
All that said, hearing about Oatside certainly piqued my interest. The Singapore-branded oat milk comes in three different variants — Barista Blends, Chocolate, and Chocolate Hazelnut. The latter two sound especially delectable to drink as-is, but the real taste test is still pending. That is, until RedMart delivers my next grocery shipment along with my first carton of Oatside Chocolate…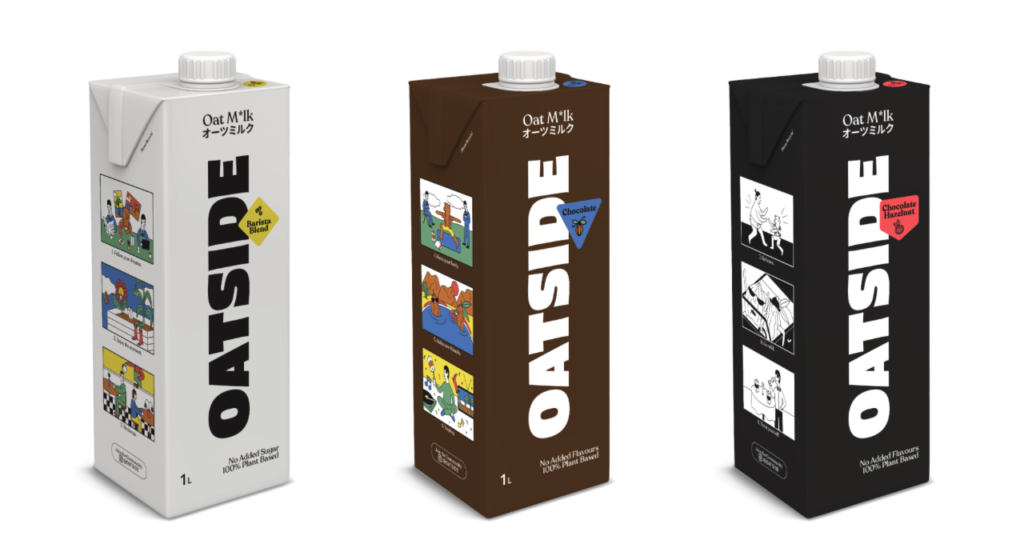 Nonetheless, the brand promises a creamier and maltier texture compared to other mylks, and one can't help but be hopeful after some truly awful commercially produced almond milks. It is also proudly 'full-stack', or bao-ka-liao, and has full control over the entire production process. Oatside also uses only high quality ingredients and skips out on the artificial flavours and preservatives. If that doesn't persuade you to at least give it a try, Oatside's dedication to taste should.
"We know that taste is often a barrier for more people adopting sustainable milks, … so we took the longer approach of building out our own production line that allowed us more customization and control over the oat extraction process," said Benedict Lim, Founder and CEO of Oatside.
It all sounds promising, but maybe the fundamental question you might be asking is, why should I try oat milk?
it's all about sustainability.
If your early steps into a more sustainable lifestyle is changing the food you eat, that's great! You've probably heard somewhere that plant-based milks are more sustainable alternatives to dairy (cow) milk, but in what ways?
The first thing that comes to mind might be carbon emissions. While that certainly is part of measuring sustainability, it's also not the full story. Particularly when it comes to agricultural products like milk, land and water use are also considered.
Sure, you might not water cows the same way you water a field of rice, but rearing cattle does require vast areas of land for grazing. Not to mention, cows themselves belch methane gas that add to the greenhouse gases in the atmosphere and contribute to global warming.
how does oat milk compare with other milks?
According to a study by the University of Oxford, dairy milk produces more carbon, and uses more land and water compared to most, if not all plant based milks.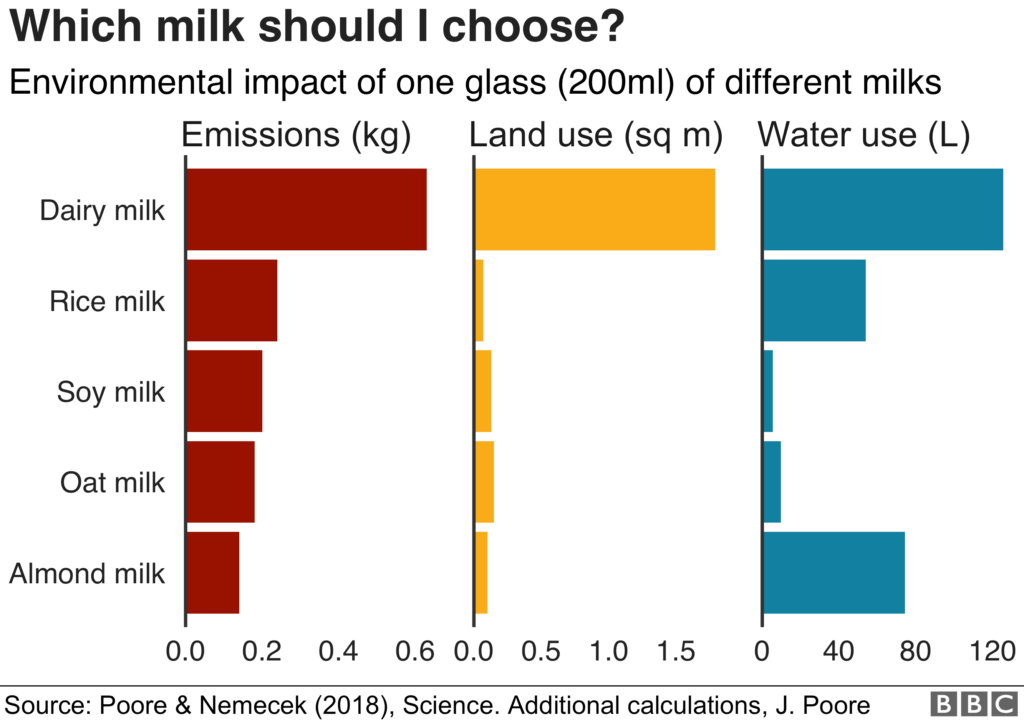 For a 200ml glass, dairy milk produces 0.63kg in carbon emissions, while other plant based milks like rice (0.24kg), soy (0.2kg), oat (0.18kg), or almond (0.14kg) milk produce nearly one-third or less carbon.
Oat milk in particular seems to fare better than other plant-based milks too. While it doesn't score the lowest across the three categories, it does use significantly less water compared to almond and rice. Its carbon emission levels are also lower than rice and soy milk, and at 0.15sqm of land use per 200ml of milk, that's definitely decent faring compared to dairy's 1.79sqm. The closest comparison on the sustainability front is soy milk, which has been in the market for much longer.
is oat milk a nutritional dairy substitute?
When it comes to things like diet and nutrition, it's always best to consult a professional for advice. Dairy milk has long been an important dietary source of calcium, protein, and vitamins. When substituting dairy milk with plant-based mylk, ensuring that you are getting the right amount of nutrients from other sources is key.
For oat milk, it's important to bear in mind that the basic ingredient is a grain. The carbohydrate content is nearly double compared to dairy milk, and wouldn't be ideal for diabetics or those on a low-carb diet. It is also low in protein and calcium, which will need to be supplemented by other food sources. You may also have to consider consuming less carbs in other forms so that you don't exceed the daily recommended values.
Furthermore, those with gluten sensitivities will need to be extra wary. Oats are naturally gluten-free, but oat processing facilities often handle wheat and other grain products, and can result in cross-contamination. Careful scrutiny of the food label will come in handy.
should you choose oat milk?
Diet and nutrition are personal, so your choice in milk source is something only you can decide. However, if your diet allows, there's no harm in giving oat milk (or any other mylk) a chance.
Compared to oat, soy milk has a more well-rounded nutritional profile, but is also typically low in calcium and unsuitable for those who are soy intolerant. Commercially sold soy milk is typically fortified to meet nutritional goals, and are more easily available than oat milk, especially in Singapore.
Until Oatside, at least.
The brand is already available on RedMart and Shopee for convenient and fuss-free purchase, and will eventually make its way to major supermarkets too. Oatside might just be the turning point in your sustainability journey, but only if you give it a go first.
"I can't wait for everyone to join us on the Oatside. We've worked really hard to develop a plant-based milk for Asia that doesn't feel like a compromise on quality, taste or texture. We hope to contribute to a growing stable of plant-based products where picking the sustainable option no longer tastes of 'doing your part'," said Lim.
Me too, Sir. Me too.
*Header image credits: Oatside
---
Enjoyed this article? Discover the hidden 'secret' about walnuts and car cleaning, or check out these online grocery stores you might not know about!