Used to wearing everything brand-new? There is beauty in mending clothes too! We speak to FIN Crafted Goods to learn more about upcycling and mending denim. Oh, and their exciting new collaboration with UNIQLO Singapore!
---
It's terrifyingly easy to get sucked into trends these days. How else would the Korean TV series Squid Game reach 111 million viewers worldwide in less than a month? *cue creepy playground music*
While I feel no shame being one of many millions who finish the show in a single sitting, there are some other trends that do give me pause. Fast fashion is one such trend. Runway and celebrity fashion made affordable has farther reaching impacts than we realise, especially on the environment.
Thankfully, there are businesses that actively encourage consumers to wear existing garments for longer instead of cycling through new outfits. We caught up with Fahmy and Erliana of FIN Crafted Goods, a home-grown business that specialises in upcycling denim products by mending them.
The husband-and-wife team has been running the business for the past nine years. Much of their work revolves around extending the lifespan of pre-loved clothes while adding vintage flair using different textiles. The core of the business runs counter to fast fashion, which relies on the rapid-changing fashion seasons for profit.
Before we dive deeper into their work, amongst which includes an exciting collaboration with UNIQLO Singapore, let's first explore some of the environmental impacts of fast fashion.
what is fast fashion, and why is it bad for the environment?
Fast fashion capitalises on different aspects of consumer behaviour. Businesses produce high-end fashion inspired by luxury brands or niche designers and make them affordable to the masses. As a result, consumers become conditioned to buying more frequently while their expectations of quality are drastically lowered.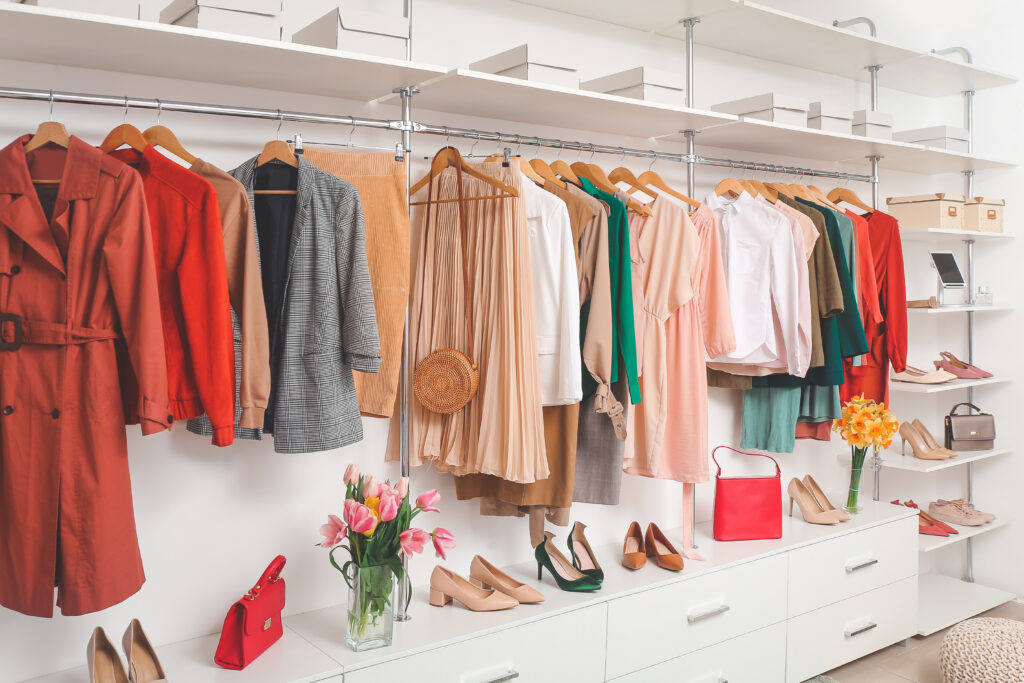 Like many others, I catch myself getting tempted to purchase a new trendy outfit every now and then. These days, I'm particularly into casual pyjamas-but-make-it-fashion fashion like oversized t-shirts paired with shorts or equally baggy pants. Do I always need a new outfit? No, and especially not now when I mostly work from home in my real pyjamas (don't tell my boss though).
Outfit proclivities aside, the tendency to purchase new clothes while older, out-of-fashion pieces in perfectly good condition get tossed out has greater implications on the environment than we can immediately see:
10% of industrially used water comes from the fashion industry
Toxic chemicals from textile dyes leech into the environment, especially our oceans
35% of all microplastics in the ocean come from synthetic fibres like rayon, nylon, and polyester
57% of discarded clothing end up in landfills and eventually get incinerated
The fashion industry is the highest contributor of carbon emissions from air and sea shipping
If these alarming statistics get you thinking that a lifestyle change is in order, good on you! But, what can be done? Here's where we take a leaf from FIN's book, who shares what drives their business practices.
mottainai begins at home.
Japanese mottainai (勿体無い) — which conveys the sentiments of regretting waste — is central not only in FIN's business, but also at home. The couple share that cutting waste came naturally to them, and were values they shaped their lives around.
"When we bought our home, we filled it with loads of second-hand mid-century furniture from an antique shop," Erliana shares. Mottainai also takes shape in their daily lives in the form of saving water.
"When we perform ablutions at home before doing our prayers, we collect tap water in a pail for our plants. We also hand wash some clothing and reuse the water for cleaning the bathroom and the toilet," she adds.
With a clear fondness for vintage and antique styles and a low-waste approach, FIN even makes use of off-cuts from excess fabric to mend old clothes or make smaller things.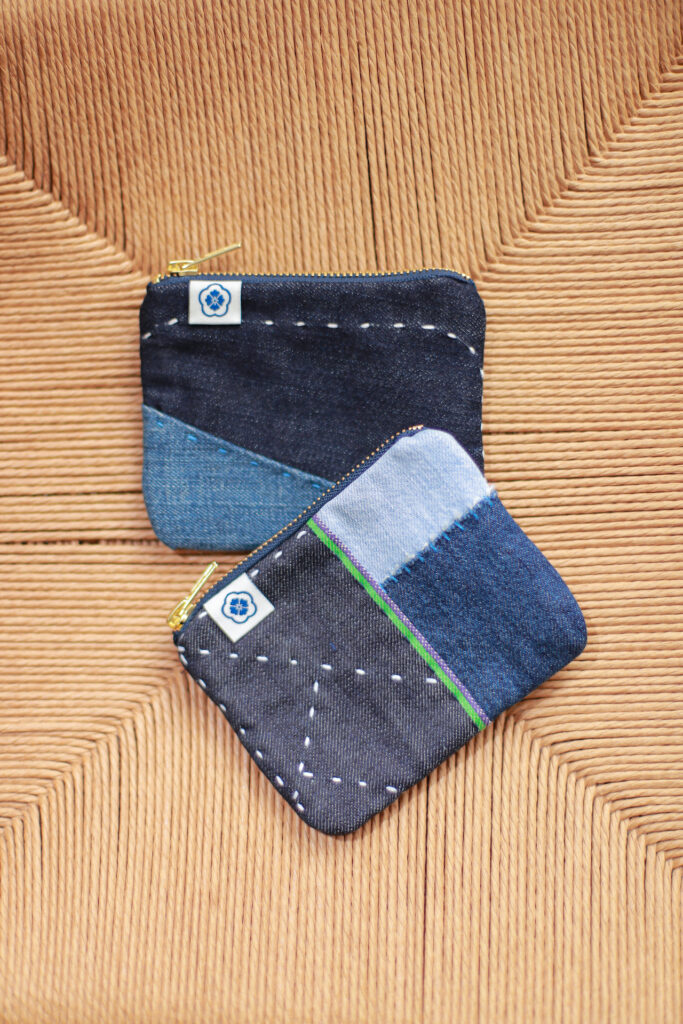 While mottainai is the modus operandi of the business, it all began with a humble request for an apron. Back then, Fahmy was manager and buyer at Maison Ikkoku, a café and retail store along Kandahar Street. One of the baristas approached him to design and make an apron for an upcoming barista championship competition. And so, FIN's journey began.
the art of boro.
Fahmy and Erliana first became acquainted with boro (ぼろ) while visiting antique markets in Japan. Boro borrows meaning from boroboro (ぼろぼろ), the art of mending, a practice steeped in Japan's history.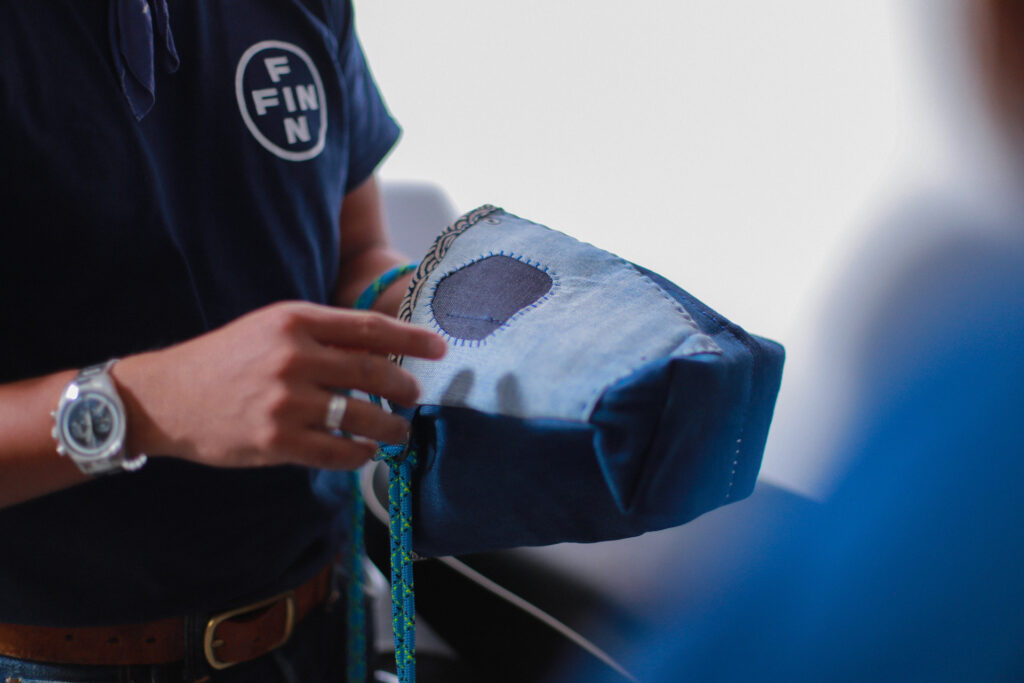 "Clothing used to be so scarce that people would repair them to prolong its wear, and we thought that was one of the most beautiful things we've ever heard!" says Erliana. She adds that because of their penchant for the history behind old and used things, boro and repurposing denim very naturally fell in step with what they do at FIN. It also gave them an opportunity to collaborate with UNIQLO Singapore.
UNIQLO's denim takeover.
In a bid to share more on its sustainability efforts and encourage customers to recycle their old jeans, UNIQLO partnered with FIN Crafted Goods in a denim takeover. The goal? To repurpose old UNIQLO jeans collected from customers, with the designs showcased at Orchard Central and Plaza Singapura outlets.
"It was fun, we loved that we were repurposing jeans that would have otherwise been thrown away and creating something new out of them," says Erliana. She hopes that ventures like these would not be once-off, but be something that "corporations like UNIQLO would continue to think about" on a long-term basis.
Besides the denim takeover, the couple will also be conducting workshops for a select group of UNIQLO customers this coming 23 and 24 October at Orchard Central.
DIY upcycling.
As I recalled my own attempt at upcycling an old UNIQLO blouse, I couldn't help but ask if there were other ways to upcycle old outfits without the painstaking needlework. After all, not all of us are handy with a needle or sewing machine, and if the end products aren't more or less guaranteed, attempting to upcycle old clothes into something fancier could be more trouble than it's worth.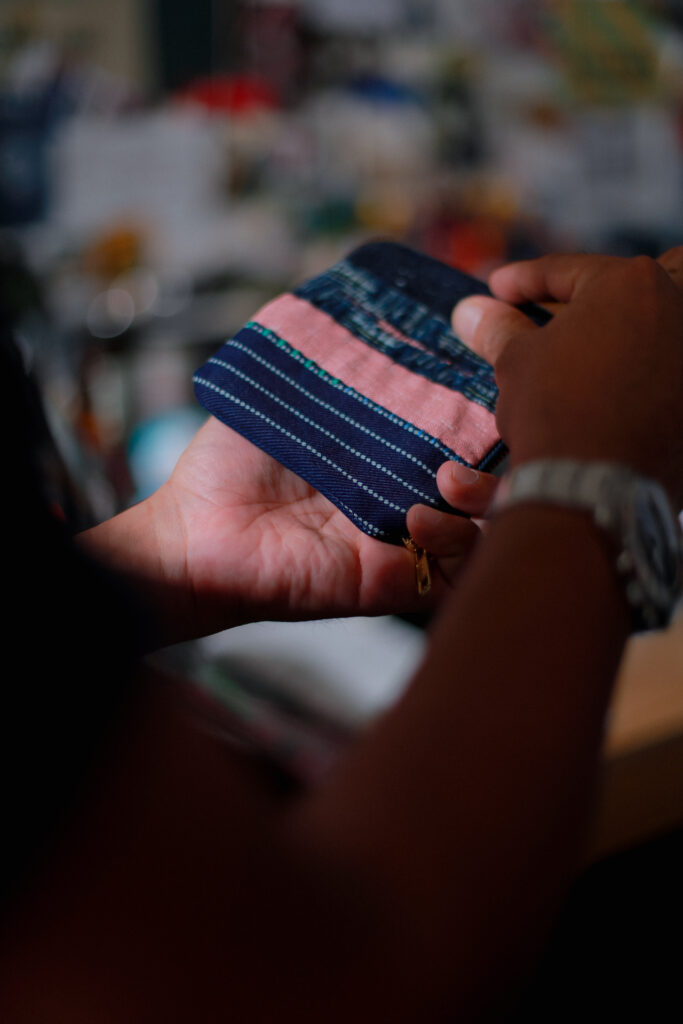 As it turns out, there definitely are. And according to Erliana, it can be as simple as cutting up old towels to use as floor mats, or something more elegant like patching jeans with pieces of cut cloth. Compared to creating something new, even through upcycling, fixing the old is certainly an easier ask.
the future of fashion and the environment.
But, is upcycling alone enough to curb the damage being done by the fashion industry? Erliana believes more needs to be done, especially when sentiments about fast fashion remain mostly negative.
"It's disappointing and full of greenwashing, with corporations shouting empty promises about doing better," she laments. "The fashion industry seems to be only interested in making us feel good about ourselves while we consume endlessly."
It may be easy and hardly untrue to pin all the blame on fashion brands and big businesses. But it takes two to clap, and the fact of the matter is that the responsibility doesn't lie with corporations alone. We as consumers have to make more conscious decisions about what, when, and how often we purchase new things. If our collective consumption can cause so much damage to the earth, who is to say that our collective efforts to reduce waste won't change things for the better? After all, we only have one Earth to live on, or as Fahmy and Erliana sum it up nicely for us:
"There is no planet B."
---
Besides upcycling, there are other ways to reduce our impact on the environment. Reduce your carbon footprint with these easy steps!