27-year-old Cheyenne Alexandria Phillips is a writer, performer, educator, Associate Artist with Checkpoint Theatre, and licensed tour guide! She also makes it a point to share her appreciation and understanding of nature and the environment with others.
---
Some time ago, I asked a friend if she'd heard of any performers who were passionate about the environment. The first person she mentioned was Cheyenne.
She told me about these eco-literary walks Cheyenne would organise and lead participants through. During these walks, they'd journey through parks in Singapore, and Cheyenne would pause to recite poetry based on their surroundings.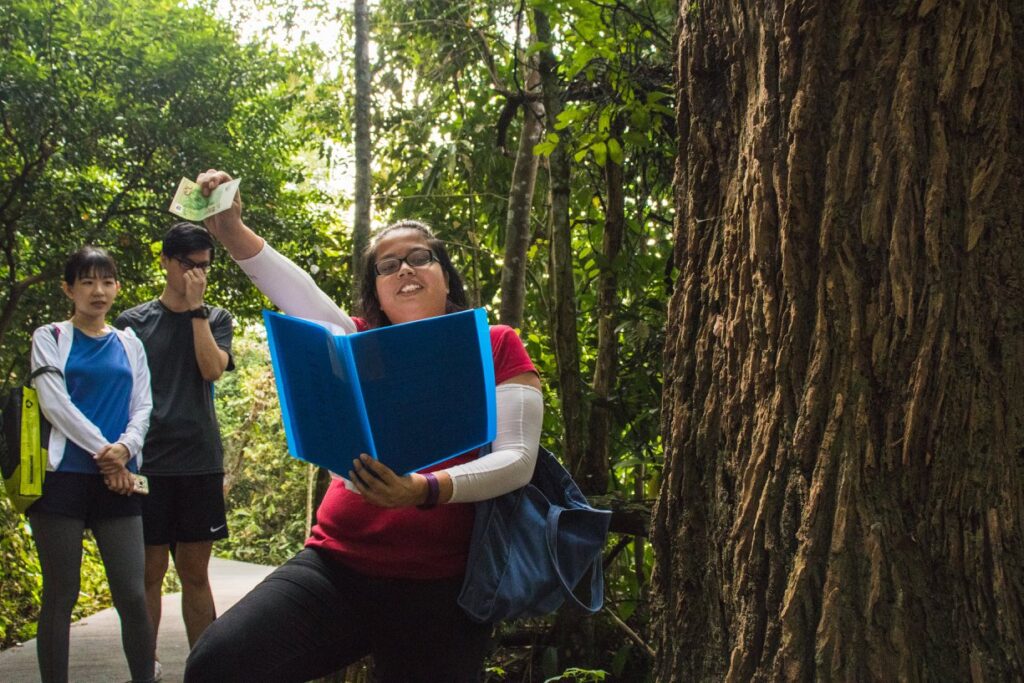 Frankly, it sounded amazing and I wish I'd known about it sooner so I could have signed up for it. Afterall, nature and poetry are the perfect combination. I later learned that Cheyenne is also active in the theatre scene in Singapore. Her work in A Grand Design, an audio experience with Checkpoint Theatre, examines how we love, or fail to love, the natural world around us.
It was obvious that she was passionate about the environment and her craft. So of course, I felt compelled to meet her and have a chat to find out more. Unfortunately, because of the pandemic, we had to skip our usual Creative Juices juice sesh, and take our meeting onto the good ole' interwebs instead.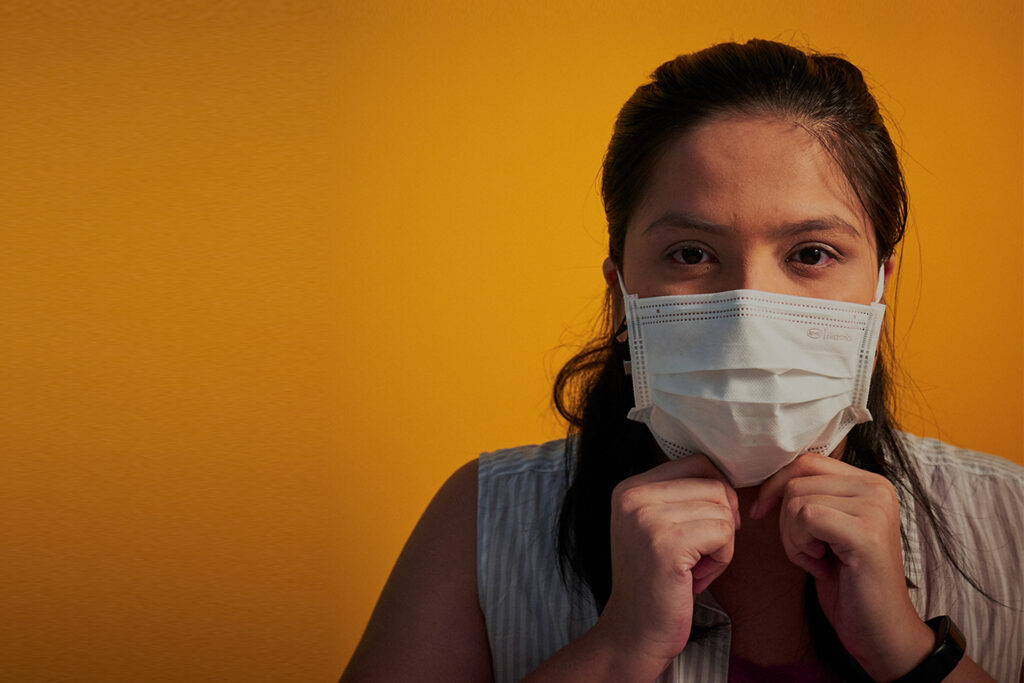 futr: Hi Cheyenne! Could you tell us more about yourself?
Cheyenne: Hi, I'm Cheyenne! I'm a writer, performer, educator and Associate Artist with Checkpoint Theatre. I'm also a licensed tour guide. In terms of interests… I'm quite drawn to the environment and creative storytelling as well.
Wow, all that and a licensed tour guide too?
Yes (laughs). Initially, I took the license so that I could run more literary or arts tours and walks. I also love interacting with people and telling them stories. Plus, I have this idea of running walks that feature different poems or writings that finish in a workshop of sorts!
That sounds like a lot of fun! I'm curious what got you interested in the environment at first?
I guess I started off being interested in nature first. I was always very curious about the natural world. In Primary 3 I remember learning about photosynthesis, and I just thought it was so cool that plants could make their own food! It was that natural curiosity that drove me to learn more about bigger environmental issues.
I eventually went on to study Environmental Studies at university. It's always surprising for people to hear that my best subjects as school were Biology and Math since my work now involves writing and being artsy. (laughs)
So about those eco-literary walks I heard about… could you tell me what I missed?
Sure. So I was exploring the idea of putting science and math in poems at the time. The walk manifested from this exploration. I wrote poems about landmarks in a natural space I was familiar with. For the tour, I'd meet participants at MacRitchie Reservoir and take them on a 2-hour walk.
I'd identify a tree or an animal and read a poem I prepared, and also stop to provide some commentary about other plants and animals. I ran a trial around March 2018, and it was later picked up by PUB for World Water Month in April that year.
Cool! Were you involved in other eco-related events?
I worked at the Singapore Zoo as an Education Facilitator for several years but left recently due to pandemic related circumstances. There were a lot of incredible memories from that experience though. I mean, I lived for the moments when kids would be amazed at the cool things they learned about animals. (smiles) But it was difficult when I had to discuss poaching or pollution — but it's a necessary sin to talk about. If we don't, the only place we'd ever find animals in the future may be in zoos.
Definitely. You also mentioned that you've been travelling to some interesting countries as well. Were there any interesting experiences you could share with us?
Yes, as part of my degree, I had the chance to travel to Costa Rica and The Philippines to learn about the environmental policies and the ecologies in those countries. I think something I will never forget was when I was in The Philippines visiting a village with my classmates.
A woman in the village was telling us she used to work in Singapore as a maid because it made more money for her family than tending to her farm. She grew very upset and emotional while sharing this story with us. I'll never forget that moment because it rudely reminded me that anything about the environment is not just about the environment. It's also about the people. People should always be at the centre of any environment issue or policy.
I agree, I think often times people are forgotten when policies are formed. And I heard you had a pretty interesting trip to Panama as well?
Yup, so in 2018, I went on a 3-week residency to a remote part of Panama to focus on my writing. They wanted artists with a track record of environment-themed work, mainly because it was hosted at an indigenous village on the edge of the Panamanian jungle, with the Atlantic Ocean at your doorstep… and barely any Wi-Fi! (laughs) But the disconnect was great for me — I wrote everyday and came back with a manuscript of 45-50 poems? I really enjoyed the experience.
So when it comes to Singapore then — do you think that Singaporeans are becoming more eco-conscious or that the country is growing more sustainable?
I think we try. We try hard. There are still systems in place that don't always encourage individuals to make the most eco-friendly choice. Eco-shaming is also real. We need to forgive ourselves if we make a mistake, provided we've tried our best.
And what would you say are some good ways that the average Singaporean could get started if they were interested in doing something more for the environment?
Start with what's available to you. Bring a tapao box to the hawker centre, recycle what you can. Do a clothes swap instead of buying new things. Eventually if you want, volunteer for different green groups. Clean up a beach. Small steps lead to big steps, even though the first step is always the hardest.
Those are great tips! So moving on to your writing, how did you get started with theatre and performance poetry?
I was first interested in theatre and have been in drama clubs since before I can remember. When it comes to performance poetry, I discovered it by watching Sarah Kay's Ted Talk. I thought performance poetry was quite interesting and exciting, because you don't have to write a character. Later, I discovered open mic spaces like Destination: ink to perform at.
Writing to me can be very fluid — regardless of form. In fact, my most recent project, Vulnerable, is an 8-part podcast produced by Checkpoint Theatre. It's an autographical piece which takes listeners through my experience of going through the pandemic with a congenital heart disease. At the end of the day, I need to tell a story. I need to bring a narrative across. And depending on what that story is, the forms need to accommodate the narrative accordingly.
If I am really stuck, sometimes I write the same narrative in different forms, whether it be poetry, a play or a short story. Then I pick my favourite one. It does mean I have a lot of abandoned work, but I also hope it means that the work I develop steps into the world with its best foot forward.
What inspires you to write?
I've learnt to draw inspiration from a number of sources over the years. I also think it's because my style is very observational. I like creating vivid images of things that have happened and at the end of the piece, there will be a punchline or a point. What interests me changes frequently but I don't think I will ever stop writing about the environment.
Could tell us a little more about A Grand Design and what inspired you to work on it?
A Grand Design came out in 2020, and it was probably my dream piece of writing. It was technically heavy with environmental science and policy, but was also fun with anecdotes and stories, and just my sense of humour. (smiles)
It was also going to be staged at the Lee Kong Chian Natural History Museum as part of the NUS Arts Festival before the pandemic, but came out as an audio experience instead because of restrictions. With A Grand Design, I wanted people to be immersed. I wanted it to be in a site-specific space, filled with science. I wanted to tell stories that many people in the environmental scene are familiar with, but the general public may not know about or fully understand. Environmental issues can be very nuanced and trying to flesh them out was very exciting.
What advice would you give to others who are interested in pursuing a career as a writer?
The only condition to be a 'writer' is to write. Sometimes the act of putting the pen to page is scary and is enough to make people want to not start. So write. Share that writing with friends you trust then build your confidence to share it with journals or on a blog or with others in the industry. And then don't stop, no matter what anyone tells you.
---
Listening to Cheyenne's views about writing and the environment was a real eye-opener. So much of what she had to say resonated with me. Too often, in our quest to achieve wider goals for the environment and even ourselves, do we forget that people are in fact, at the heart of it all.
Her people-focused nature, sincerity and dedication to her craft are just some things that make her an incredible writer and performer. I walk away from our talk feeling inspired and start planning out a little trek in the park for the upcoming weekend.
Don't forget to check out Cheyenne's work on Checkpoint Theatre's Vulnerable. Listen in on Spotify, Soundcloud or YouTube today. Find out more about Cheyenne and her work here.
---
Enjoyed this story? Check out the first story in our Creative Juices series with poet and environmental activist Stephanie Chan, and discover more inspiring stories from futr-forward people here!
*feature image: photo reference courtesy of Checkpoint Theatre.