Inspired by one too many episodes of Masterchef, the futr team decided it was high time we put the cooking skills of our writers to the test in our first ever Home Cook Challenge!
---
There's no denying that the pandemic has turned many a Singaporean into a home cook or baker. Since more people have been staying home instead of going out, my social feeds have been flooded with mouth-watering, immaculately plated meals, all made lovingly at home by friends and family. Also, I couldn't help but notice that so many of these tantalising dishes have come from futr writers and colleagues.
First thought: Is this the reason why I've become GrabFood's favourite customer?
Second thought: Maybe we should do a cook-off!
But in an era of safe distancing (and lack of big-studio budget), how on earth would we carry out such a competition? That was when we hatched a dastardly plan. With the help of our friends at Urban Tiller who deliver the freshest vegetables to customers within 6-8 hours of harvest, we decided to put a couple of writers to the test.
the challengers.
Meet Stef Tam and Sheldon Trollope.
In the daytime, Stef works as an Office Manager with Strada Visual Lab, while Sheldon handles communications and editorial work at Ignition Labs. At night, they are passionate home cooks, cooking up a storm in the kitchen and serving up tantalising dishes with complex flavour profiles, with exceptional gusto and ease!
Okay lah, kind of. But the point is, they just really love cooking!
Says Stef, "I enjoy cooking in general, but much prefer cooking special-occasion-type meals and thematic dishes that give me the opportunity to try new flavours and cooking methods." She also enjoys creating dishes with layers of flavour. "I love it when you add one ingredient at a time to build from simple to complex. The best part is when it all comes together — first in the aroma, then taste and finally, visually."
Similarly, Sheldon finds cooking to be very therapeutic. "There's an incredible sense of satisfaction when the dish turns out just way you imagined it would taste. Also, as I have two young children, we find that eating at home is a more comfortable setting; no crowds to deal with and now we would have to split up into 2 tables if we were to eat out."
So we decided to put their skills and passion to the test. *cue evil laughter*
the challenge.
Inspired by the freshness of Urban Tiller's produce, we challenged Stef and Sheldon to a mystery bag cook-off. Mystery bags containing a range of freshly harvested vegetables — some familiar and some less so, were sent over to their homes one Friday evening. Prior to the delivery, both contestants had no idea what these bags contained. #becausesuspense
the rules:
Create a complete meal consisting of as many dishes as they like.
Ensure that the vegetables were the 'heroes' of every dish, highlighting the freshness of the produce.
Dishes would be judged on Presentation, Concept and Taste.
Challengers could use as many of the vegetables provided as they liked, along with any other ingredients of their own.
list of vegetables provided by Urban Tiller:
Cherry tomatoes/Red Grape tomatoes
Crispita lettuce
Red lettuce
Soya bean sprouts
Bean sprouts
Swiss chard
Thai watercress
Ice plant
Brazilian spinach
Curly kale
Mixed herbs
"There were so many thoughts in my head when I saw the veggies," Stef laughs. "They were really well-packed, looked so pretty and the herbs smelled amazing. I'd seen most of the veggies in the box, but not of those specific varieties. For instance, I know what watercress is, but the Thai variety seemed to be less bitter and more tender than the kind used in traditional Chinese pork rib soup. Also, Brazilian spinach was new to me as well, so I had to taste it a few times to decide what to do with it."
While Stef's excitement to experiment was clear, Sheldon found the choice ingredients a little daunting. "I must admit veggies are out of my comfort zone. But I dug deep and tried to cook dishes that I would enjoy. Luckily, there are plenty of useful recipes online that utilise the vegetables provided," he explains.
and then it was show time!
So after a night of planning and preparation, Stef and Sheldon got down to work in their own kitchens the following morning. With only a few hours to prepare before the food was delivered to our judges, it was no easy feat. Our office WhatsApp chat was full of encouraging messages from the team cheering on the home cooks as they battled it out in their homes.
Several hours later, we were presented with a host of pictures of all their amazing dishes, which the judges would use to score them on Presentation. A short while after that, one of our writers who coincidentally happened to be test-driving the Lexus UX300e, swung by to pick up the packed food from the home cooks and deliver it safely to the judges' homes.
the dishes.
"My dishes were inspired by the spectacular Sunday lunches my grandmother made. Not only were they super delicious, there were always huge portions and the whole family would get together to eat everything till we were bursting," Sheldon laughs. "So I wanted to make dishes that were satisfying like a comforting risotto, and one dish meals like the Tuscan Chicken Ribollita with curly kale and spinach."
"As for me, I think I approached the challenge knowing that some of the judges weren't the biggest fans of veggies. As a mom of 3 teenaged boys, I know how difficult it is to literally 'push greens' onto their plates at every meal," Stef explains.
"So for today's menu, I've created some dishes that incorporate veggies into favourite foods and hopefully help create a bigger appreciation for your greens. I tried to make sure that the veggies were more than just an obligatory standalone side dish that people would ignore. Of course, the super fresh veggies from Urban Tiller made a huge difference!"
the judgement.
*cue ominous music* The judging panel consisted of 3 esteemed food critics, i.e. 3 very, very hungry futr writers:
Marcus, our Carnivore Convert editor and resident foodie, who believes that good food doesn't always have to be expensive. (Also the poor dude who had to drive around Singapore delivering the food.)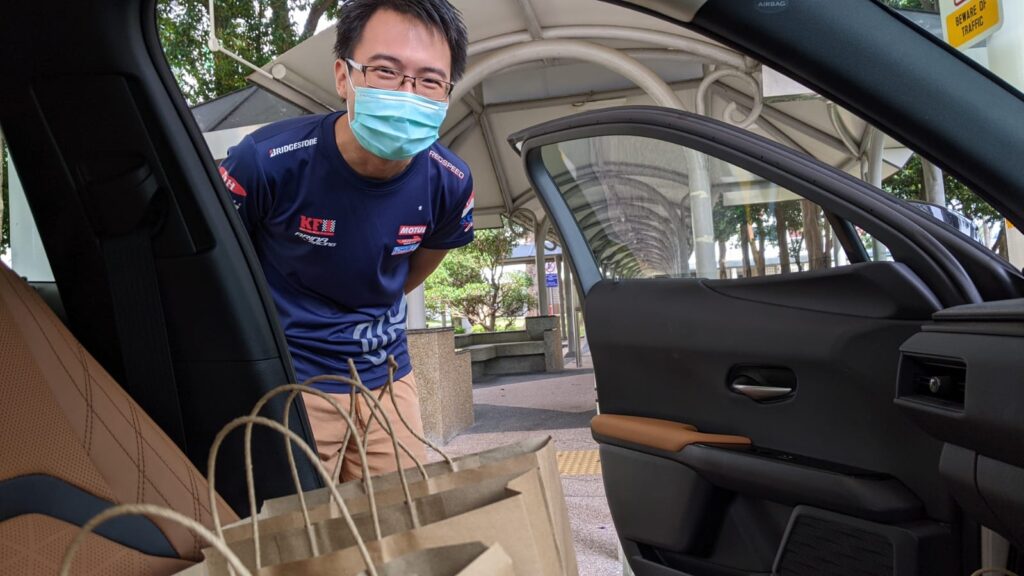 Jon, our Rides editor who appreciates comfort and street food of all cuisines, but has a soft spot for anything nicely grilled.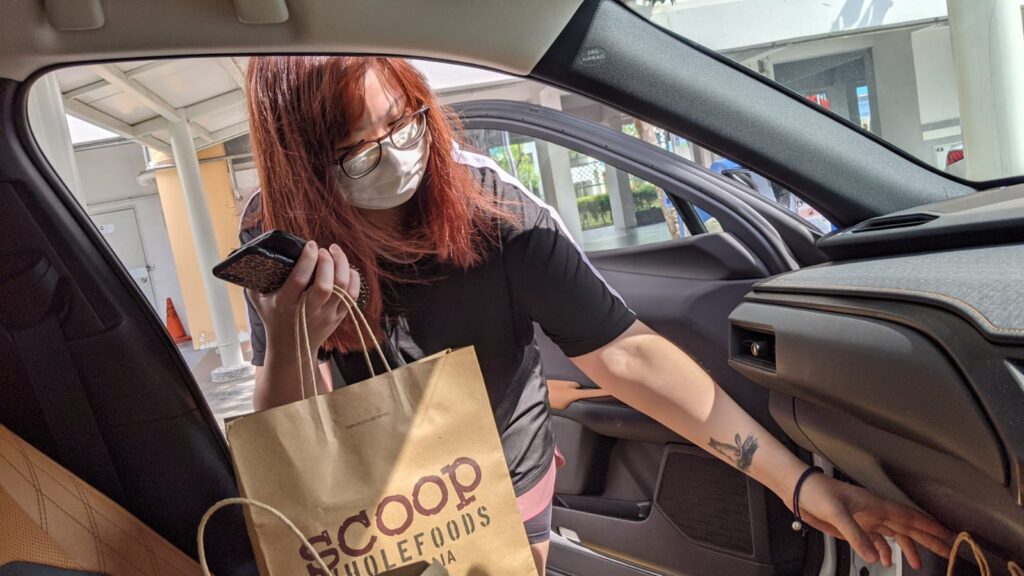 And Sam, our lifestyle editor and Beyond Skin Deep columnist who loves fusion cuisine and balanced flavours.
Anyway, on to the tasting!
Stef's dishes.
First up, was Stef's menu.
crispy kale chips.
(veggies used: curly kale)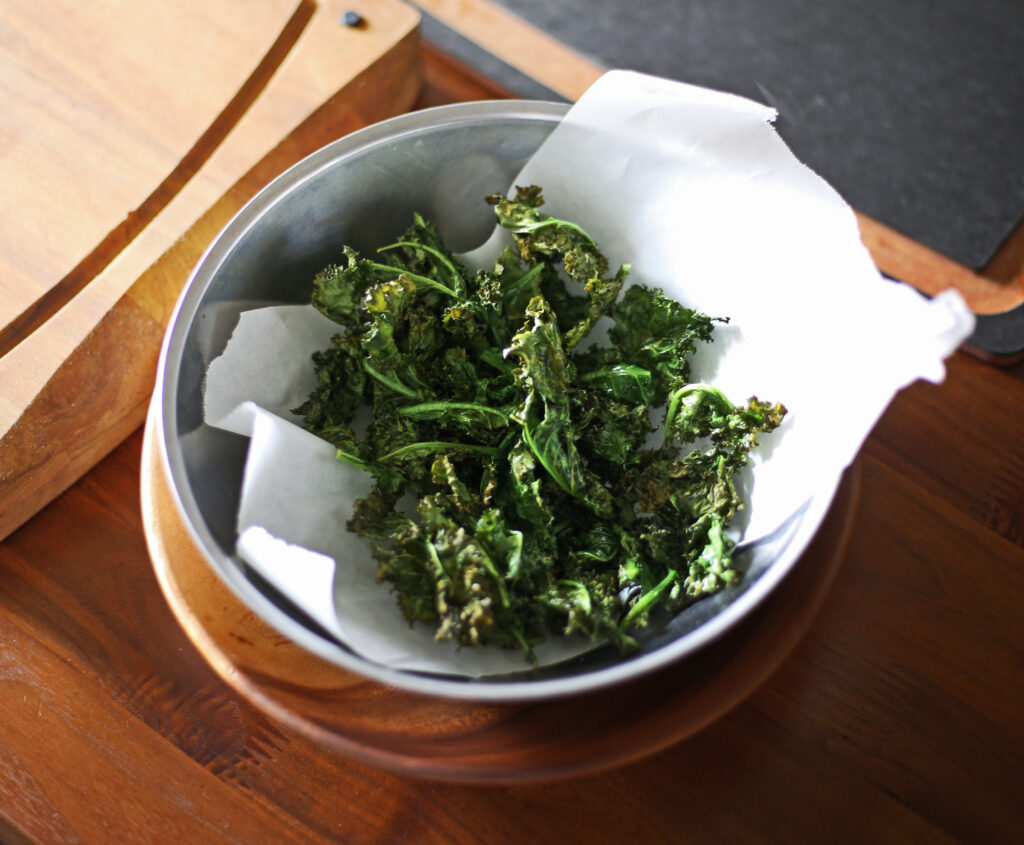 Kale isn't exactly everyone's cup of tea. But overall the judges felt that Stef did a good job in making it appetising, but lacked a little in presentation. "Kale was light and very crisp, but some pieces were a bit thick which made them a little soggy for my liking," Jon says. Sam felt that the chips made for a nice palate opener, while carnivore Marcus felt that it was "the least offensive way to eat kale." Right.
Jon: 9/15
Sam: 9.5/15
Marcus: 14/15
home-made spinach and bacon puff.
(veggies used: Brazilian spinach and baby spinach)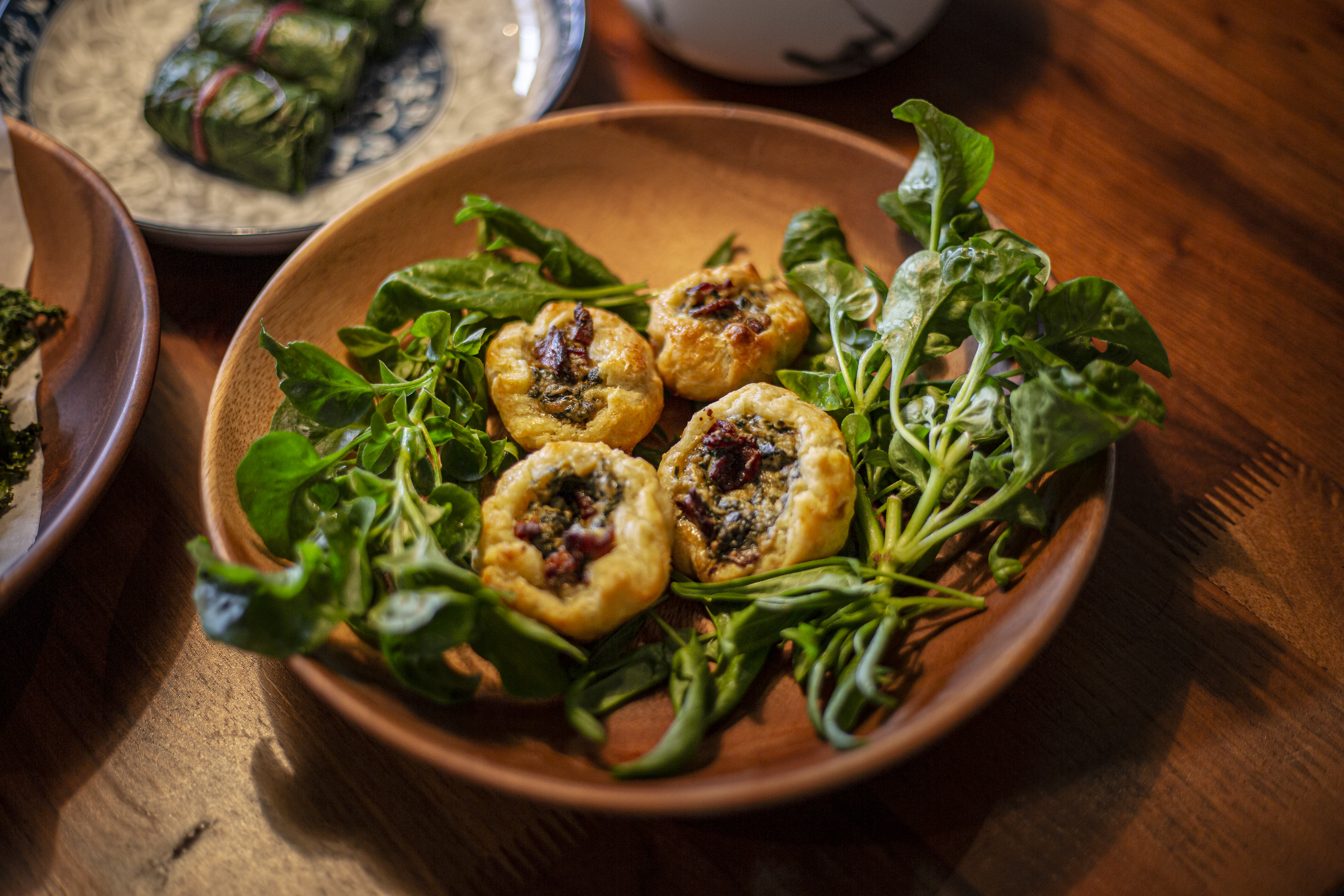 The spinach bacon puffs were a unanimous hit with all 3 judges. "The pastry was light, buttery and the spinach was creamy and well-seasoned," quipped Jon. "You can't go wrong with spinach and bacon, though it was a little on the salty side," agreed Sam. While Marcus said simply, "love".
Jon: 13.5/15
Sam: 11.5/15
Marcus: 15/15
swiss chard rice wrap.
(veggies used: Swiss chard)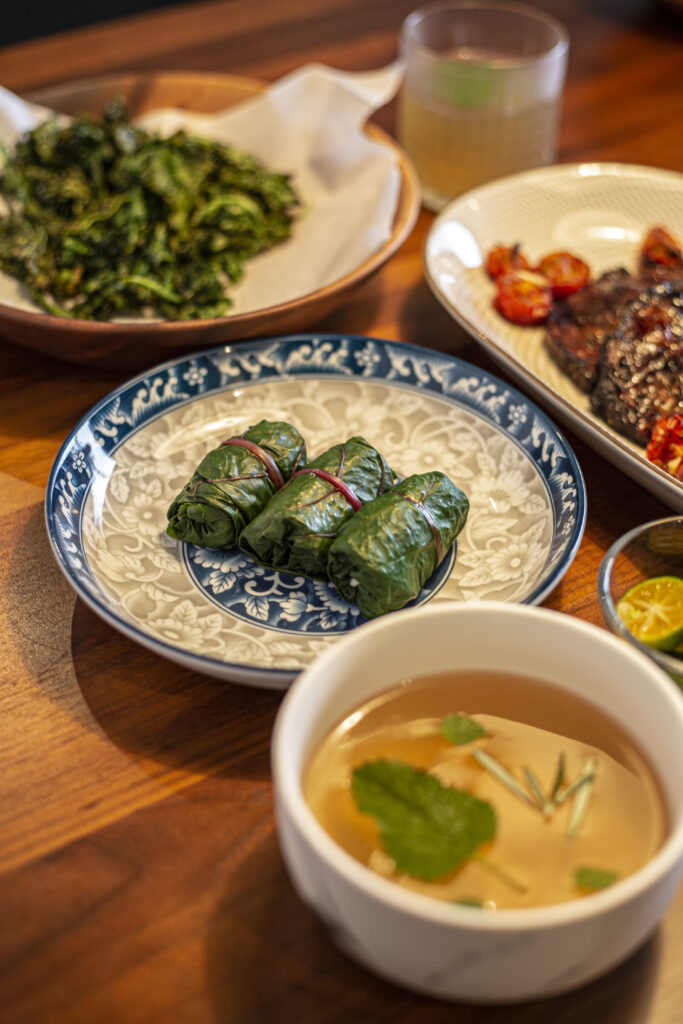 By far one of the more creative dishes of the lot, the judges felt that it was a sophisticated take on a simple dish. Sam felt that the wrap was "amazeballs", and "the way the pink from the chard leeched into the rice was pretty and reminiscent of nyonya kuehs without the strong coconut or pandan flavours". Jon loved that the rice was fluffy, but noted that the wrap could have been packed more densely together for more "bite". Marcus thought the rice was "damn flavourful".
Jon: 12.5/15
Sam: 15/15
Marcus: 14/15
lemongrass pork with cashew pesto.
(veggies used: cherry tomatoes and Thai watercress)
Overall, the judges loved the caramelisation and marinade on the pork but felt that the lemongrass taste was too faint. Sam felt that the "watercress and cashew pesto added a nice texture to the pork without masking the flavours, while the roasted cherry tomato was a nice palette cleanser between bites." Jon however felt that while the pesto was great on its own, it didn't add much to the dish and was overpowered by the other ingredients.
Jon: 10/15
Sam: 13.5/15
Marcus: 14/15
fresh herb jelly.
(veggies used: lemon mint, oregano and rosemary)
The judges felt that the jelly was an interesting use of herbs and while Sam called it the "jewel of the meal, with its fresh herbs and subtly sweet and citrusy notes", Jon and Marcus felt that the rosemary was a little overpowering. That said, they felt it was a refreshing touch to the overall meal.
Jon: 7.5/15
Sam: 15/15
Marcus: 14/15
Sheldon's dishes.
Next, we had Sheldon's dishes.
steak salad with home-made Goma honey dressing.
(veggies used: cherry tomatoes, mesclun, ice plant, crispita lettuce, red lettuce)
Overall, the judges loved the use of colours and homemade dressing. While a salad was a great way to showcase the greens, Sam felt that the flavours from the steak and Swiss chard were a little overpowering when paired with the ice plant. Jon also pointed out that if there ever was a salad that would convince Marcus to eat greens, this would be it. He was right.
Jon: 13/15
Sam: 9/15
Marcus: 15/15
Tuscan chicken ribollita in marinara sauce with white beans.
(veggies used: soy bean sprouts, curly kale)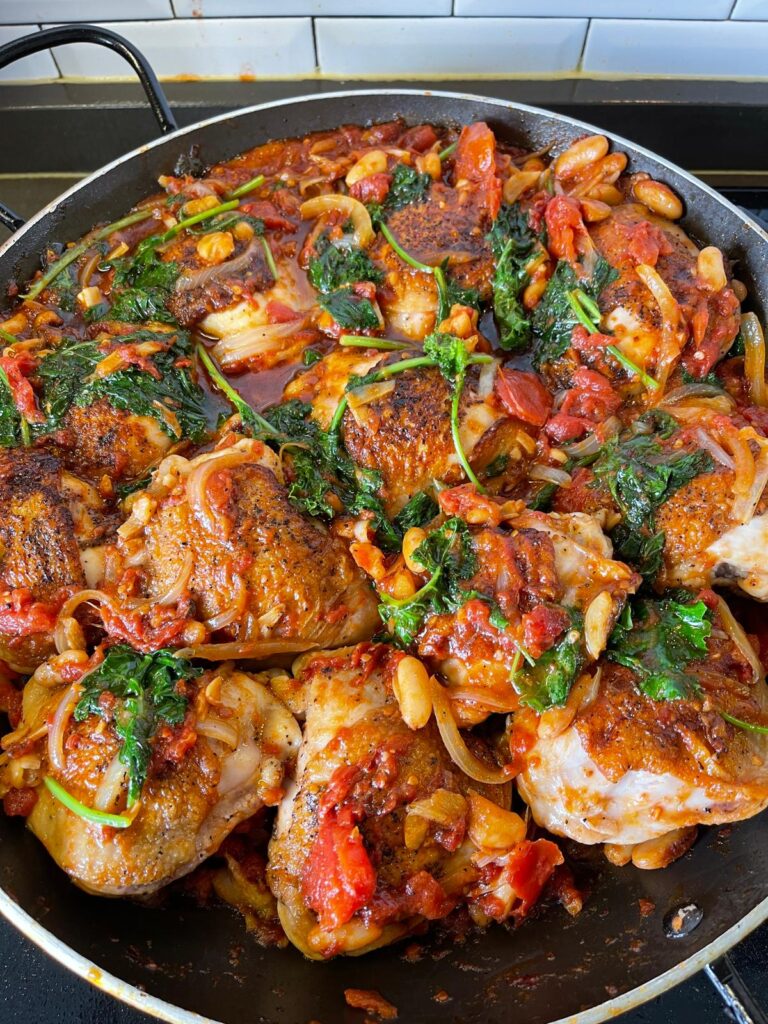 Like the steak salad, the judges loved the colours in this dish as well. Marcus felt that a marinara was a great way to use the tomatoes, and Jon applauded the perfectly cooked chicken. While Sam enjoyed the dish, she also felt that it was "a clear meat-first, veggies-second dish".
Jon: 12/15
Sam: 11/15
Marcus: 14/15
Thai watercress pork stir-fry.
(veggies used: watercress and basil)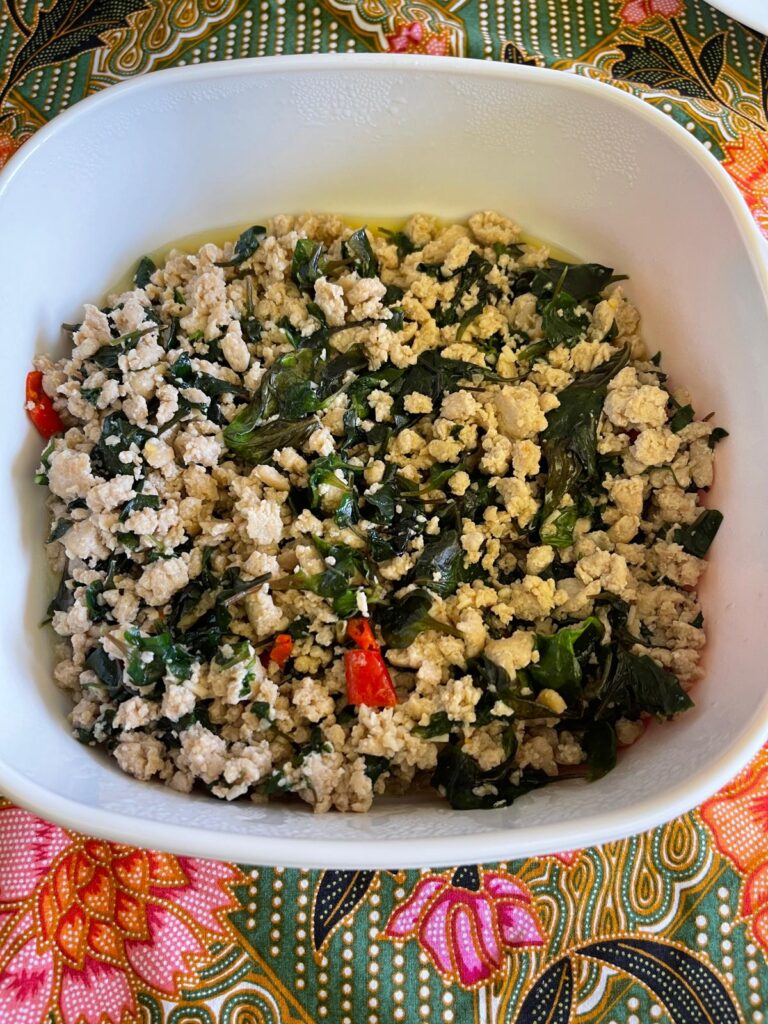 The judges felt that this dish was spot on with the right amount of spiciness and kick. Jon thought that this was a "familiar and comforting dish that was done well", but felt that the veggies took a back seat to the chicken. In terms of flavours, Sam felt that the basil overpowered the watercress, while Marcus thought that the watercress still managed to stand out.
Jon: 9/15
Sam: 10.5/15
Marcus: 14/15
mushroom and spinach risotto.
(veggies used: Brazillian spinach and baby spinach, celery)
This dish had the judges at a bit of a standstill with its use of spinach. While Jon agreed with Marcus that the spinach was a bit "calefare", Sam thought that it adequately captured the flavours of the mushroom and spinach. She also loved the use of celery that added crunch and texture, and felt that it was an easy dish to enjoy "without having to worry about getting jelak".
Jon: 7/15
Sam: 11.5/15
Marcus: 14/15
and the winner is…
STEF!
*throws confetti*
As the winner, she received the grand prize of not having to write any futr articles for the next month! Err… and some other goodies as well, lah.
We caught up with her later on to find out what she thought about the competition. "I have to say that my favourite part about the cook-off was the planning. That's the stage where you get to dream, research, make lists, and draw up schedules. The challenging part was execution, because time was of the essence and that's when mistakes happen. But it feels amazing when the dishes take form and I see my plans materialise!" Stef explains.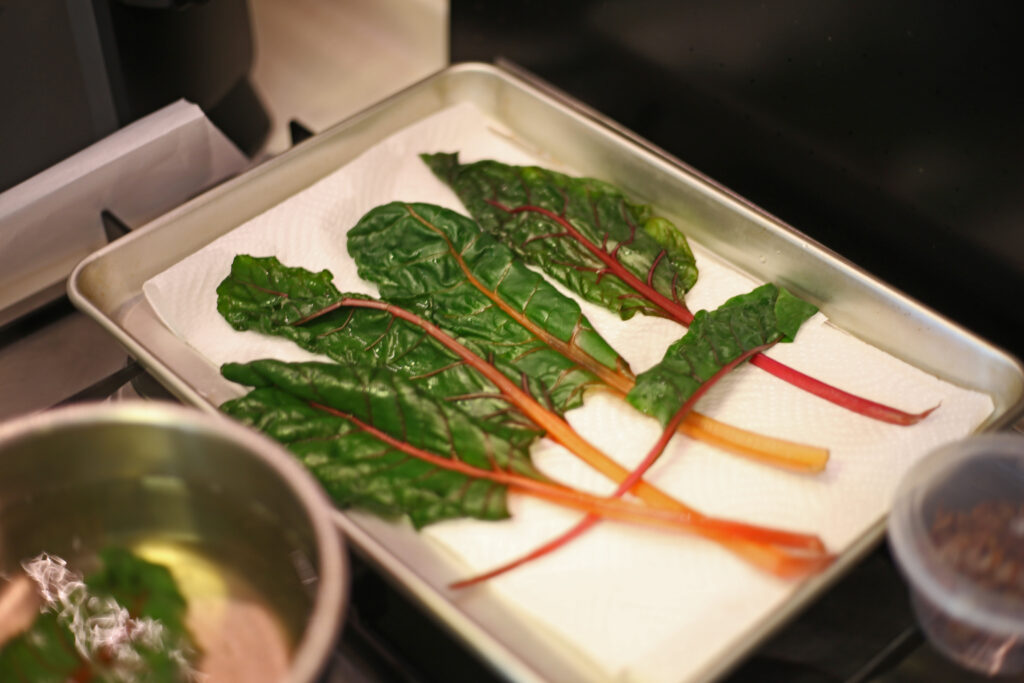 Though coming in second place, Sheldon too enjoyed the whole experience. "I think challenging myself to cook with new ingredients was actually really interesting. It broadened my repertoire as a result."
I'm curious if both home cooks would have done anything differently if they had the chance. "I guess I would have tried to stretch my skills and capabilities more, and perhaps been a little bolder by taking more risks," Stef adds. "As for me, I only wish I had cooked in bigger portions so I could share the food with more of my colleagues!" Sheldon explains.
I find myself nodding profusely, looking longingly at the photos of the dishes.
to cook or not to cook.
But that said, I am a little tempted to try out a couple of their recipes myself! "You should," Stef laughs. "Or just get a multi-cooker. To be honest my multi-cooker and Thermomix helped a great deal and saved me time for several areas during this competition. Though that said, when I started out as a complete noob cook years ago, I cooked without any fancy gadgets. And by doing that you really learn a lot. Start off with something easy or that doesn't require a lot of ingredients. You'll get better over time!"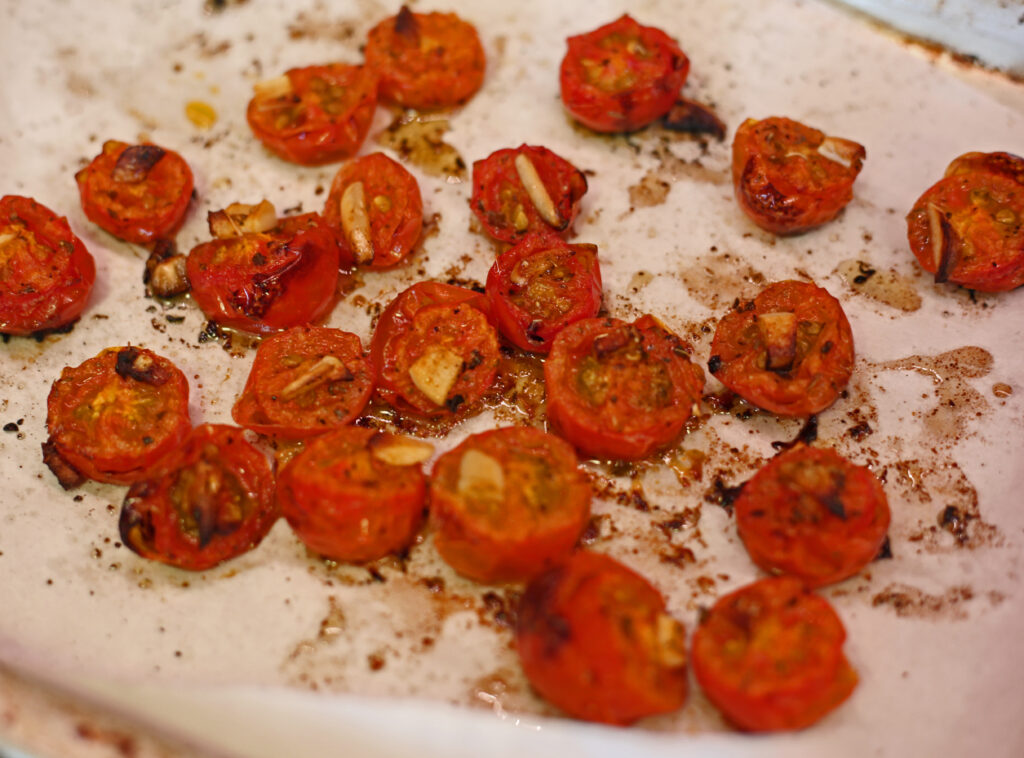 "I also really love that Urban Tiller has recipes on their website to show how different kinds of vegetables can be used. I think if you're hoping to grow as a home cook, there's no harm in taking a chance on a new ingredient and seeing where it goes!" Sheldon suggests.
I concur. Feeling inspired and a little hungry, I start searching the interwebs for cool recipes to try, and make a mental note to volunteer as a judge next year.
---
Feeling inspired to start cooking yourself? Get some tips from this veggie-loving family, and get some groceries! Or, you could just eat out instead!