Ahead of Father's Day this year, we speak to engineer and father of 2, Freddy Tay, about fatherhood, family and the importance of appreciating food.
---
33-year-old Freddy Tay is an engineer, husband, and father to 6-year-old Lucas and baby Jerome. Having been a vegetarian all his life, Freddy strives to share his passion for cooking creative vegetarian dishes at home with his family and friends.
Together with his wife Claire, they document their journey with vegetarian home cooking on an Instagram account. As a father, he hopes that his kids will grow to understand the value of food, and often encourages his family to move towards a zero-waste approach when it comes to eating.
Ahead of Father's Day, we decide to speak to him a little more about his approach to cooking, life, and of course, fatherhood!
food tastes better when you're together.
Hi Freddy! Could you tell us a little more about yourself and your family?
Freddy: Sure! So I'm Freddy, and together with my wife, Claire, we look after our boys Lucas who is 6 this year, and Jerome who's a year old.
Nice! How do you guys enjoy spending your time?
F: I keep myself busy by learning how to code, reading, and swimming. As a family, we also have weekly movie nights, go for walks, or treat ourselves to nice meals!
Speaking of food… could you tell me a little more about that Instagram account you and Claire started?
F: Sure! So we noticed the trend of more people getting into vegetarianism, but many just seemed to give up when they felt there was a lack of choices, or perhaps the choices weren't nutritious enough. I do get where they're coming from, because I used to feel like I was missing out when my friends would go for meals together. That's why I learnt how to cook. Thankfully, my wife is already a great cook so we decided to start the account to showcase that vegetarian food isn't as boring as some people think!
I love how you decided to turn that negative feeling into something positive by learning how to cook!
F: Yes, and I think in part, YouTube kind of spurred it on too. I used to watch cooking videos and think to myself — vegetarians should be able to enjoy the food that non-vegetarians do. Plus, it is cheaper to cook than eat out, and it was really motivating when people started telling me they enjoyed my cooking! (laughs)
Do you find that there's still a lack of dining choices for vegetarians in Singapore?
F: I think it's become trendier these days to be vegetarian or vegan for some reason. Because of that, it's quite easy to find options. Some of our favourites include Herbivore from Fortune Centre, Gokul from Upper Dickson Road and Daehwa from One-North!
So are there any important lessons you try to teach your children about food?
F: Food wastage is something I feel quite strongly about so I try to educate my kids about it too — it could even be because it's sort of an Asian thing right? Asian cultures always tell you not to waste food. (laughs) But as much as possible, I measure the ingredients I use on a scale and try to roughly estimate how much food my family members would eat. It's a small step but I think if it helps stop food wastage in the long run, it's something we should do.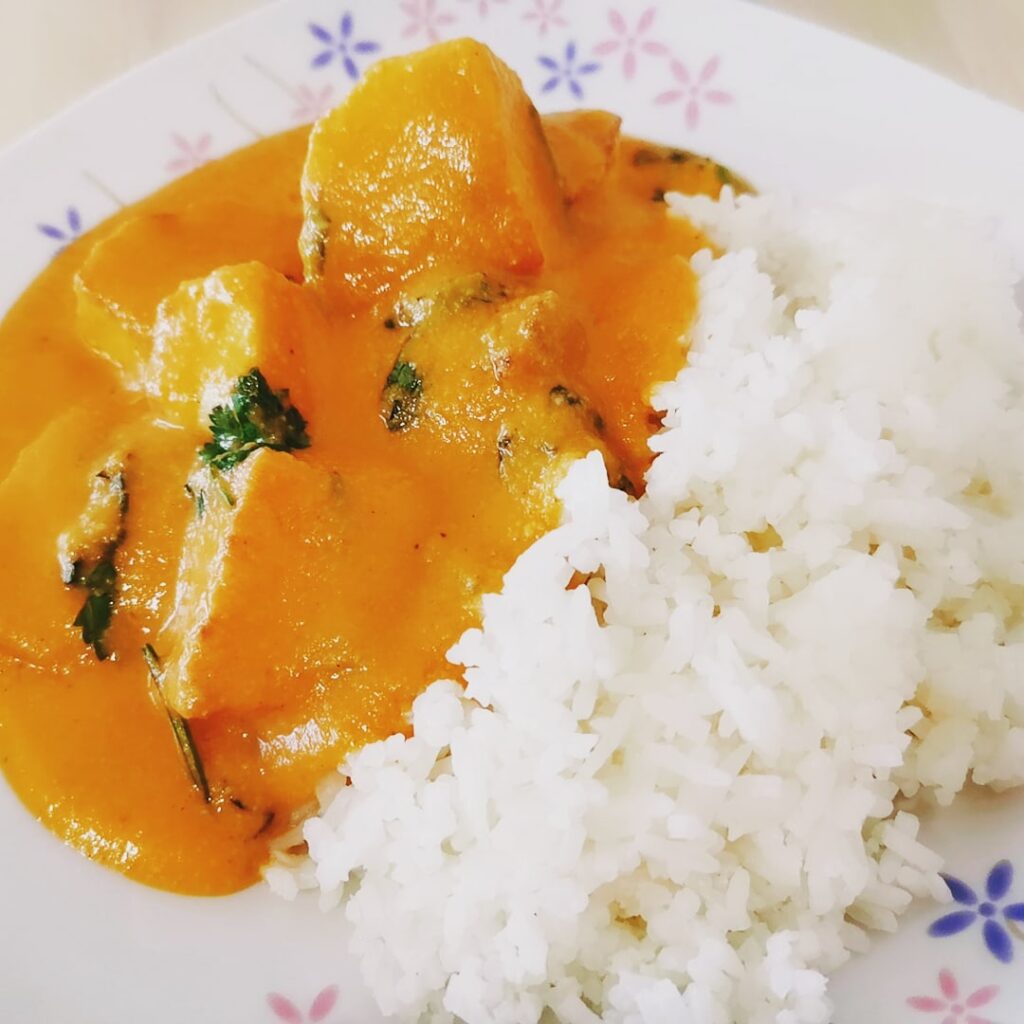 That's true. And how do you go about educating your children about food wastage?
F: My wife and I make it a point to remind our children to finish their food and let them know that food is precious. We give them smaller portions so that they always finish it. Similarly, as much as we can as a family, we try to utilise leftovers to come up with new dishes. In fact, our go-to dish is baked rice. You just fry up some rice with leftovers, add some canned soup to moisten it, some cheese and bake! You can't say no to baked rice, right? (laughs)
So apart from food wastage, are there other ways your family tries to live more eco-consciously?
F: We try to do our part, but I have to say Claire is a lot more eco-conscious than I am. (smiles) We categorise our trash accordingly and try to use what we can for our children's art projects, or give them to our neighbours who happen to work as karang guni. When they sell the trash, it goes to different recycling channels. We also make it a point to bring tote bags out for shopping to avoid using plastic bags.
there's always time to dish out dad jokes.
It's apparent that food plays a central role in the Tay family. Apart from simply being a fun family activity, it's also one that draws them closer together. But I'm curious how life has changed for Freddy since becoming a dad. So I decide to probe a little further, this time with some assistance from his better half, Claire.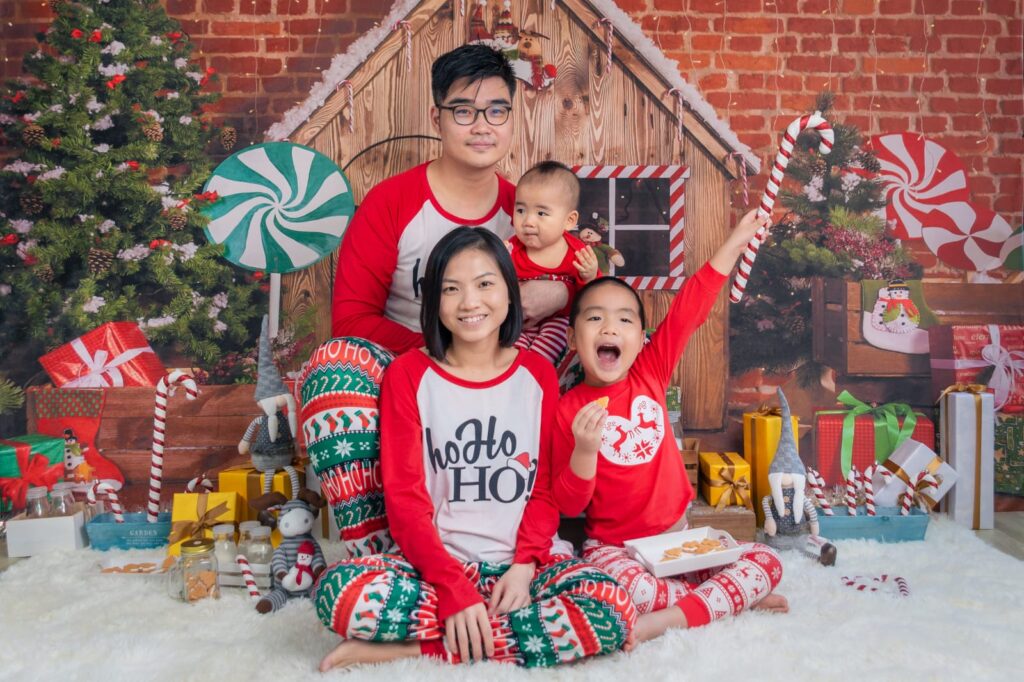 What would you say are some of your favourite things about being a dad?
F: Simple things you know, like being able to bring them grocery shopping, telling them stories and just being able to hug them. Those are my favourite things.
Aww. But how has being a dad changed your life? And what would you say is the biggest challenge about fatherhood?
F: I feel it's made me more grounded, and less obsessed with my own issues. It's also made me realise what's important. In terms of challenges, I guess it's knowing that sometimes things are beyond your control so there's a need to better regulate your emotions. Claire's usually the more patient one.
Is that true Claire?
Claire: Perhaps! (laughs) But Freddy is very hands-on and fun loving. He's also in tune with the children's needs. He cooks for them, bathes them and makes them DIY toys. I'd say he's a good balance of strict and fun! I also love his willingness to explore and try out new things — it's a characteristic I hope the kids would adopt as they get older.

And did you always know that Freddy would be a good dad?
C: I think it was quite evident that he's always had a way with kids. I could tell from the way he interacted with them when he was volunteering with organisations, and also how well he gets along with his younger nieces and nephews.
Did the work-from-home situation make things difficult for you both in terms of managing the kids and trying to work as well?

F: Jerome was born a few months before the work-from-home situation kicked in, so Claire was very busy with him. There were chores, meals to cook, work and the kids being noisy. It was a tough time for my patience and focus. As for coping, I tried to think less, did what I needed to a step at a time. In time, my workload dropped and Jerome grew up. Things kind of panned out okay!

And how are you planning to celebrate Father's Day this year?

I haven't given much thought into celebrating Father's Day to be honest. (laughs) But who knows, maybe when I'm older I'd feel differently about it.
And what advice would you give to soon-to-be dads out there?
F: Be firm, not loud when disciplining. Be fun, not distant when playing. Hug often. And just enjoy every process and outcome. (smiles)
Listening to Freddy talk about his children and his approach towards food has reminded me a great deal that even small steps like teaching your kids to appreciate food can go a long way when it comes to moving towards a zero-waste lifestyle. It also goes to show that even the simplest things like cooking or eating together can bring you and your loved ones closer.
More importantly, it has also reminded me that it's been years since I last had a solid Onigirazu. Mmm.
And to all fathers out there, here's wishing you a very Happy Father's Day from all of us at futr!
Image credits: Freddy Tay
---
Can't wait to cook up a storm of your own this Father's Day? Then get your ingredients from these online grocers! Or if you'd rather leave the cooking to someone else, check out these awesome makan places!